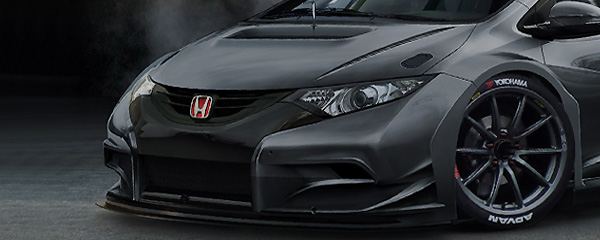 Rally / 18 March 2008
HONDA CIVIC TYPE R READY FOR NEW ASPHALT CHALLENGE
HONDA CIVIC TYPE R READY FOR NEW ASPHALT CHALLENGE

The Honda Civic Type R run by JAS Motorsport faces a new challenge as it moves onto asphalt for round three of the Intercontinental Rally Challenge, the Ypres Rally Belgium.

Drivers Dani Sola and Luca Betti made a promising debut with the car on the all-gravel Rally of Turkey last month, but the specialist asphalt roads of Belgium will mark another chapter in the new car?s development ? particularly as the Honda drivers will be up against a wide variety of well-known local experts.

The Civic Type R has been developed within the new Group R rules, but it competes in the existing Group A class. Group R, which will come into force in 2008, is aimed at production-based two-wheel drive cars with a 2.0 litre engine. This inexpensive yet competitive class has been designed as a blueprint for rallying?s future by the sport?s governing body, the FIA.
However, the demands of Belgium are extremely specific. The asphalt roads, featuring many long straights and tight corners, are frequently made slippery by unpredictable weather. The majority of the roads are flanked by deep ditches, meaning that even the smallest mistakes will be punished with an accident.

The Honda Civic Type R?s high-revving V-Tec engine should mean that it is well-suited to the flat-out action in Belgium, but this will also be the car?s IRC debut on asphalt after only a short series of tests this year.

Former World Championship driver Dani Sola commented: " I felt very comfortable with the Civic in Turkey, and I was pleased to see that we were close to the pace of some much more powerful cars. However, I am not underestimating the challenge ahead of us in Belgium: there are some very good local drivers competing who have an excellent knowledge of the conditions. They will definitely be tough to beat but as always we are positive and we will be trying our best.?

Alessandro Mariani, team principal of JAS Motorsport, said: ?We were very pleased with the car after Turkey, but of course Belgium is an entirely different set of circumstances. On paper the event should be a strong one for our car, and we are aiming to be the top two-wheel drive finisher. Rallying is always unpredictable though: you never know what might happen.?

The Ypres Rally Belgium will get underway on Friday 22 June at 1800 from Ypres town centre, with six rapid asphalt stages before the cars return to parc ferm? at 2335. The re-start takes place on Saturday 23 June at 1110, and competitors will contest 12 more special stages before the final podium at 2230.

William De Braekeleer, Honda Motor Europe?s Motorsport Manager concluded: ?We hope to showcase our Civic Type R in the best possible way in Belgium. So far, the potential has been extremely encouraging, and our aim now is to continue this upwards learning curve in order to provide our customers with the best possible package to live out their passion, with a high level of satisfaction.?

For more infos or technical support please contact +39.02.9037541 or mail us at info@jasmotorsport.com.