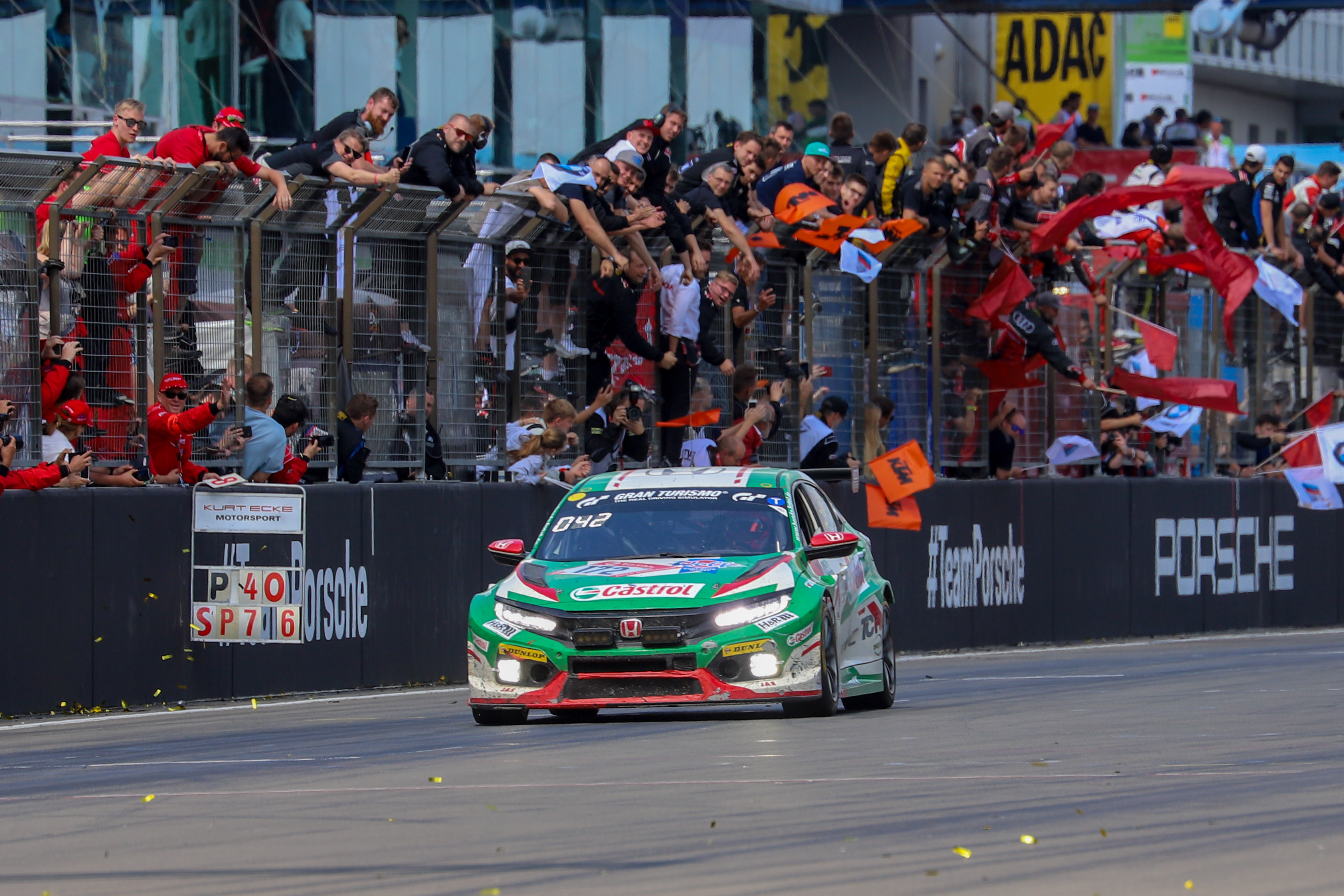 TCR / 18 December 2019
Honda Civic Type R TCR awarded 'Model of the Year' prize
The JAS Motorsport-built Honda Civic Type R TCR has been crowned TCR Model of the Year after a stunning season of competition across the world.
The Model of the Year title is awarded by TCR creator WSC Group to the most successful car competing globally, with results in every single TCR-affiliated series counting for points across a 12-month period.
With 14 major championships won in 2019 and 65 race victories, the Civic Type R TCR – which is based on the Civic Type R production vehicle and built at JAS Motorsport's headquarters in Arluno – achieved incredible success.
Kicking off with Drivers' and Teams' title successes for Rene Munnich and ALL-INKL.COM Münnich Motorsport in TCR Middle East, the season continued with title success in North America, Europe, Asia and Oceania.
Individual highlights included eight race wins in the WTCR – FIA World Touring Car Cup for series runner-up Esteban Guerrieri, Nestor Girolami and Tiago Monteiro.
There were victories at the Daytona and Sebring rounds of the IMSA Michelin Pilot Challenge for LA Honda World Racing while Michelle Halder became TCR Germany's first female race winner and claimed Junior Cup honours for the season.
The current Honda Civic Type R TCR debuted at the Dubai 24 Hours in 2018 and has, in total, claimed 17 major titles and 110 race victories, with more set to follow next year.
Alessandro Mariani, CEO, JAS Motorsport, said: "It is a huge honour to see the Honda Civic Type R TCR named as the TCR Model of the Year. We are extremely proud to be an official technical partner of Honda; a relationship that has been unbroken since 1999 and included the design, build and running of many different competition vehicles, and to have achieved this for them. This award is both a testament to the determination and professionalism of our customer TCR teams across the world and also a vindication of both the quality of the Honda Civic Type R production model and of the technical and sales support we offer to those competing with the car. There is an incredibly hard-working group of people at our headquarters in Arluno, Italy, headed by our TCR Project Leader Mads Fischer, and comprising mechanics, engineers, logistic, sales and support staff, and this shines a light on the fantastic job they have all done on the Civic Type R TCR project."
Hiroshi Shimizu, General Manager Motorsport Division, Honda Motor Co, Ltd. said: "It is fantastic to receive this award from WSC on behalf of the success of the Honda Civic Type R TCR. The TCR formula is based on customer racing and we have always insisted that teams participating with the Civic Type R TCR do so in the true spirit of the category. The effort put in by our customers all over the world has been exceptional and we would like to express our sincere thanks to them for their trust in Honda. Our congratulations go to all of them as well as to JAS Motorsport; the support they have given has been second-to-none. It also shows what a strong base car the Civic Type R production vehicle is with exceptional handling and a strong engine. Let's hope for more in 2020."
WSC President Marcello Lotti said: "We are especially pleased to see the Honda Civic Type R being named the 2019 TCR Model of the Year. Honda and its technical partner JAS Motorsport have embraced the TCR concept from its very beginning. A strenuous commitment that has been rewarded by the brilliant results achieved by their customer teams in all the TCR competitions around the world. Winning the TCR Model of the Year is the ultimate recognition of their professionalism and loyalty to the TCR concept."
Major championships won by the Honda Civic Type R TCR in 2019
TCR Middle-East (Drivers) – Rene Münnich
TCR Middle-East (Teams) – ALL-INKL.COM Münnich Motorsport
Canadian Touring Car Championship – Gary Kwok
TCR China (Manufacturers) – Dongfeng Honda Racing Team
TCR Germany Junior Cup – Michelle Halder
TCR Eastern Europe Trophy (Teams) – ASK Vesnic Racing
TCR Japan Saturday Series (Drivers) – Matt Howson
TCR Japan Saturday Series (Gentleman's Cup – Drivers) – Yukinori Taniguchi
TCR Japan (Teams) – KCMG
TCR Japan (Manufacturers) – Honda
TCR Iberico (Teams) – ALM Motorsport
South Island Endurance Series Class 2 (1-hour) – Jordan Michels
New Zealand Endurance Championship Class 2 (1-hour) – Jordan Michels
New Zealand Endurance Championship Class 2 (3-hour) – Lochlainn Fitzgerald-Symes/Matt Penney