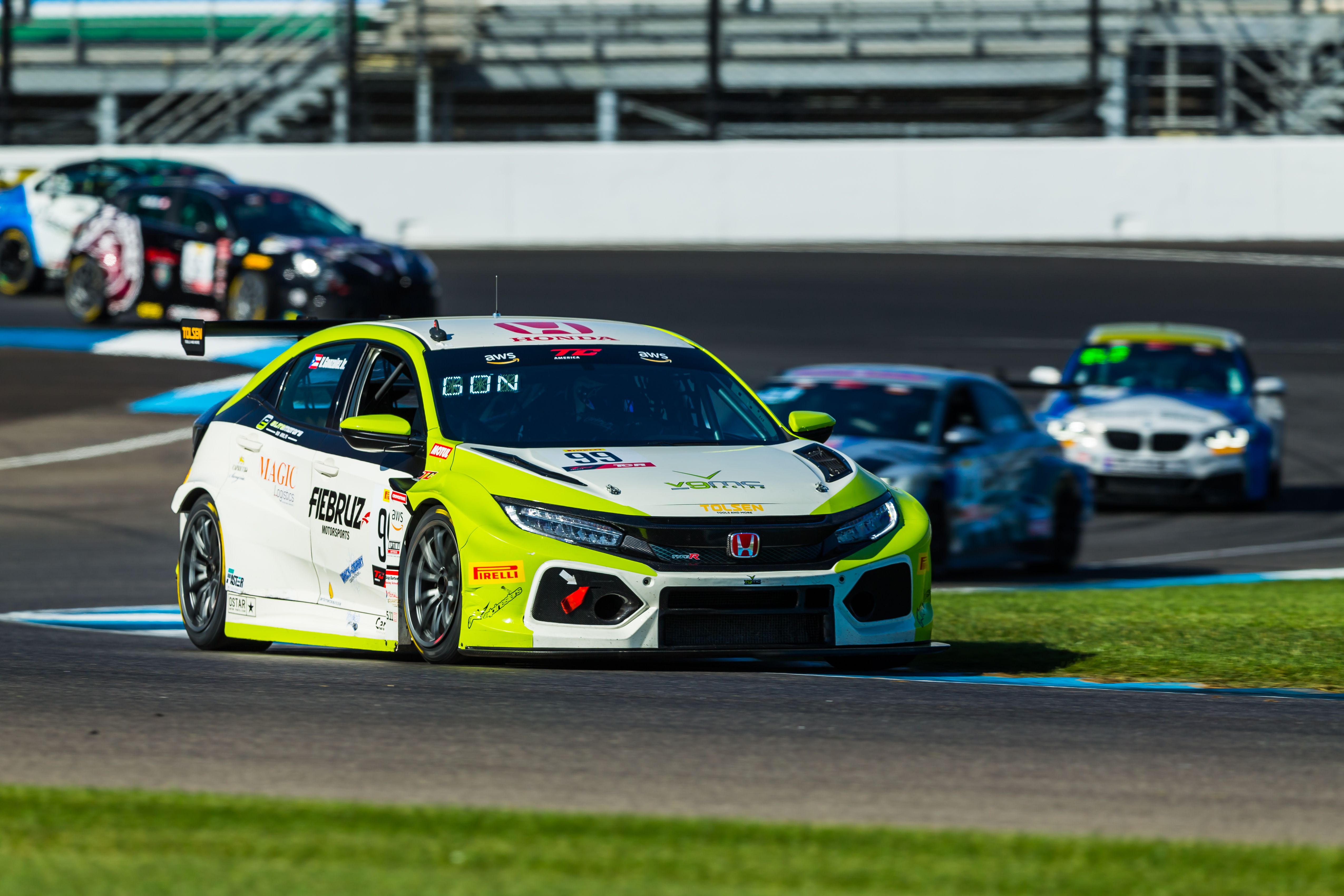 TCR / 06 October 2020
Honda Civic Type R TCR scores 250th race win
The Honda Civic Type R TCR scored an incredible 250th race victory last weekend as the JAS Motorsport-built racing car won on three different continents.
It was Victor Gonzalez Jr's first TC America victory of the season at Indianapolis - a result that snatched the Puerto Rican the runner-up spot in the Drivers' Championship - that chalked up the landmark victory for the car.
The VGMC Racing driver secured his victory with a carefully-judged move at the end of the back straight on the Indy road course, and added to a third-place finish in Race One that he'd secured after recovering from a first-lap spin.
CJ Moses, whose Crowdstrike Racing car is run by DXDT Racing, scored his career-best result with second in Race One and added fourth the following day.
Fellow DXDT driver Olivia Askew twice recovered from first-lap incidents to finish fourth and fifth while first-time polesitter Scott Smithson was eliminated from Race One due to contact and did not start Race Two due to the damage sustained.
Smithson finished third in the championship behind Gonzalez while Moses and Askew were fifth and sixth.
Dominik Fugel increased his TCR Germany series lead as Honda ADAC Sachsen scored a fantastic one-two finish at their local circuit, the Sachsenring.
Fugel took over the lead two thirds of the way through the weekend's opening race, and was joined on the podium by younger brother Marcel, who celebrated his 20th birthday by winning the Junior Cup class in a career-best second place thanks to a final-lap move.
Dominik and Marcel were second and third on Sunday; results that put the elder brother 11 points clear in the overall standings and elevated Marcel to the lead of the Junior Cup standings.
Albert Legutko finished fourth in the Junior category in his Legutko Racing entry in Race One, but was an opening-lap retiree on Sunday.
Jordan Michels extended his Class B points lead with a second straight victory in New Zealand's South Island Endurance Series at Ruapuna.
The Team Williams Racing driver, whose car is run by Evolution Motorsport, qualified on class pole and lapped the field in the one-hour race to put himself in a strong position to win a second straight title at the season finale.
Mattias Andersson was cruelly denied a podium finish at the penultimate round of the Scandinavian Touring Car Championship at Mantorp Park, Sweden.
The Honda Racing Sweden driver, whose FK2 Civic Type R TCR is run by his own MA:GP team, qualified fifth but climbed to third within a handful of laps of the opening race.
Unfortunately he was forced off the track by an aggressive move that netted his assailant a penalty, and fell to eighth. He finished fifth and sixth in the two remaining races to sit seventh in the Championship with one round remaining.
Mads Fischer, JAS Motorsport TCR Project Leader, said: "To reach a landmark number like 250 race wins is an incredible achievement and certainly something we couldn't have imagined when we were working on the design of the first Honda Civic Type R TCR during 2014. This achievement is a reflection of the dedication and innovation of the team at JAS Motorsport and for this I thank each and every individual who has played a part in this story, and congratulate all the customer teams and their drivers that have helped us to hit this milestone. Of course now we set our sights on 300 victories and hope to add many more championships too, starting next weekend."