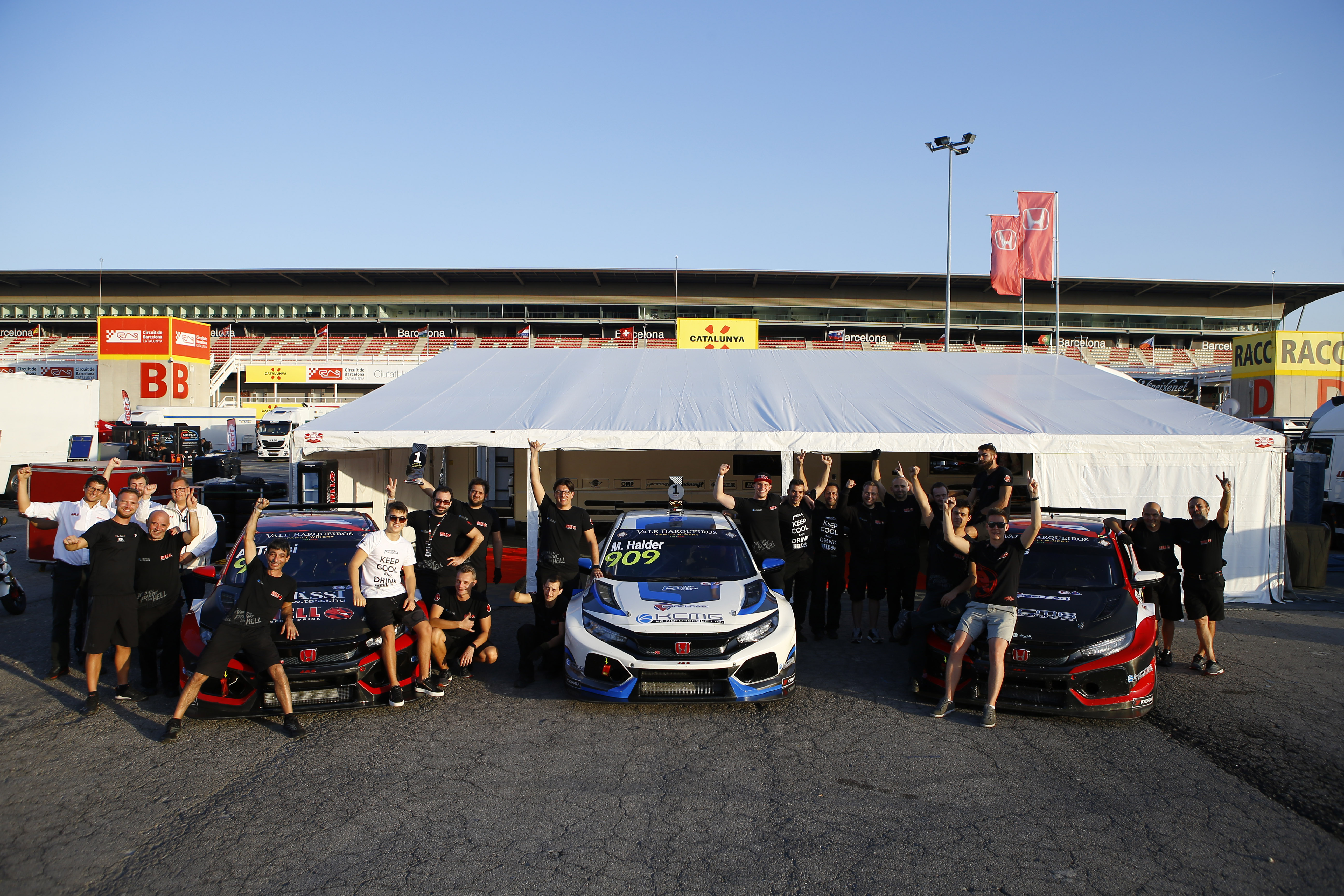 TCR / 22 October 2018
Honda Civic Type R TCR wins TCR Europe title
The Honda Civic Type R TCR won its fifth title of the year on Sunday as HELL ENERGY Racing with KCMG secured the TCR Europe Teams' Championship with a double victory at the Circuit de Catalyuna-Barcelona in Spain.
A dominant victory from pole position for Attila Tassi in Race One and an equally commanding win by series debutant Mike Halder 24 hours later capped off a strong weekend for the team.
The European crown adds to the Pirelli World Challenge, Super Taikyu, TCR China and TCR Switzerland titles already won by the JAS Motorsport-built car.
Tassi, whose second win of the year kept him in title contention into the finale, was denied his chance to claim the silverware when he was t-boned by one of his title rivals on the opening lap and spun off into the gravel.
Josh Files qualified on the front row and finished sixth in Race Two after a tyre delamination took him out of strong second place in the opener.
Autodis Racing by THX Racing ended the season with a sensational recovery drive by Stefano Comini, who had retired from the first race and then charged through the field from 26th to 11th in the season finale.
His Race Two result also gave him second place in the TCR Benelux race, which ran concurrently within TCR Europe at Barcelona. He finished fourth in the Benelux points.
PSS Racing Team had one of their strongest weekends as Viktor Davidovski ended his first season of continental competition with a double finish and a season's-best result of 15th.
TCR UK runner-up Ollie Taylor took his best TCR Europe qualifying result to date with 17th and scored a best finish of 16th.
Reno Racing had a challenging end to the year with Jens Moller not finishing either encounter after being hit by a rival car in each race.
Mads Fischer, TCR Project Leader, said: "It's been another fantastic championship win and the fifth title for the Honda Civic Type R TCR this year. I'm delighted for Mike Halder, who has been one of the strongest driver in TCR Germany for the past two seasons, and who has now had a chance to show what he's capable of on a European level, and for Attila and Josh; both JAS Motorsport Official Test Drivers, who have each done a very good job this year."