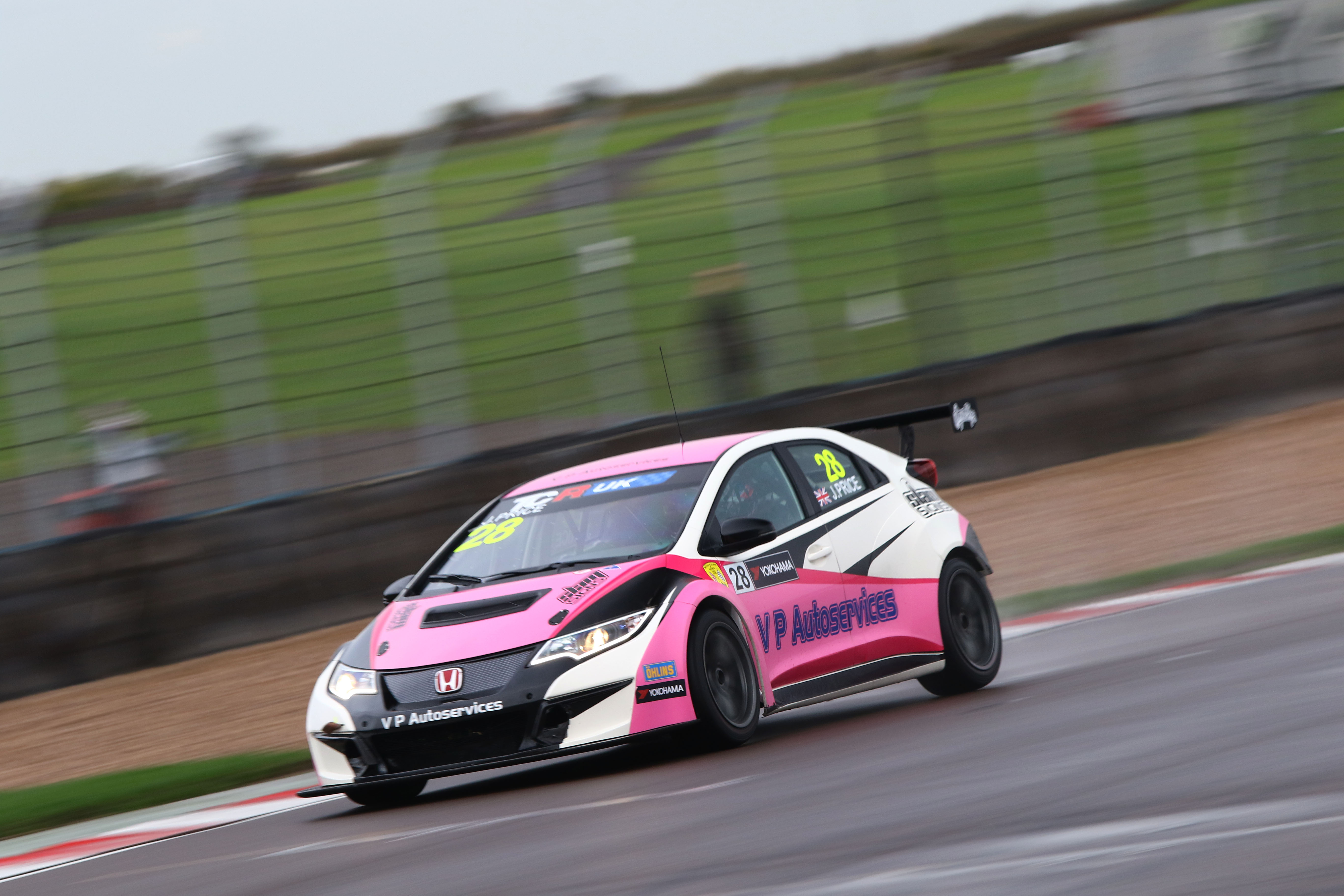 TCR / 15 October 2018
Honda Civic Type R TCR wins TCR UK finale
Josh Price ensured the Honda Civic Type R TCR ended the TCR UK season with a dominant victory at a wet Donington Park.
Returning to the series for the first time since the Brands Hatch event in June, Price, whose JP Racing machine was run by Pyro Motorsport, made a sensational start in Race One to climb from 10th to second within two laps, but retired while on course for a podium.
He made amends in the later race to dominate proceedings and win by 18.417 seconds – the largest victory margin in TCR UK history – in his JAS Motorsport-built car.
Pyro team-mate Ollie Taylor entered the final round with a chance of becoming champion, but after qualifying fifth, he dropped to 10th at the first corner after sliding off the circuit.
He recovered well to finish fourth, one place behind Verizon Connect Racing's Finlay Crocker, whose Civic Type R TCR is also run by Pyro. His third spot ensured back-to-back podiums after his second place at Croft last time out.
Taylor and Crocker finished sixth and seventh in Race Two while Sean Walkinshaw returned to the series for his eponymous team; the GT racer finishing ninth and 10th.
Taylor's results made certain of second place in the end-of-season standings with Crocker and Price seventh and ninth.
Pyro Motorsport secured second in the Teams' points while the 2018 and 2017 Civic Type R TCRs took second and third spots in the Model of the Year standings.
In total, Hondas recorded 20 podiums – more than any other brand – and six wins during the 14-race season.
Mads Fischer, JAS Motorsport TCR Project Leader, said: "It's fantastic to end the TCR UK season with victory for the returning Josh Price and to see that the level of service provided to our customers running the FK2 Civic Type R TCR means that they can still win in intensely competitive series like this. We must also say a huge congratulations to Ollie Taylor and Pyro Motorsport. They started the year with no TCR experience and were not expected to challenge for the championship. They have shown not only their own pace, but that of the Civic Type R TCR, to stay in the title hunt right to the end of the season. They're an excellent team and we're delighted to have them as customers."