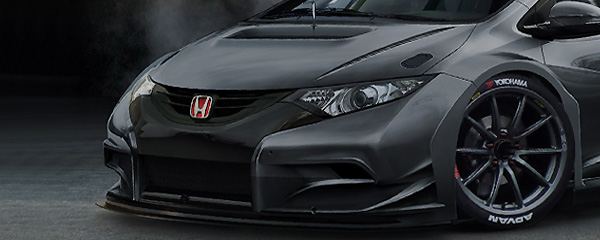 Rally / 09 June 2008
HONDA CIVIC TYPE R TO COMPETE ON INTERCONTINENTAL RALLY CHALLENGE
The new Honda Civic Type R R3 will take part in the 2008 Intercontinental Rally Challenge (IRC) thanks to an agreement between well-known Italian team Procar and JAS Motorsport.

The Italian Alessandro Bettega will be the driver of the new Civic, which is powered by a Mugen-tuned engine. The Civic Type R R3 competed on all the European rounds of the IRC last year with an excellent best result of fifth overall on the Rallye du Valais in Switzerland.
Bettega, the son of Italian rally legend Attilio Bettega, has already accumulated an impressive amount of experience with all kinds of different rally cars, despite his young age, so he should be well prepared for the challenge ahead.

The new R3 class is for production-based two-wheel drive cars with a 2.0 litre engine, governed by strict technical regulations in order to reduce costs. This inexpensive yet competitive class has been designed as a blueprint for rallying's future by the sport's governing body, the FIA.

JAS Motorsport Team Principal Alessandro Mariani commented: "We are really happy to see the new Honda Civic challenging for the two-wheel drive title on the IRC this year. Procar and Alessandro are sure to represent an excellent combination in finalizing all the development work we have completed so far."

Procar's Team principal Daniele Pelliccioni said : "Having seen how competitive the car was last year, we are all very excited about this new challenge. It's the first time that we have worked with Honda and this category of car, but we are all hopeful of our prospects as we have plenty of experience in rallying along with a very quick driver and an exciting new car. I am convinced that we can put all these elements together to achieve some good results this year."

The car will make its debut at the Rally of Ypres in Belgium from June 27-28 and will then compete on five more rallies in the championship. As well as its previous experience of the IRC, the new Honda has also shown promise in the WRC, as well as various national events all around the world, including rallies as far afield as Australia.

Procar also has plenty of international experience, having run cars on the WRC, IRC and Italian championships in the past. JAS Motorsport, will give Procar technical support throughout the season.
Media contact : media@jasmotorsport.com
Website : www.jasmotorsport.com