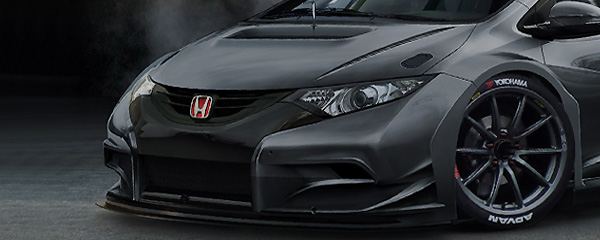 Rally / 18 March 2008
HONDA CIVIC WINS THE CLASS AND TAKES THE PODIUM BETWEEN THE TWO-WHEELS-DRIVE CARS IN THE BARUM RALLY
HONDA CIVIC WINS THE CLASS AND TAKES THE PODIUM BETWEEN THE TWO-WHEELS-DRIVE CARS IN THE BARUM RALLY
The Honda Civic Type - R, managed by
Jas Motorsport,
has taken away an important 3rd position between the two-wheels drive cars (GR.A), in the Barum Rally Zl?n which is characterised by rough and bumpy asphalt roads, many of which were in very bad condition. Former Junior World Rally Champion
Dani Sol?
was forced to stop on the first day with an engine problem, but
Luca Betti
continued to the finish where he was classified 22nd overall and third of the two-wheel drive runners, earning the victory in A7 class.
Dani
and
Oscar
got off to a good start on Saturday, although they struggled to adapt the set-up of their car to the very bumpy asphalt which was not at all typical of the sealed-surface rallies that the all-new Civic Type R has contested before. They had no major problems through the opening loop of stages on Saturday morning, and they were looking forward to putting the car through its paces in the afternoon after making some adjustments to the suspension settings in service. Unfortunately, they were forced to retire at the end of SS5 because of a rare engine problem, which never had been manifested during the previous events.
"This wasn't an easy rally for us, but we were still confident that we could achieve something until we were suddenly hit by the engine problem which is very strange as this is something that has never happened before.?
said the Spaniard.
?It was vital to find a good suspension set-up on the event, as the roads are so complex and narrow that there is no extra space for manoeuvre and so you need a very precise-handling car. We made some good progress and I am sure that this experience will be useful for the future."
Sol?
concluded.
Following a cautious start to the rally,
Luca
and
Giovanni
were affected by some steering issues during the second loop of stages on Saturday, following an earlier impact against the wheel. They were also held back by punctures twice. On both occasions they were able to continue to the finish of the stage without changing the wheel. During the second day the Italians had a trouble-free run and improved well in order to preserve their class lead and gaining this important 3rd position in the Gr.A standing.
"I am happy for the JAS Motorsport Team to be able to take a class win here in Zlin.?
explains
Luca
?It was a difficult rally for us and the punctures on the first day made me lose some time. Today we had no trouble at all and we could move up the classification a bit. We learned a lot here and we are all looking forward to the coming rallies.""We're satisfied to have a podium finish amongst the two-wheel drive runners on a rally that was even more difficult than we expected, with the number of bumps and loose gravel.?
says the Jas Team principal
Alessandro Mariani,
?It's a very good achievement by everybody under demanding circumstances. We are also encouraged by the very real progress that we made from Saturday to Sunday in adapting the car for these types of conditions. This rally has been a very useful chapter in the development process."
Next Rally for the Jas Team will be Sanremo in the last week of September (September 27-28-29)
Surface
: Asphalt
For more infos or technical support please contact +39.02.9037541 or mail us at
info@jasmotorsport.com
.