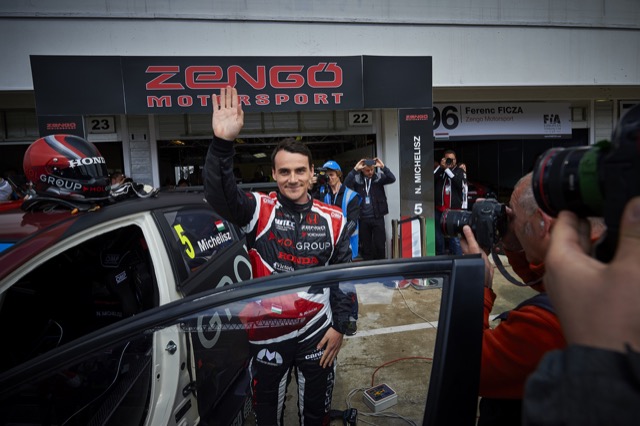 Race Track / 03 May 2015
Honda Civic WTCC wins in Hungary
Local hero Norbert Michelisz thrills home crowd with dominating lights-to-flag victory
Strong race pace evident of new generation Civic WTCC
All three Honda Racing drivers in the mix with consistent lap times
Norbert Michelisz has today taken his, and Honda's, first victory of the season in emphatic style in the FIA World Touring Car Championship at the Hungaroring, Budapest.
Leading from start to finish, the Hungarian hero put in a sterling drive to ensure the safe return of his Honda Civic WTCC, but not first without demonstrating the superb strength of his recently upgraded challenger as he went for two fastest laps along the way, stretching the gap over second-placed man Tom Coronel to over nine seconds.
And if proof were needed that the Civic's pace in the dry would be strong, Castrol Honda competitor Tiago Monteiro claimed a further points-scoring finish just outside of the podium in 4th – resisting the pressure from the trio of Citroen's running behind with a respectable gap of 1.157s keeping them honest.
In stark contrast Gabriele Tarquini's run of bad luck here continued as the Castrol Honda liveried Civic was forced wide and well off the road on the opening lap of race 2 by a Chevrolet. Concerned for a high water temperatures, Tarquini pitted to clean the air ducts, rejoining the track a lap down. Despite running at the back, it was not without purpose – Tarquini would go on to beat Michelisz's fastest lap in clean air whilst collecting more invaluable data for the car and setup.
The first of the day's races got off to a fair start with the leading Honda Civic of Tiago Monteiro making a determined pass on Sébastien Loeb on the opening lap to secure 5th, whilst team-mate Gabriele Tarquini, who started from the back of the grid in 16th recovered from a slower getaway, managing to progress to 13th by the end of the second lap.
Zengõ Motorsport star Norbert Michelisz reconfirmed the Civic WTCC's strong pace much to the furore and relentless air horns of the ever enthusiastic Hungarian fans.
It may have been status quo with Lopez leading from Muller at the front but with it all to play for, the Honda Racing drivers each put in consistent laps and the Civic WTCC was clearly a car on the move.
Strong in both sectors 1 and 2, Monteiro was edging ever closer to Ma, running well under half a second behind the Citroen C-Elysee. Tarquini too was far from settled as the Italian passed Bennani by the seventh lap for P11.
As Ma and Monteiro closed the gap ahead to Hugo Valente in third, Tarquini was reeling in Tom Coronel slightly further back - the Civic WTCC proving its strength under braking and with good cornering speed – but as Tarquini later explained, overtaking proved impossible.
Determined drives from start to finish for all three Civic racers resulted in 5th, 8th and 11th place finishes respectively for Monteiro, Michelisz and Tarquini.
Gabriele Tarquini: "The starting position was not very good for a track like this, especially the first start, nothing happened. I was surprised by the delay between red and green so I didn't get a really good start. I tried to overtake in the first few laps but it was quite impossible. I was faster than Coronel and Huff but I couldn't make a pass.

For the second race I decided to take a risk on my line. I had a really good start but the car in front of me moved across, pushing me totally off track so I was on the grass, slipping. I tried to overtake and passed Bennani but I saw my water temperature was very high so I pitted to clean the air duct and obviously that was the race done. But I went back out to test the new aero package because we can collect more good data."
Tiago Monteiro: "It was definitely a positive two races. When I saw the Citroen's behind me I thought this will be interesting, but I just kept my focus on pushing Chilton ahead. He was just a little bit too fast in order to really attack him but I was able to push and keep the Citroen's behind.

"The car was very well balanced in both races, we improved a lot with a better setup today. I wish I had this car yesterday! But we still have to keep working and fighting. I am very happy of course for Norbi. Well done to everyone, the improvements were definitely a good step forward, but let's keep working to gain further."
Norbert Michelisz: "As a racing driver you always hope for scenarios like this. Of course I am very happy with this result and I would like to thank everyone, the team and the fans for their amazing support throughout. Although I couldn't hear them, I could see them every time I crossed the line and I tried really hard to keep focussed.

"The car felt really good and I was really pushing until I could take it a little easier with a good gap back to second, but I kept telling myself I had to concentrate. I could remember how it felt in 2012 when I last won here in WTCC. This is a dream day for me.

"I think the new aero kit clearly worked well here, but in the first race driving so closely to Tom Chilton was difficult because I had a lot of understeer. I knew I would improve in the second race with clean air. So now I am quite confident for the future and further improvements."
Alessandro Mariani, Managing Director JAS Motorsport: "I am very, very happy. Right from the start of the season I was confident in our winter developments but until now we didn't show our potential. Yesterday in the wet the drivers were very confident in the handling but we made a mistake on the set-up for qualifying but we solved the problem for today. It was difficult in race 1 being in the group but clearly in race 2 we showed the true potential The lap times of Norbi and Gabriele were fantastic. Norbi and Tiago drove brilliantly and I am very happy for Norbi and Zengõ. We work together, sharing data and experiences.

"I am very satisfied and really want to thank everyone who made this success possible. There has been lots of pressure since the start of the season. This result gives us the strength to keep fighting and work for more results. I like to win and when you win as Norbi did today it is a big satisfaction."
Daisuke Horiuchi, Large Project Leader for WTCC Development at Honda R&D: "That win was superb. Congratulations to Norbi and the Zengõ Motorsport team. We had three very good cars today and we're proving that we are competitive with everybody. The engine worked very well today, as did the chassis. The car has proved very stable, we've really seen the benefits from the new aerodynamics, which proved our claimed expectations."
Additional Note:
Gabriele Tarquini was later excluded from Race 1 following a parc ferme infringement.
Race Results:
Race 1:
1 José María Lopez Citroën C-Elysée WTCC
2 Yvan Muller Citroën C-Elysée WTCC
3 Hugo Valente Chevrolet RML-Cruze TC1
4 Ma Qing Hua Citroën C-Elysée WTCC
5 Tiago Monteiro Honda Civic WTCC
6 Sébastien Loeb Citroën C-Elysée WTCC
7 Tom Chilton Chevrolet RML-Cruze TC1
8 Norbert Michelisz Honda Civic WTCC
9 Rob Huff LADA Vesta WTCC
10 Tom Coronel Chevrolet RML-Cruze TC1
Excluded:
Gabriele Tarquini Honda Civic WTCC)
Race 2:
1 Norbert Michelisz Honda Civic WTCC
2 Tom Coronel Chevrolet RML-Cruze TC1
3 Tom Chilton Chevrolet RML-Cruze TC1
4 Tiago Monteiro Honda Civic WTCC
5 Sébastien Loeb Citroën C-Elysée WTCC
6 José María Lopez Citroën C-Elysée WTCC
7 Yvan Muller Citroën C-Elysée WTCC
8 Hugo Valente Chevrolet RML-Cruze TC1
9 Ma Qinq Hua Citroën C-Elysée WTCC
10 Grégoire Demoustier Chevrolet RML-Cruze TC1
13 Gabriele Tarquini Honda Civic WTCC
Championship Standings (after rounds 5 & 6):

Drivers':
1 José María LÓPEZ 130
2 Sébastien LOEB 96
3 Yvan MULLER 86
4 Tiago MONTEIRO 58
5 Ma QING HUA 53
6 Norbert MICHELISZ 47
7 Tom CHILTON 42
8 Gabriele TARQUINI 39
9 Hugo VALENTE 27
10 Mehdi BENNANI 26
Manufacturers':
1 Citroën 269
2 Honda 190
3 LADA 44