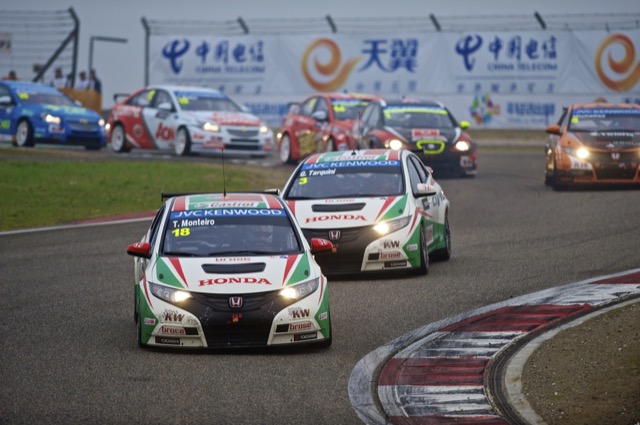 Race Track / 12 November 2013
HONDA CIVICS HOPE TO IMPROVE MACAU PODIUM RECORD IN WTCC FINALE
FIA WTCC - Macau - Preview
Exactly one year on from the excitement of taking a podium spot in only the third event in the World Touring Car Championship, the Honda Civic WTCC cars return to the famous Macau Grand Prix event with an enviable record of four outright race wins and numerous podium awards from this season's events. Tiago Monteiro raced to third overall in last year's race around the daunting Guia street circuit and, following his fine maiden victory at the recent Shanghai race, the Portuguese is in great form and eager for battle to commence.
"We are showing that we can be strong on most of the tracks now and getting more experience with the car. So for sure in Macau anything can happen! If we keep playing a good team work and are well positioned at the start, we can do a good job again. I love Macau and usually feel really good there. Last year I gave to Honda their first podium in WTCC after only three races, so it was a great moment, and I hope we can do something good again," said Tiago.
The Macau event has become recognised as one of the greatest tests of man and machine and has featured as the final event in the FIA World Touring Car Championship since 2005. The Guia circuit is a challenging 6.2 kilometres (3.8 miles) through the narrow streets of Macau, which is a Special Administration Region of China, and a popular resort location. The circuit is a combination of tight corners and long straights which rises and falls more than 30 metres from the highest to lowest point on the lap. It is bumpy, extremely narrow with very few overtaking places and bordered almost totally with high, hard and unforgiving walls and barriers!
"It is always a lottery," says Gabriele Tarquini. "Getting clear track space for qualifying is difficult but normally I think we can do well. Last year was very good for Honda with the first podium and although we are still with the heavyweight penalty, the handling and braking of the Civic is very good for the many changes of direction in this lap. I have had many podiums in Macau and my personal target is to finish as second in the drivers' championship and to do this I must get the best results possible in both races. I have 22 points advantage and there's a maximum of 50 points available so I must attack from the start."
Following the impressive 1, 2, 3 result for the Honda Civics in Shanghai,with Norbert Michelisz bringing his Zengo Motorsport Civic home behind the two Castrol Hondas of Monteiro and Tarquini, the young Hungarian is currently seventh in the drivers points league with Monteiro 10th.