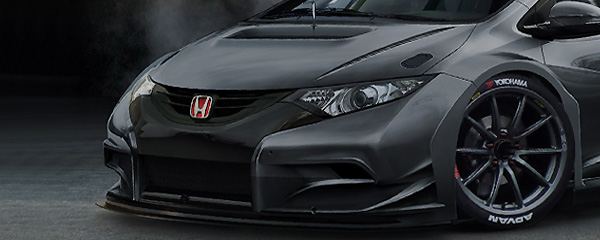 Race Track / 04 May 2013
HONDA CIVICS PUT IN HEAVYWEIGHT PERFORMANCE FOR FRONT GRID POSITIONS AT WTCC HUNGARORING
HONDA CIVICS PUT IN HEAVYWEIGHT PERFORMANCE FOR FRONT GRID POSITIONS AT WTCC HUNGARORING
Once again the three Honda Civics sit on the front two rows of the grid for a World Touring Car Championship race, tomorrows Hungaroring Race 1 will certainly prove exciting.
After a tense qualifying session, the Zengo" Motorsport Honda Civic driven by Hungary's motor racing superstar, Norbert Michelisz, set second fastest time on his very last lap to the noisy delight of his hundreds of fans in the grandstand. Gabriele Tarquini also made a last minute run on a fresh set of tyres to take third fastest whilst Tiago Monteiro took fourth fastest in the second Castrol Honda.
This means that Honda Civics will start Race 1 from the front and second rows, pole position taken by Yvan Muller. The superb results from last weekend's Slovakia Ring WTCC event and the competitive performances in Marrakesh and Monza have determined that the Honda Civics carry an extra 30kg of weight here at the Hungaroring for round 4 of this season's World Touring Car Championship. The regulations have a formula that takes the lap times of the leading competitors and determines the extra weight that has to be carried and the Civic's ever improving performance has resulted in the 30kg weight penalty.
"We must take account of the extra weight in the car and make adjustments to the engine mapping especially for acceleration out of the corners so that we can maintain lap times," says Daisuke Horiuchi, Large Project Leader for WTCC development from Honda R & D.
Tarquini- currently second in the WTCC Drivers Championship with 96 points - concentrated on endurance trials in testing this morning as the 12 laps around the 4.4 kilometre Hungaroring will be the longest race so far this season. "For sure it will be very hard to maintain the challenge, it will be hot and very hard on tyres, much more than Slovakiaring. I can be a little bit faster but the pole time is very quick. I have made some small set-up changes but maybe we didn't improve quite as much as we hoped with the new tyres for qualifying. We have not tested on a long run here so I must just concentrate from the start and see how our positions improve as the race goes on."
Norbert Michelisz is rightly proud of his sterling front row starting position. "This is again a great result for Honda and especially for Zengo" Motorsport and myself. It's wonderful to be starting tomorrow from the front row and it's a big thank you to all the friends and fans who are coming to see us race. I am the best of all the Honda drivers today and very happy with the progress the whole team is making."
Tiago Monteiro is happy with the set-up of his car. "Maybe we should have done a second fast run in the qualifying session, a second set of new tyres always gives a few tenths everywhere in confidence. I don't think I could have taken pole but anyway the points are only given on Sunday and we will have two very hard and hot races, especially on tyres and I think we will be in a good position towards the end of the races."
More:
www.fiawtcc.com