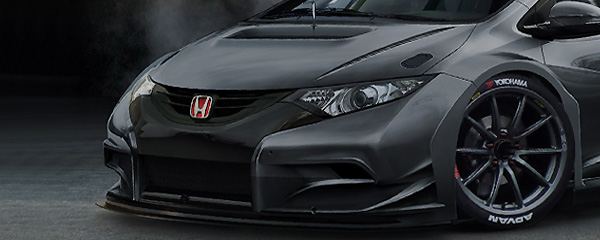 Rally / 27 July 2009
HONDA CUSTOMERS CONTINUE TO TRIUMPH ALL OVER EUROPE
Honda customers, driving the Honda Civic Type R R3, have continued to taste success all over Europe at the wheel of their state-of-the-art rally challengers.
The Type R R3 is built by JAS Motorsport in Italy - Honda's long-time competitions partner on both the race track and rally stage - to the latest FIA technical regulations. These new rules are designed to provide the perfect compromise between performance and affordability. Thanks to Honda's legendary technical know-how and reliability, the Civic Type R R3 presents the ideal solution for rally customers competing at every level.
In Germany, new team Brachial Racing made its debut with the ex-Guy Wilks Civic Type R R3, which was campaigned successfully in events that ranged from Russia to Australia throughout 2008.
Mirko Tautenhahn, co-driven by Mario Weber, finished 12th overall and third in class A7 on the all-asphalt Eifel Rally last weekend, which uses similar stages to those of the World Championship's Rallye Deutschland.
The Civic ran with no problems at all on the challenging event, which is renowned for its complexity and surface changes, to add to Honda's podium score so far this season.
Honda also claimed a double podium finish on the South Estonia Rally last weekend, where three Civic Type R R3s were competing. The gravel event, which totalled around 100 competitive kilometres, was won in the two-wheel drive class by World Championship competitor Urmo Aava, who also finished in an excellent seventh overall.
His fellow Estonian Martin Kangur finished third in class A7 and 13th overall. The third Civic, driven by Karl Kruuda, was 29th overall - with all three cars making it successfully to the finish.
Aava's next challenge will be Rally Finland: the fastest and most fearsome World Championship event of them all. At the wheel of his Honda Civic Type R R3, Aava will have a tough task to improve on Guy Wilks' performance in Finland last year, which resulted in a momentous class victory by more than two minutes for the Civic.
Nonetheless, the Estonian and his co-driver Kuldar Sikk are looking forward to the challenge ahead of them, which takes place from July 31 to August 2 on the rapid gravel stages around Jyvaskyla.
JAS Motorsport team principal Alessandro Mariani commented: "It's been another successful weekend for our Civic Type R R3, both on gravel and asphalt, and I would like to offer my sincere personal congratulations to all the drivers and teams involved. Next we have the Rally Finland, which is one of the biggest tests in the world for any car and driver. Last year we enjoyed tremendous success there with Guy Wilks, and this year we are hoping for another strong performance from Urmo Aava."

Media contact : media@jasmotorsport.com
Website : www.jasmotorsport.com