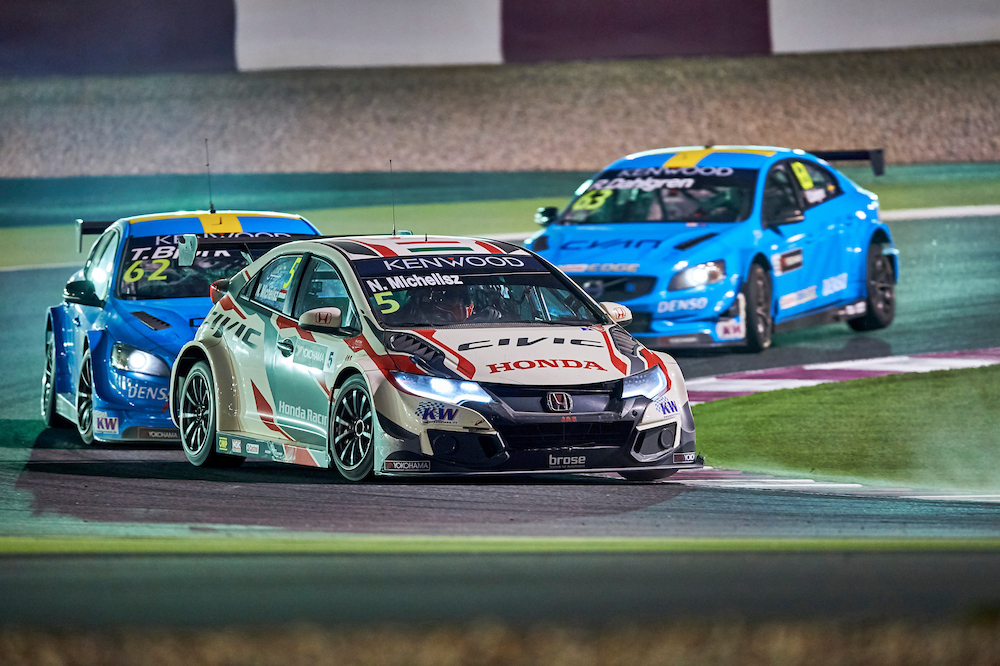 WTCC / 26 November 2016
Honda ends 2016 WTCC season with Qatar podium
Honda finished the 2016 FIA WTCC with a podium at the final round
Honda finished the 2016 FIA World Touring Car Championship with a hard-fought podium finish at the final round of the season, the Race of Qatar.
Rob Huff's third place in the opening race was his sixth rostrum of the year and the 21st for Honda, making 2016 the most successful WTCC campaign for the Japanese manufacturer since it entered the series on a full-time basis four years ago.

The British driver made a rocket start to the opening race to climb two places to third, and kept his composure after an early red flag to claim the position. Huff, the 2012 WTCC champion, added eighth place in the main race to end the season fifth in the championship.
Tiago Monteiro, who began the race in the hunt for the runner-up spot in the championship, had a desperately disappointing opening race as he was involved in a multi-car incident on the first lap that brought out the red flags.
An incredible display by his mechanics meant that despite severe rear-end damage to his Civic, the Portuguese driver was able to make it onto the grid for the main race, in which he moved into fifth place on the final lap – a result that secured third place in the drivers' championship.
There were a pair of strong performances from Norbert Michelisz, who brought his Civic home fifth in the opening race and then took a fine fourth place later on.
His charge brought him to within one point of third place in the championship and equalled his best WTCC end-of-season position with fourth. Honda, meanwhile, finished second in the manufacturers' points table.

Tiago Monteiro, Castrol Honda World Touring Car Team, said: "The first people I have to congratulate today are my mechanics. After the damage in the opening race, I honestly didn't think I'd even start the main race. But they did an amazing job to fix my car and I was able to just hang on to finish third in the championship – my highest finish in a season since I made by WTCC debut in 2007. The opening race crash was just one of those things; I got a hit in my rear and then I went into Jose Maria Lopez and I didn't even know I'd hit Hugo Valente until I saw the TV replay."
Rob Huff, Castrol Honda World Touring Car Team, said: "This has been a really tough race meeting for me as I've suffered from food poisoning pretty much from the point I arrived in Qatar. So to get a podium – my sixth of the season - in the opening race is something I'm pretty proud of, especially as I was not in a good state physically after the main race. Eighth in race two, after someone hit me at the start, wasn't what I'd been looking for, but the podium was very pleasing."
Norbert Michelisz, Honda Racing Team JAS, said: "I'm pretty disappointed with the two races as I actually felt that I put in one of my best performances of the season here in the main race. The flat-shifter wasn't quite right so I was having to take my foot off the accelerator and dip the clutch on every gearchange, and that cost me a lot of time and energy. I was really pushing to finish P3 in the championship and I thought I'd managed it, so it's a shame I came so close. I'd like to thank my crew for the job they've done all year because together, we've never given up."
Alessandro Mariani, Team Principal, said: "At the start of the year, I said that the aim for 2016 was to have a driver in the top three of the championship, and with Tiago today we have achieved this. There's been a real improvement from the whole team over 2016 and we've had our strongest year in terms of wins and podiums, which is something we can be very proud of. This weekend we didn't achieve what we wanted to in terms of results, we can learn from some of the lessons and come back stronger next year. On behalf of JAS Motorsport, I would also like to wish Daisuke Horiuchi, who has been with us since the inception of the Honda WTCC project, a happy retirement."
Daisuke Horiuchi, Large Project Leader WTCC Development, Honda R&D, said: "We finish our best year in the WTCC in terms of wins and podiums, with a 21st top-three finish thanks to Rob Huff today, and with third and fourth places in the drivers' championship with Tiago Monteiro and Norbi Michelisz. It's been a long and hard fight to establish ourselves as front-runners in the WTCC, but we've done it and I'm very excited to see how the project develops in 2017. Thank you to everybody that has worked tirelessly for this and good luck for the future."