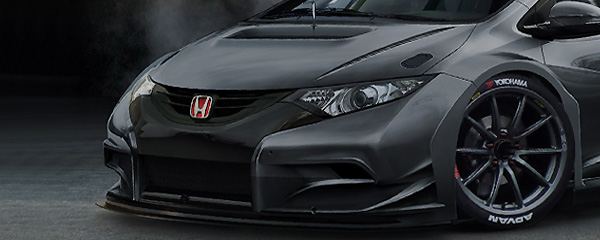 Rally / 18 March 2008
HONDA F1 DRIVER TESTSJAS-TYPE R
HONDA F1 DRIVER TESTSJAS-TYPE R
Christian Klien enjoyed a lothis test drive in theCivic
While JAS Motorsport is continuing the development of the new Civic Type R Gr.R and preparing an evolved version for the next test session, Honda is taking advantage of the first prototype for
a press presentation of the road car in Estoril
.
In such occasion, 30 journalists per day, invited from all over Europe, while appreciating the design and the technical qualities of the new model, are experiencing the thrill of a circuit lap seating in the Rally Gr.R aside professional drivers. Besides
Robert and Walter Lechner
, well known Austrian sports car drivers,
Sasha Bert
,
Hannes Danzinger,
young and talented Austrian Rally driver, and
Tomas Engstrom,
Honda driver in the Swedish Touring Car Championship, also
Gil deFerran
Honda F1 sporting Director
, and former Indy Car top driver, hastaken the wheelof the JAS Motorsport-made race car, followed by Honda F1 test-driver
Christian Klien.


The brand new Civic Gr.A/R showed great reliability during all the event, and fired the enthusiasm of hundreds of journalists while being highly appreciatedby all drivers who had the possibility to experience the outstanding powerand road holding capabilities of the new JAS developed Civic.
"Having not driven anything on a race track since I retired from driving in 2003 and also having never driven a touring car in my lifetime, I must admit I enjoyed myself tremendously on the few laps I did!" explained the Honda Racing F1 Teamsporting director
Gil de Ferran;
"slowly it was all coming back to meand I found the car quite enjoyable and fun to drive! The J.A.S. personnel were also a pleasure to deal with; very professional but at the same time nice and with good attitude."
"I have never driven a front wheel drive race car at all" says the Honda F1 test driver
Christian Klien.
It was real fun; I especially appreciated the gear box and the good balance of the chassis." concluded the Austrian star.
?Besides being a unique opportunity to promote the potential of the racing Civic Type R to the European press, ?the event of Estoril has been a great occasion to build mileage, gather data and grow experience" commented
Stefano Fini
, JAS Technical Director. ? We collected inputs and comments by several experienced drivers and could demonstrate the reliability of the car and the engine, which have both
successfully performed over 3000km
without any problem. Our customers will certainly benefit of such a long (3-weeks) test session".
"We have been honoured by the visit and the real interest of the Honda Racing F1 Team", adds JAS Director
Alessandro Mariani
, team principal at JAS Motorsport, "it is like having fairies watching over the Civic cradle! The Civic will be a fantastic product for our customers, they can have the ultimate car to enjoy their passion and they can count on the full dedication of JAS to assist them during the season".
For more infos or technical support please contact +39.02.9037541 or mail us at
info@jasmotorsport.com
.