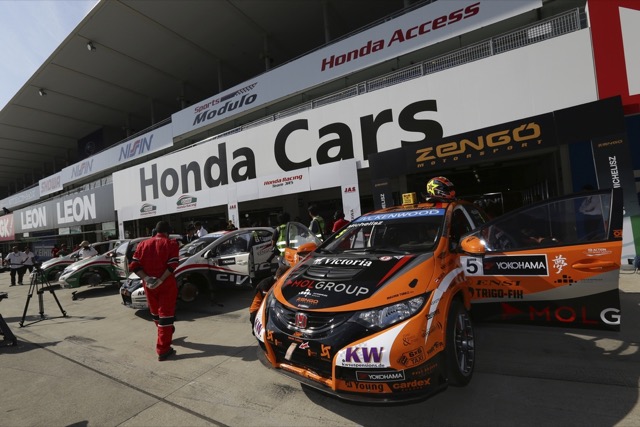 Race Track / 21 September 2013
HONDA POWER TO POLE POSITION FOR JAPANESE WTCC RACE
FIA WTCC Suzuka - Qualifying Report
The Honda Civic WTCC of Norbert Michelisz took pole position for Race 1 of the World Touring Car Championship event at Suzuka, Japan with a stunning time of 52.886. The young Hungarian star was the only driver to break the 53second barrier. The Castrol Honda Civics of Tiago Monteiro and Gabriele Tarquini will start the race in 6th and 8th position respectively. Takuya Izawa finished qualifying in 15th position in his first outing in a WTCC Honda.
"For me it is like a dream today," said a calm Michelisz at the end of Q2. "I told my Zengo Motorsport team after that lap that there was no point in going out again as I knew it was a near perfect lap for me and perhaps I could find maybe 1/1000th of a second more but nothing else so we have saved tyres for the race. It will be an honour for me to start on the pole position for Honda at their home circuit."
The short, 2.5km lap at Suzuka and the large 30 car entry means that the circuit is crowded at every corner so it is essential to find clear track, usually right at the start of the sessions. Thereafter it becomes a lottery with so many cars on track at the same time. The circuit features an almost continuous series of corners swinging left and right before joining the long pit straight. With track surface temperatures around 43C, managing the tyre performance is also an essential element to secure competitive times.
In the hectic Qualifying 1 session Michelisz set second fastest time of 53.341 midway through the 20 minute session shadowed again by Tarquini in third place with Monteiro 7th and Izawa 15th. Q2, the final pole position shoot-out, takes place immediately and is a 10 minute session exclusively for the top 12 cars from Q1.
Michelisz blitzed his pole position time on his first flying lap and sealed his grid starting place for the 199th WTCC race since the current formula was established. Monteiro and Tarquini planned to make their final effort with just seconds remaining but the Italian went off the track and the resulting yellow flags forced Tiago to slow and miss any chance of improving
his position. He will start both races from the third row whilst Tarquini will be on the second row for Race 2 as the top ten places are reversed for the second race. Norbert's pole position for Race 1 will see him on row 5 for Race 2.
Tiago Monteiro was pleased with his performance but a little frustrated at the final Q2 position. "The Civic has been very good right from the start of the weekend, very well balaced and I was able to get good times immediately. I was ready for the final minute of Q2 and set my fastest time in sector 1 but then the yellow flags were waving so I have to lift and that was my chance gone. I think I could have been on the first or second rows but that's racing! Tomorrow we have a very competitive car but it will be a busy, busy start into the first corners. That's where we have to really concentrate to be safe."
For Tarquini 8th was not his ideal result. "You can see that times are just fractions apart and when I was not in he top three I was looking for 10th fastest for pole for Race 2 but trying to get this right in such a short lap with the team monitoring other cars' sector times it proved impossible to hit the target. But I am on row 2 for Race 2 so we must try and get another podium position for Honda."
For Takuya Izawa this was his first drive in a WTCC Civic. "I had high ambitions and the free practice times were good. My aim was to get through Q1 but even with the very small time differences it is so close and I could not go through. I am naturally disappointed but for tomorrow my foremost goal is to finish the full races. I am sure to learn a lot from finishing and I will push the whole race and get the best result possible for Honda."
Daisuke Horiuchi, Large Project leader from Honda R & D and the man who has been responsible for continuous performance increases of the Honda HR 412-E engine this season, reports. "The result today is the accumulation of one year of managing the engine since it ran for the first time here at Suzuka in 2012. Today we used basically the same mapping that proved a winner at Sonoma which has been a step by step progess. This is the ultimate performance from this engine and we have gained so much data that will be important for the 2014 engines."