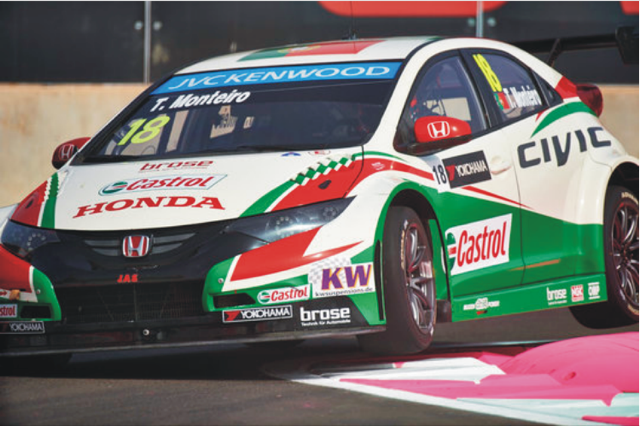 WTCC / 18 April 2015
Honda Racing News: Honda Civics endure unlucky Marrakech qualifying
Sector time analysis shows strong progress for Civic WTCC
- Norbert Michelisz highest placed Civic in 6th
- Tiago Monteiro improves to 7th on last lap flyer
- Frustration for Gabriele Tarquini, just missing out on Race 2 pole, qualifying 11th
- Yellow flags hamper proceedings with all having to abort best runs
- Sector time analysis shows strong progress for Civic WTCC

In undoubtedly one of the unluckiest of qualifying sessions for the Castrol Honda World Touring Car team, the Civic WTCCs endured a challenging day ahead of tomorrow's two back-to-back races.
Norbert Michelisz posted the best time for the Honda marque, securing 6th position whilst Tiago Monteiro's last chance run promoted the Portuguese racer to 7th. It would prove a frustrating session for most with yellow flags aborting any possibility to improve, much to the disappointment of Gabriele Tarquini who found himself relegated to 11th, having been holding 10th and, subsequently, looking good for a second race pole position.

Tiago Monteiro: "We always said it was going to be one of the toughest qualifying sessions -it's not an easy track for us. Having said that, we had a decent pace throughout testing and from there of course comes motivation and optimism.

"We tried our best to fight for qualifying but in the end it was really bad luck with the yellow flag, which affected Gabriele, Norbi and myself. Frustratingly it came on a really good lap for me - one of those laps where I felt really comfortable with everything and felt it could be a special one. Unfortunately I struggled to repeat that in the second run but in the end it wasn't bad.

"I'm happy with the car; we managed to find a nice balance throughout the weekend and now we're looking ahead for two strong races. We need to score some points. It would be amazing to be on the podium but in the least we are targeting some points – this has been my objective for the weekend. I wasn't expecting miracles, but certainly to be strong, steady and to make sure I finish both races."
Gabriele Tarquini: "It was disappointing – if you finish 11th, it's not the best place but I wasn't in a good situation in Q2. Q1 wasn't bad, I was in the top 12 so I elected to use just one set of tyres. It was not a bad lap and after we decided to run a second set of new tyres for my second attempt, when I was following Yvan. But we hit waved yellows and all had to slow down, which was a bit of a mess and affected my quick lap. After that I decided to run alone with Norbi for the next run. In the end it was not a bad lap, but I made a mistake at the hairpin and it cost me probably the top ten. So now my focus is to avoid any trouble off the start and make sure I can finish both races."

Norbert Michelisz: "For me I didn't have high expectations before the weekend, just because of the nature of the circuit and I saw that last year we struggled a little on this track. I knew this place would be quite difficult so my target was to be around P10 because then you have a chance to score some points. If you're outside of that it is high risk.

"I am happy because after free practice I thought we'd be around P8-12 but I managed to be further in front. But also, I am disappointed about missing Q3, owing to the yellow flags. The last lap I was on was three tenths up on my fastest lap time until turn 7. After that it was difficult to judge whether to go out again, but I decided to go because I saw Gabriele behind and he was going for another run. On the positive, we have made improvements and have closed the gap to Citroën down by a second, which is very good news. I am disappointed for Gabriele and expect a tough race tomorrow."

Alessandro Mariani, Managing Director JAS Motorsport: "I was very disappointed for the final result, because our possibility to get good qualifying positions was affected by the yellow flags in the second run. The split times were very good for all three cars, but with the yellows they were forced to go for a second run on the tyres. Norbi couldn't finish the lap and Tiago was caught up by Muller going slow. Gabriele made a mistake, losing three tenths. However if you look deeper into the sector times you understand that we are actually not so far from the competition.

"We knew before that Marrakech is a lottery and not an ideal circuit for us due to the long straights. Technically speaking I am really satisfied – we have closed the gap to Citroën. My target was to take as many points as possible, so the strategy for tomorrow is that Gabriele needs to use all his experience to avoid any trouble, whilst Tiago and Norbi have the opportunity to start in front for race two. We have expert drivers, they are very clever, so we will do the best we can."

Daisuke Horiuchi, Large Project Leader for WTCC Development at Honda R&D: "Qualifying was disappointing. In Q2 the yellow flags greatly affected us – it was very bad timing. We also have some trouble with Gabriele's engine from the last race, so we will make every effort to resolve this. We will modify some engine parts for tomorrow. But Norbi and Tiago should have a good start and can hopefully collect some points for the weekend."

Additional Note:

Following post-qualifying scrutineering, the car of Norbert Michelisz was found to be slightly underweight and the FIA have therefore imposed a 3-place grid drop for the first race tomorrow.
Qualifying:

1 José María LÓPEZ Citroën C-Elysée WTCC 1:43.393 1:43.854
2 Mehdi Bennani Citroën C-Elysée WTCC 1:43.987 1:44.109
3 Ma Qing Hua Citroën C-Elysée WTCC 1:43.971 1:44.582
4 Hugo Valente Chevrolet RML-Cruze TC1 1:43.882 -
5 Tom Chilton Chevrolet RML-Cruze TC1 1:44.062 -
6 Norbert Michelisz Honda Civic WTCC 1:44.102 -
7 Tiago Monteiro Honda Civic WTCC 1:44.118 -
8 Sébastian Loeb Citroën C-Elysée WTCC 1:44.150 -
9 Tom Coronel Chevrolet RML-Cruze TC1 1:44.177 -
10 Yvan Muller Citroën C-Elysée WTCC 1:44.185 -
11 Gabriele Tarquini Honda Civic WTCC 1:44.313 -
14 Dusan Borkovic Honda Civic WTCC 1:45.087


FIAWTCC on television:

19/04 17:00 Marrakech, Round 3 Live Eurosport World, Eurosport Pacific, Eurosport International
19/04 18:00 Marrakech, Round 4 Live Eurosport Pacific, Eurosport World, Eurosport International