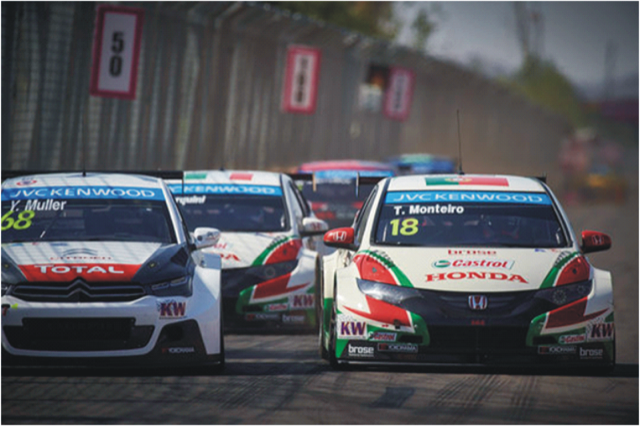 WTCC / 20 April 2015
Honda Racing News: Steady Points Performance in Marrakech
More points finishes for the Honda Civic WTCC racers
Marrakech, 19 April 2015
FIA World Touring Car Championship 2015 - Round 3 and 4 - Marrakech Race Report
- More points finishes for the Honda Civic WTCC racers
- Nika Racing and Proteam Racing did not compete in the day's races
Talk of strategy may have seemed futile going into a notoriously unpredictable race weekend, but for the Honda Civic WTCCs, the long-term goal was to finish both races safely, limiting any risk to the cars and their championship campaigns.

Off the line in race one both Castrol Honda drivers made clean starts, with Tiago Monteiro looking threatening to the slower starting front row before a late lunge from Sébastien Loeb would demote the leading Civic to 5th.
Gabriele Tarquini made an early pass on the Zengõ Motorsport Honda of Norbert Michelisz and with Tom Coronel forced off line with a problem, the Italian made immediate impact running in 6th from his 8th position starting slot.
As Monteiro's objectives came to fruition for a strong but measured race, the Honda Civic WTCC showed good pace over the ensuing laps, defending fiercely from the ever present Citroën of Yvan Muller.
Meanwhile Tarquini kept the measure of Michelisz - running in 7th and 8th – whilst maintaining pressure on Muller ahead. By the eighth lap Muller was looking to make his move, forcing Monteiro to defend heavily and engage in some tense wheel-to-wheel racing. Ready to take advantage, Tarquini was now closing in on the duelling pair, all the while driving with gritty determination to recover from yesterday's qualifying frustration whilst preserving the brakes as he sought clean air.
The anticipated pass from Muller on Monteiro would come on lap ten under braking. Unable to answer, Monteiro fought cleanly to avoid contact and the #18 Civic would lead the Honda train to the flag from 6th, with Tarquini 7th and Michelisz 8th – all three bagging crucial championship points.

In stark contrast race two would bring bitter disappointment for Monteiro. A rocket start off the line and superb move inside Coronel going into turn one would bring short-lived excitement as the Civic was spun wide and out of contention under contact with Coronel, resulting in too much damage for Monteiro to continue.
For Tarquini and Michelisz the focus was very much to close in on further points-scoring finishes and guarantee the safe return of the cars. A steady race for both ensured the remaining Civics maintained pace running 8th and 9th respectively.
With several other competitors falling prey to the punishing characteristics of the bumpy street track, Michelisz and Tarquini put in stellar drives, using their heads to bring the cars home well in the points in 6th and 7th, following an exciting late race battle to attack D'Aste as the Honda pair took advantage of an incident involving Mehdi Bennani.
Gabriele Tarquini: "First race I had a very good start, overtaking Coronel but very close to the wall. And then I took Norbert at turn four. After that I tried to defend my position with Muller, but he overtook me quite easily and I had to look after my brakes. The second race was quite different - it was very exciting because I tried to overtake D'Aste, but he came back, then he braked up the inside but I managed to take position."
Tiago Monteiro: "It wasn't a brilliant race 1 but I at least scored some points. We made some changes for race two and this time my start was great, up to P2 before fighting with Sebastien and slipping back to P3 but suddenly I got two big hits from behind and I was sideways, which destroyed my race. It's a real disappointment because a 3rd or 4th finish was entirely possible."
Norbert Michelisz: "The second race was more interesting than the first one. In the first one we had a lot of problems with the brakes so after the fourth lap I really had to manage them. We ran a different compound for race two, which worked better. I'm happy with the result because I scored some important points and brought the car home."

Alessandro Mariani, Managing Director JAS Motorsport: "I was really positive yesterday but I knew it would be difficult for us. Today we had a new problem that hadn't happened before. Last year we had some problems with the car and lost Gabriele's car [during free practice crash] so we never really raced here. We started with white paper. This weekend we worked very well but if we could do it again I think we could be better prepared, i.e., with the dampers – which are very important here. In Portimao [during testing] we worked on setup for overall performance of the car rather than focussing on the kerbs, which we have suffered with. We also had braking problems that we've not encountered before. Fortunately the new aero package includes a totally different front, along with brake cooling, so this is the last time we run with this specification because in Budapest we will have the full upgrade package."
Daisuke Horiuchi, Large Project Leader for WTCC Development at Honda R&D: "Compared to last year, this event is better in that our development has put us closer to our competitor. The gap is smaller but we still have further work to improve engine performance."
Additional Notes:
Regrettably both Nika Racing's and Proteam Racing's single Honda Civic WTCC entrants were absent from today's two races, with Rickard Rydell unable to attend the Moroccan event owing to illness and Dušan Borkoviæ electing to withdraw from the event owing to personal reasons.
Race 1 Results:

1 José María López Citroën C-Elysée WTCC
2 Ma Qing Hua Citroën C-Elysée WTCC
3 Sébastian Loeb Citroën C-Elysée WTCC
4 Mehdi Bennani Citroën C-Elysée WTCC
5 Yvan Muller Citroën C-Elysée WTCC
6 Tiago Monteiro Honda Civic WTCC
7 Gabriele Tarquini Honda Civic WTCC
8 Norbert Michelisz Honda Civic WTCC
9 Stefano D'Aste Chevrolet RML-Cruze TC1
10 Tom Chilton Chevrolet RML-Cruze TC1

Race 2 Results:

1 Yvan Muller Citroën C-Elysée WTCC
2 Sébastien Loeb Citroën C-Elysée WTCC
3 José María López Citroën C-Elysée WTCC
4 Tom Chilton Chevrolet RML-Cruze TC1
5 Hugo Valente Chevrolet RML-Cruze TC1
6 Norbert Michelisz Honda Civic WTCC
7 Gabriele Tarquini Honda Civic WTCC
8 Stefano D'Aste Chevrolet RML-Cruze TC1
9 Mehdi Bennani Citroën C-Elysée WTCC
10 James Thompson LADA Vesta
Championship Standings:
Drivers':
1 José María LÓPEZ 53
2 Sébastien LOEB 43
3 Tiago MONTEIRO 28
4 Yvan MULLER 22
5 Gabriele TARQUINI 22
6 Ma QING HUA 19
7 Norbert MICHELISZ 14
8 Mehdi BENNANI 14
9 Tom CHILTON 8
10 Rickard RYDELL 3
Manufacturers':
1 Citroën 95
2 Honda 59
3 LADA 1