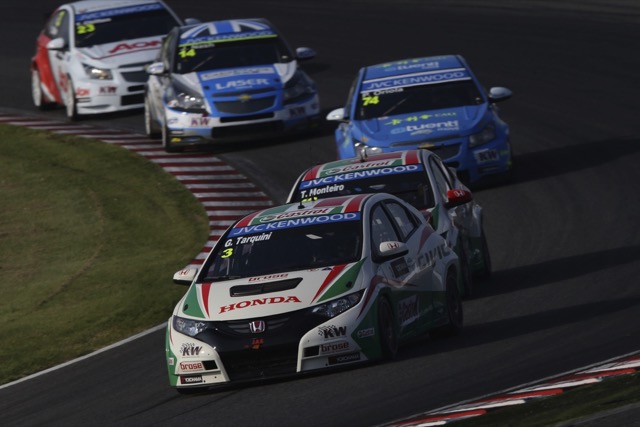 Race Track / 29 October 2013
HONDA READY FOR HEAVYWEIGHT CHALLENGE AT WTCC SHANGHAI
FIA WTCC - Shanghai
The penultimate event of the 2013 FIA World Touring Car Championship will prove a tough challenge for the Castrol Honda Civics driven by Gabriele Tarquini and Tiago Monteiro. Following the very competitive performance of the Civics in the recent WTCC events, the cars will carry the maximum 40 kgs of compensation ballast for the Shanghai event. At the same time the cars of three manufacturers received a reduction of 20kg in weight which means that the difference between the Civics and the majority of the grid will be 60kg!
Following the successful weekend at Suzuka where the Civic of Norbert Michelisz drove away from the field to earn a convincing victory and Monteiro battled through to third place in Race 2, the heavyweight Civics will face a tough challenge to earn valuable Championship points. Tarquini is currently second in the Drivers Championship.
"Shanghai is a Grand Prix track of course," explains Gabriele. "There are no kerbs, it is quite flat and very wide. It is great spectator viewing and the TV show will be great. At the end of the long, long straight there is very hard braking into a slow hairpin. It gets quite exciting there! The first corner is a very long slow turn, possibly the longest corner in the whole World Championship but it all makes it an exciting track to drive. I know it won't be easy for us because of our extra weight but, as always, I will fight for every position."
The Shanghai circuit was openend in 2004 and hosts the Chinese Grand Prix. The WTCC made the first visit in 2012 and used the 4.6km version of the circuit which was designed by German specialist, Hermann Tilke. Created in the form of the Chinese symbol "Shang" which means ascend, the circuit has a complex series of corners and curves on the east side joined at the western side by an 900 metre long straight. "It's a very exciting lap!" says Tarquini.
The Italian also points out that the cicuit has a very aggressive abrasive surface which generates high tyre wear rates. "It will be important to manage the tyre conditions through the chassis set-up so that we have adequate tyre performance right till the end of the races, however, the best scenario for us would be to have a wet race" advises Gabriele.
For Tiago this will be a return after his race last year with the very first Honda Civic WTCC when he raced in the final three events of the season as an introduction to this year's Championship success. "It is going top be tough with the extra weight. We have the data from last year which will help us with initial set-up but the Civic now is so different as we have developed all year long. My hope is to take a victory before the season ends, it has been so close on several races."