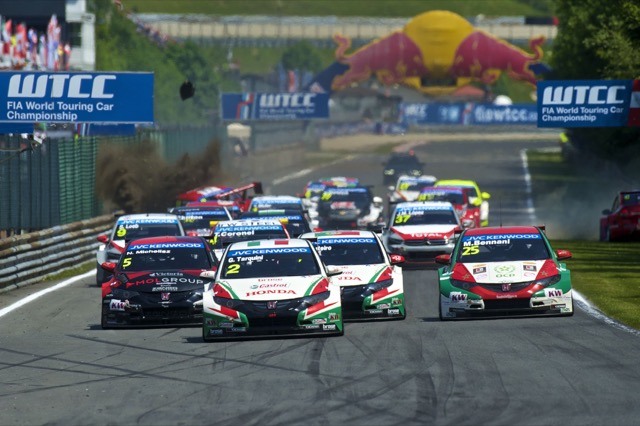 Race Track / 25 May 2014
Honda takes double podium at Salzburgring in 2, 3, 4 result
FIA WTCC - Round 5 - Salzburgring - Race 2 Report
Gabriele Tarquini stood proudly on the podium at the end of an incident packed Race 2 at the FIA WTCC event at the Salzburgring, Austria. Although the experienced Italian headed the field from his pole position at the start, and held on to this advantage after a long race delay caused by a multi-car accident on the start line, he was finally overhauled on lap 13 but hung on tenaciously to the flag. Castrol Honda team mate Tiago Monteiro joined Gabriele to celebrate a double podium appearance whilst Norbert Michelisz was also celebrating his fourth place finish in the Zengo" Motorsport Civic. Mehdi Bennani finished 8th to highlight the reliable performance of the Honda Civics.
From the moment the start lights went out, the four Civics accelerated away together and were three abreast as they approached the first corner. Monteiro took the advantage pushing through to track Gabriele with Bennani ahead of Michelisz. Behind the leading Hondas the jostling pack came together and two cars hit the barriers with a third damaged and forced to retire. Just a few metres further and another two cars were eliminated and the race red flagged to a halt. After a 30 minute delay the race was restarted behind the safety car.
Tarquini, Monteiro and Michelisz tried to use the slip stream to pull ahead of the others whilst Bennani was passed soon after the restart. Tarquini pulled out a 1.2 second advantage over Tiago who was under pressure from Lopez. Gabriele still held a slender lead when another safety car session closed up the field with just 5 laps remaining. Lopez was not to be denied and passed the Civic for the lead leaving the three Honda's of Tarquini, Monteiro and Michelisz to finish the race in 2nd, 3rd and 4th positions.
A delighted Gabriele was pleased with his podium appearance. "I was always hoping that we could hang on for the victory but when Lopez reached me it was impossible to resist. But I am happy to have added points for my Championship challenge and we keep fighting with lots more races to run."
Alessandro Mariani, Managing Director of J.A.S. Motorsport said: "It was the best strategy we could run and I am very proud of the whole team who have worked so hard for this weekend. The drivers have done a great job and we always try to get the very maximum from all the cars."
Tiago Monteiro was also pleased to be standing on the podium: "I got a very good start and followed Gabriele into the first lap but then the red flag came out. Having a double podium is a great reward for the whole team who have worked really hard to get there results. We continue to improve the chassis and I felt really comfortable driving the car today."
Daisuke Horiuchi, Large Project Leader for WTCC engine development from Honda R&D was disappointed.
"It is very difficult to get victories at this level. Our competitors could utilize the slipstream to their advantage. We continue to improve the performance step-by-step and work to be competitive."
For Norbert Michelisz his results were better than he had foreseen before the event. "I am really pleased with 9th and 4th because we need to keep in contention for points. I think we got the best results we could on a fast circuit like this. I'm looking forward to Moscow for the next event. It really is a circuit I like so we will hope to get more results."
Race 2: 1. Jose Maria Lopez, Citroën C-Elysée WTCC 17 laps; 2. Gabriele Tarquini, Honda Civic WTCC 1.683; 3. Tiago Monteiro, Honda Civic WTCC 2.554; 4. Norbert Michelisz, Honda Civic WTCC 3.651; 5. Tom Coronel, Chevrolet RML Cruze TC1 3.908; 6. Gianni Morbidelli, Chevrolet RML Cruze TC1 4.466; 7. Sébastien Loeb, Citroën C-Elysée WTCC 4.758; 8. Mehdi Bennani, Honda Civic WTCC 5.418; 9. Rene Munnich, Chevrolet RML Cruze TC1 10.074; 10. Mikhael Kozlovskiy, Lada Granta 1.6T 15.288; etc.
Driver's Championship : 1. José Maria Lopez (ARG) 179 ; 2. Yvan Muller (FR) 138; 3. Sébastien Loeb (FR) 134; 4. Tiago Monteiro (PRT) 96; 5. Gabriele Tarquini (I) 74; 6 Gianni Morbidelli (I) 60; 7. Tom Coronel (NL) 58; 8. Tom Chilton (GB), Norbert Michelisz (HUN) 54; 10. Hugo Valente (F) 47; 11. Mehdi Bennani (MAR) 36; 12. Dusan Borkovic (RS) 15; 13. Rob Huff (GB) 12; 14. Mikhail Kozlovskiy (RUS) 11; etc.
Manufacturer's Championship : 1. Citroën 412 ; 2. Honda 269 ; 3. LADA 136