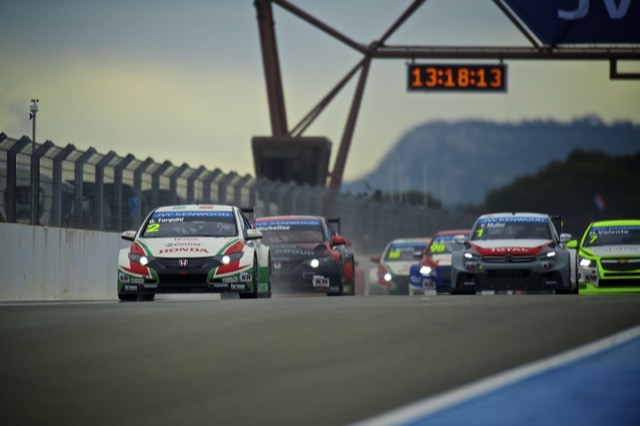 Race Track / 20 April 2014
Honda takes first podium as Tarquini races to third in Race 1
Circuit Paul Ricard - Race 1
Gabriele Tarquini stood proudly on the podium after bringing his Honda Civic home a fighting third overall in the first race of the FIA WTCC event at the Circuit Paul Ricard. The Italian ace mastered the wet and slippery conditions to make a great start to his season. Having made a brilliant start Gabriele led the Civic of Norbert Michelisz into the first corner and continued to lead the race for the first two laps before being passed by Yvan Muller. Michelisz hung onto the leading pair until lap 5 when he was passed by Sebastien Loeb and gradually dropped down the order to finish 7th one place ahead of Tiago Monteiro who made a poor start and found his car lacking grip but improving as the race went on. He moved up to 8th position two laps from the end. Mehdi Bennani finished 13th.
"I was very happy with the start of course but the setup was not so comfortable in these condition. It was quite a handful and I had to be very gentle with the car for all the race. To be on the podium is such a great difference to the feeling last weekend in Marrakesh and this result is a tribute to the team for all the work to repair my car in time for this event," smiled Gabriele.
Tiago Monteiro worked hard to bring the number 18 Civic home. "I had a poor start. Not so much wheelspin but it just did not want to get away. Maybe I was too careful with the power to avoid spinning the wheels. I was really surprised with the lack of grip to be honest. I had not driven in the wet this year until today and it was very difficult to be sure. It improved as the race went on and I was able to take the place from Morbidelli but by then the next group were too far ahead to challenge."
For Norbert Michelisz this was a race that gave him more experience of the car especially in the wet conditions. "This was my first time in the wet and really I am very happy with the result to keep the car under control for the whole race. I made a slight mistake in the fight with Lopez and lost the place and then was passed by Huff and Valente but we will race again and see what happens."
Alessandro Mariani, Managing Director of JAS Motorsport praised both his drivers and the team. "I am really happy with this result, as you know we are still at the early stage of our development program. This shows we have already found progress and this motivates us for the next steps."
Daisuke Horiuchi, Large Project Leader for WTCC engine development from Honda R&D.
"I am praising the talents of Gabriele and Nobert who exploited the drivability of the engine to make such good starts. All the software work we have done has paid off and built our data knowledge."
Race 1:
1. Yvan Muller, Citroën C-Elysée WTCC; 16 laps;; 2. Sébastien Loeb, Citroën C-Elysée WTCC 12.727; 3. Gabriele Tarquini, Honda Civic WTCC 15.026; 4. Jose-Marie Lopez, Citroën C-Elysée WTCC 18.663; 5. Rob Huff, Lada Granta 1.6T 31.393 ; 6. Hugo Valente, Chevrolet RML Cruze TC1 34.415; 7. Norbert Michelisz, Honda Civic WTCC 34.896 ; 8. Tiago Monteiro, Honda Civic WTCC 37.918; 9. Tom Chilton, Chevrolet RML Cruze TC1 41.014; 10. James Thompson, Lada Granta 1.6T 45.739; 11. Gianni Morbidelli, Chevrolet RML Cruze TC1 48.720; 12. Rene Munnich, Chevrolet RML Cruze TC1 49.234; 13. Mehdi Bennani, Honda Civic WTCC 57.136; etc.