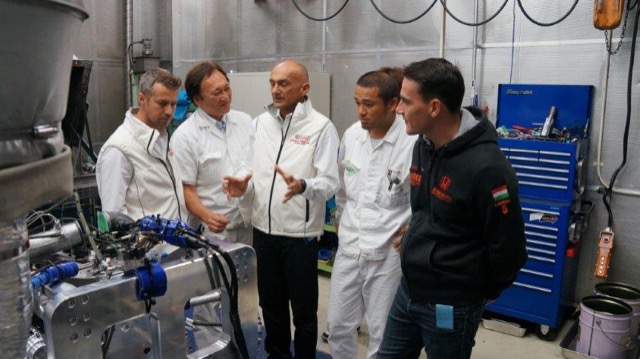 Race Track / 18 September 2013
HONDA TRIO SEE WTCC DEVELOPMENTS ON VISIT TO HONDA R&D CENTRE
FIA WTCC Suzuka
Honda's three World Touring Car Championship drivers were guests of honour at the Honda Research and Development Centre in Tochigi, Japan yesterday. Gabriele Tarquini, Tiago Monteiro and Norbert Michelisz, who will be racing at Suzuka this coming weekend, were welcomed with great enthusiasm and warmth by the research engineers, technicians and fabricators at the Honda R&D Centre.
The Honda drivers met the team responsible for the development work on the current Honda HR 412-E 4-cylinder 1.6l turbo engine used in the current Honda Civic WTCC. The drivers were accompanied on their tour of the facility by Daisuke Horiuchi, Large Project Leader for WTCC development.
Following the tour, the drivers signed autographs for many members of the Honda R&D team and thanked the technical staff for the hard work that has been carried out to make the Civic such a competitive car in its very first year racing in the WTCC.
"It was an honour to visit the Honda R&D facilities here at Tochigi and to experience the total enthusiasm of absolutely everyone involved in the WTCC engine project," reported Tiago Monteiro. "It is easy to see the dedication and the highest level of technical research that goes into this type of project from a global manufacturer. Everyone was so friendly and seemed to know us personally because we are driving their own engine!"