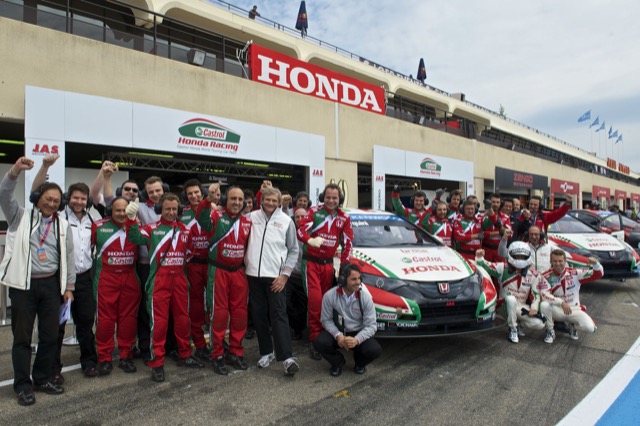 Race Track / 18 April 2014
HONDA?S RACE TO RACE IS WON!
FIA WTCC ? Round 2 ? Circuit Paul Ricard ? 18-19-20 April
Le Castellet. At exactly 2 pm this afternoon #2 Civic WTCC left its pit box to start the first test session of the second round of the FIA WTCC. Yes, the crew of the Castrol Honda World Touring Car Team succeeded in building a brand new Civic WTCC in just three days to allow Gabriele Tarquini to participate in what should become his 200th race in the FIA WTCC!
"Incredible, just incredible", were Gabriele Tarquini's first words when he saw his new Civic WTCC in the paddock. "The mechanics, truckies, the people in the logistics department, everybody in the team: I can only thank them for what they have accomplished. Now it is up to me to continue what stopped during that disastrous free practice in Marrakech."
It is well known by now that during the free practice for the Marrakech round of the FIA WTCC the Italian driver was hit by another driver, causing heavy and irreparable damage to his car. For the mechanics a race against time started. A truck with a new body shell left the Italian base in Arluno and another truck, carrying the damaged Civic, set course for a workshop near the Circuit Paul Ricard. Before this 'race to race' started, people in Arluno and Marrakech had done all the necessary preparations. But the clock was ticking…
Thursday evening, 10.30 pm sharp, the Civic's sound of the engine came to life. The people of J.A.S. Motorsport had shown that they can move mountains. It speaks volumes on their strength for the task that lays ahead during this second round of the FIA WTCC.
"I take my hat of to our boys", team principal Alessandro Mariani stated. "Now that this hard, almost impossible challenge has been met, we can focus on our primary task, which are the preparations for the second meeting of the FIA WTCC on the Circuit Paul Ricard. We completed one of our recent test sessions on this track, so we should feel well at home."