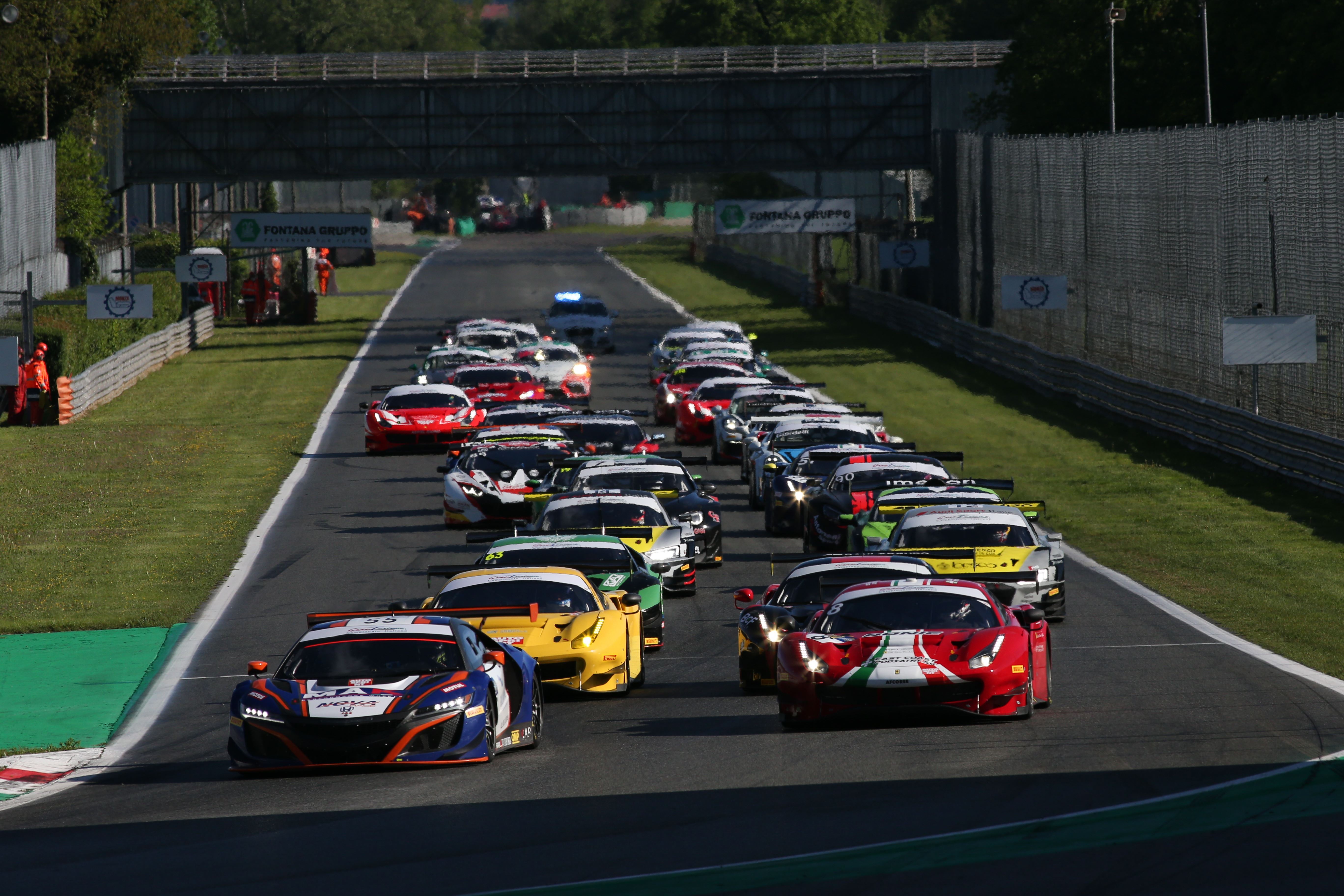 General / 13 May 2021
Impressive showings as Development Drivers kick off season
Over the past two weekends, four members of the JAS Motorsport Driver Development Programme made their seasonal debuts, with some highly-impressive results for each youngster.
Jacopo Guidetti and Erwin Zanotti both made sensational first appearances in JAS-built Honda NSX GT3 Evos at the Italian GT Championship opener with Nova Race; Jacopo taking an outright pole position and the runner-up spot in Pro-Am and Erwin scoring an Am class win.
Meanwhile in TCR Italy, Estonian Mattias Vahtel, driving for ALM Honda Racing, got to grips with the Honda Civic Type R - also built by JAS - among a field of highly-experienced touring car stars.
One week later Northern Irishman Jack Young raced his Civic Type R for the first time with the Brutal Fish Racing Team as TCR Europe got underway at the Slovakia Ring.
Here's how all four got on - in their own words.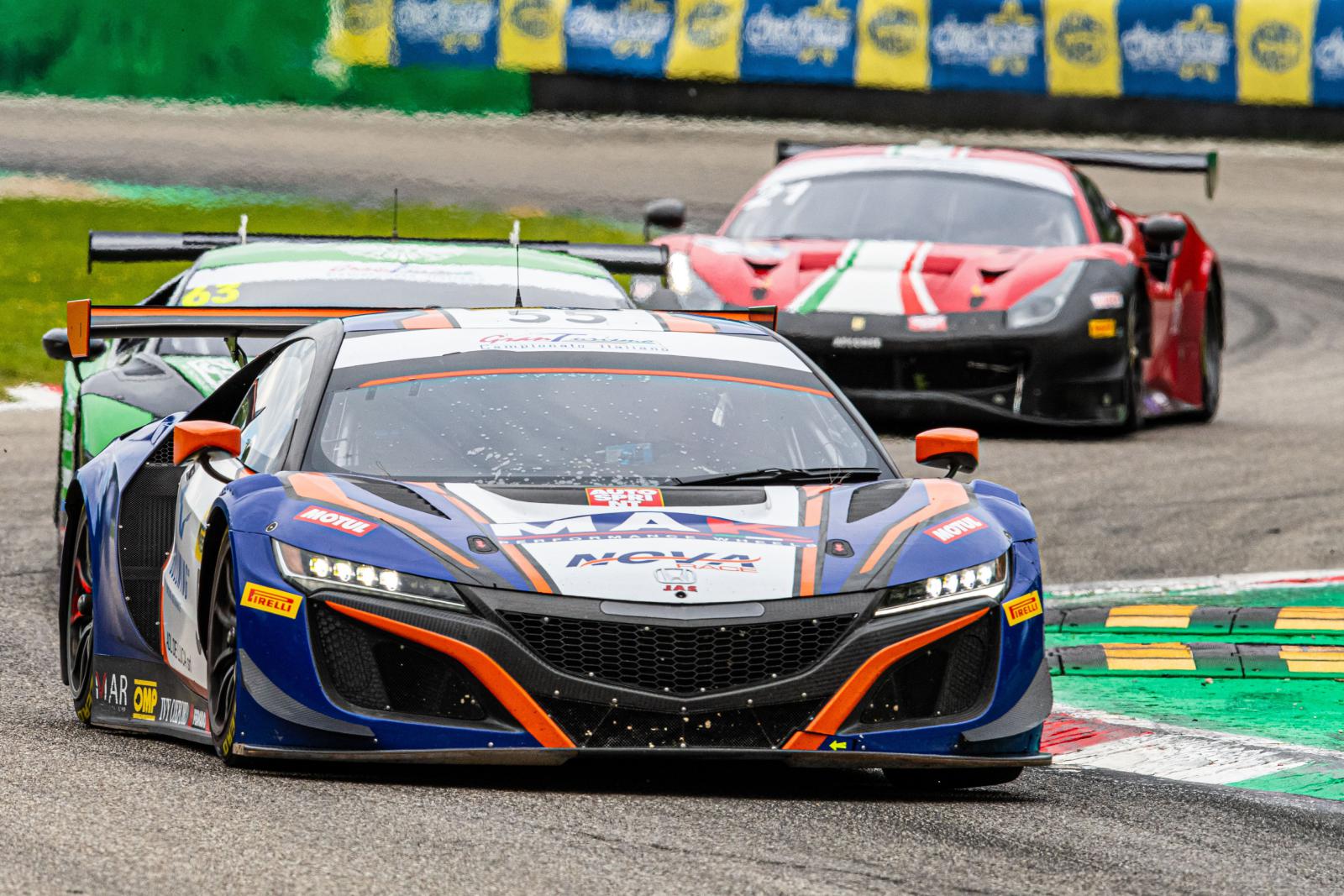 JACOPO GUIDETTI (I)
Jacopo was making his GT racing debut in the Pro-am Nova Race NSX GT3 Evo shared with Francesco de Luca. He stunned the field by taking outright pole position and then combined with de Luca to finish sixth in class in Race One and second (third overall) in the later race following a titanic battle with several rivals.
"It was a very impressive weekend with lots of things I learnt and lots of nice successes too. Making the debut pole was incredible and I have to give so much credit to not only the team, but to Marco [Bonanomi - DDP driver mentor] as he gave me so many tips to get a perfect lap here.
"After the red flag on Saturday because of the rain - which was the right decision - we raced properly on Sunday. I started in slicks on the damp track because we felt it would be the best strategy.
"I lost some positions at the start to cars on wet tyres, but I was recovering when I made a mistake at Turn 1 and had a penalty for an overtake. That cost us the race and we finished sixth in our class.
"I was not happy about the mistake, but we talked about it. Part of the JAS DDP is about focusing on mental preparation so you can not let things like that affect you when you get in the car next. It was a big help.
"Race Two was fantastic. My team-mate [de Luca] started third and did a good stint. When I got in the car, I made some nice overtakes and caught the Audi [of Riccardo Agostini]. We had a great fight all the way to the finish. We got third overall and second in Pro-Am so I'm happy.
"The best thing is that now I am confident that we can be challengers for the championship, so this is the mindset I now take to Misano for the next event."
ERWIN ZANOTTI (I)
Erwin, driving solo, qualified second in Am for Nova Race and finished there in Race One, which started in torrential rain on Saturday and was continued the following morning in drying conditions. He grabbed the class lead in Race Two just after the pitstops and won by nearly 30 seconds.
"This was a fantastic start to my season; a victory on my first weekend in a GT car. I hoped the weekend would be good, but I could never have dreamed it would be this good.
"We had a bit of challenge a few days before the race when it became clear that I would not have a co-driver and would have to drive the races solo.
"We were due to be in the Pro-Am category, but the Italian Federation, because I'd never raced a GT car and only have one season in Formula 4, said I should race in Am.
"As soon as it was clear that the weather was going to be the wettest of the wet, we made a plan to deal with it.
"As it was my first time driving the car in wet conditions, I was cautious, but despite this, when we went on-track for Race One on Saturday, I was hoping we would go to green-flag conditions.
"Then another car crashed right in front of me on the main straight and destroyed the barriers - while we were behind the safety car. It was probably a good thing that we stopped the race until the next day.
"In the damp on Sunday morning it was tough, but we had good speed and I was able to finish second. Then I made a good overtake for the lead of the class in Race Two. The result was perfect and Misano should be even better."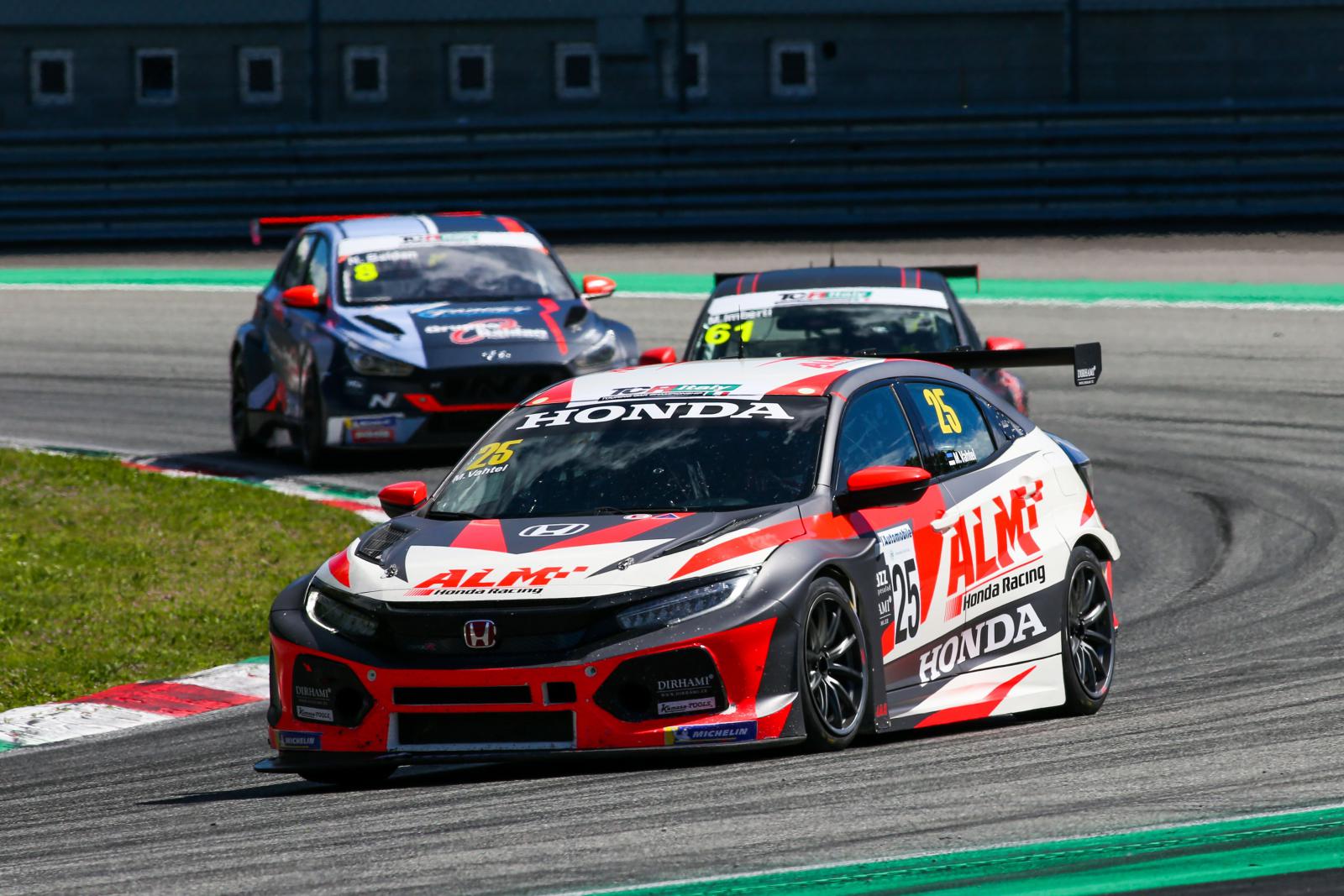 MATTIAS VAHTEL (EST)
Taking part in the TCR Italy opener at Monza for Estonian team ALM Honda Racing, Mattias qualified eighth in a damp session, giving him pole for Race Two. What followed was an exuberant peformance that resulted in a confidence-building fourth-place finish.
"It was a long weekend, but a very good one for me. We planned to try a lot of set-up options in practice, but lots of red and yellow flags in FP2 meant I only did one flying lap so we didn't really get a chance to simulate properly.
"We made a good decision to take slick tyres on the front and rain tyres on the back for qualifying and I was second for most of the session. Then some other cars pitted for new tyres near the end and pushed me back to eighth.
"I didn't swap because I didn't think there would be an advantage in the time left, but I was wrong and this is something to learn from. But eighth on the grid meant pole position for Race Two on the reversed grid, so this was still very good.
"Race One was wet and was a bit disappointing because we had top-five pace - which the laptimes proved. But the visibility was so bad and my windscreen was a bit steamed-up, so passing wasn't easy. Also I got spun at Turn 1 so recovering wasn't easy. I finished 11th, but I know it should have been better.
"Race Two was dry and I started from pole with the intention of fighting for the win. I got hit from behind at Lesmo 1 on the first lap and lost the lead. From that point I was always in a battle. I went off at Ascari - my fault for pushing too hard on cold tyres.
"I stayed always in the top six and we had a couple of safety cars, which probably helped keep us close together. On the second to last lap I got up to third, but two cars came past me on the next straight with the slipstream.
"On the last lap both me and Kevin [Ceccon] tried to pass the car ahead at Parabolica. We must have braked at 90m when you need to start at 130m! We both ran wide but I was able to finish fourth.
"We've showed good pace at a new track and I'm happy with that. The Honda excels at tight twisty tracks like Misano, which is where we're going next!"
JACK YOUNG (GB)
The former Clio Cup GB Champion had impressed on his one TCR Europe appearance to date, but began his maiden full season in the series with the Brutal Fish Racing Team at the Slovakia Ring. After a qualifying setback, he battled hard through the field in each race.
"The weekend started so well with third place in wet practice, and the car felt good in the dry qualifying too, so I was sure that we'd have been on for a top-five grid spot at the very least, even if Slovakia Ring is a track that suits some of the other cars better than the Honda.
"The Brutal Fish Racing Team have made me feel so welcome and there were some comparing my relationship with [team-mate] Isidro [Callejas] to the one between Carlos Sainz and Lando Norris in F1! We're both teenagers so it's good that we get on well.
"Unfortunately I was hit during qualifying before I'd got a really good lap in and that broke my steering and put me in the pits when I should have been out going faster as more rubber went down on the track.
"That put me 18th on the grid; bad enough for one race, but the qualifying format means if you're lower than 12th, you're locked into that grid position for both races. So that was the weekend gone at that point in terms of winning.
"The team did a fantastic job to fix the car for Race One, which was only a couple of hours after qualifying, but I had a touch on the first lap that damaged the wheel hub and gave me a big vibration. I was 11th in that one, but I felt I hadn't been aggressive enough, so I got my elbows out a bit more on Sunday and it came out well.
"The race pace was better and while I still finished 11th, I was closer to the leaders on laptimes and just missed the top 10 by a few tenths."