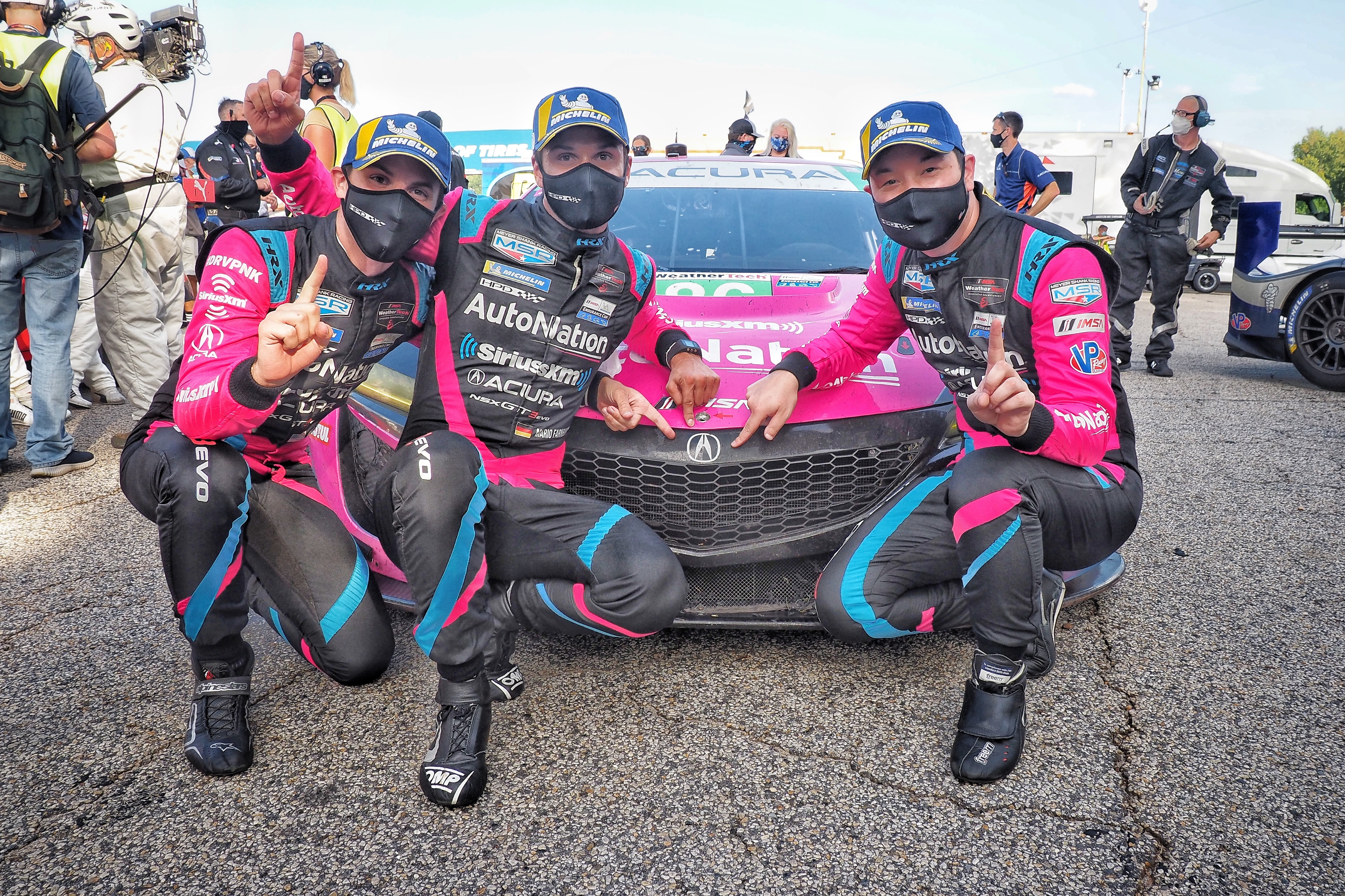 GT3 / 07 September 2020
IMSA victory for NSX GT3 Evo trio
Mario Farnbacher, Matt McMurry and Shinya Michimi scored the NSX GT3 Evo's first GTD win of the IMSA WeatherTech Sports Car Championship season with a commanding performance at Road Atlanta.
The Meyer Shank Racing trio started the six-hour race - which was also a round of the Michelin Endurance Cup - from fourth place on the grid thanks to Michimi's efforts in qualifying, and the Japanese-American ran competitively throughout the opening stint.
The class of the field in the pitlane all day, the MSR crew catapulted McMurry into second place as he took over for his two hours behind the wheel, and gained Farnbacher another spot as the German climbed aboard for his stint in the race's final third.
Farnbacher - the reigning GTD champion - built an eight-second lead, but was forced to dig deep when this was eliminated by the safety car with 12 minutes remaining; the field subsequently released for a final two-lap sprint to the chequered flag.
By winning, Farnbacher and McMurry now lead the GTD Drivers' title race by 12 points with MSR 14 ahead in the Teams' Championship and Acura taking over the top spot in the Manufacturers' ranking.
In the Endurance Cup - which comprises only the four longest events of the IMSA season - they are fourth in the points with MSR third in the Teams' rankings and Acura second in the Manufacturers' standings.
The sister car, entered under the Heinricher Racing banner, was qualified sixth by Misha Goikhberg and he climbed to fourth during the opening stint.
Minor contact with a wall - a result of a spin on the hour mark - damaged the car';s bonnet and forced Goikhberg to make an unscheduled pitstop to have the broken parts of the bodywork removed, dropping him two laps behind the leader and into 12th.
He and co-drivers Trent Hindman and Alvaro Parente rallied well, however; gaining a lap back through clever strategy and climbing to seventh place by the chequered flag.
Hindman and Parente are 10th in the IMSA points with the Heinricher car ninth in the Teams' rankings.
Both cars were competing as part of the NSX GT3 Customer Racing Programme; a global collaborative project with JAS Motorsport responsible for assembly of all cars.

Honda Performance Development (HPD) and M-TEC handle sales and technical support in North America and Japan respectively, with JAS responsible for these areas across the rest of the world.