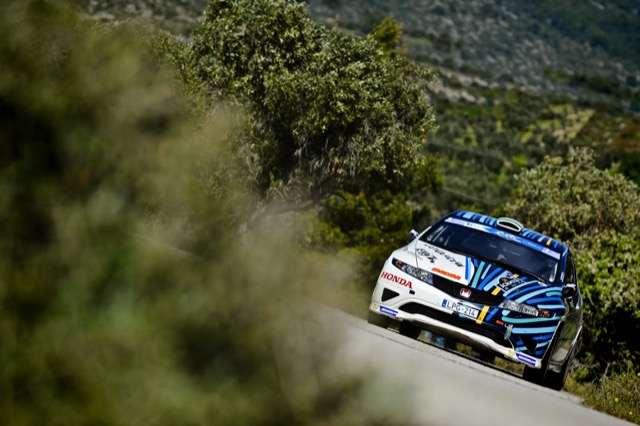 Rally / 26 August 2014
Injury forces Zoltan Bessenyey out of Barum Rally!
FIA ERC - Barum Rally - Preview
Reigning 2WD champion Zoltan Bessenyey will not be travelling to the Barum Rally this week to defend his title. The Hungarian driver damaged his left ankle playing badminton last week and after taking medical advice has decided to withdraw from the Czech classic.
The Eurosol-Civic Type R driver currently leads the 2014 2WD Driver's Championship with 72 points, ahead of Czech Jan Cerny (68) and Frenchman Stéphane Lefebvre (65).
Zoltan says: "It's been a painful decision to make, but on the advice of my doctor I will not be participating in the Barum Rally this week. It's a real shame as we're currently sitting in such a great position in the Championship, but I have to be realistic. When driving competitively I put a lot of pressure on my left foot and to be able to concentrate on the ultrafast bumpy asphalt roads I have to be 100% fit. I'm not there yet, but will be doing everything I can to be physically ready for the Cyprus Rally in September."
Despite Bessenyey's absence there will still be a big Honda presence at the Barum Czech Rally Zlín. Indeed, with fifteen local Honda drivers battling it out in Class 9, the crowd could be forgiven for thinking it's a Honda Cup! Daniël Vladyka, who was victorious in the Civic-class in 2013, is running a Civic Type R this year and joins Roman Martinec, Martin Trojek and Polish ace Grzegorz Sikorski in Class 8.
The rally starts in the Moravian city of Zlin on Friday August 29 with the Super Special. On Saturday August 30, the 122 crews begin the first of 15 special tarmac stages, covering a total of 237 km. The winner will appear at the finish around 15h51 on Sunday August 31.