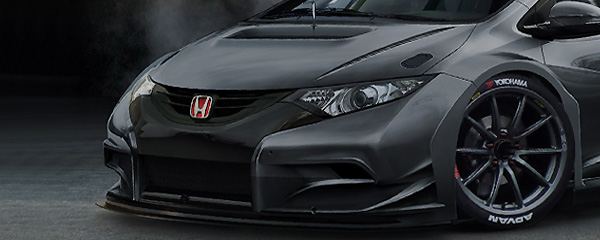 Rally / 20 June 2012
IRC - GEKO YPRES RALLY - MARTIN KANGUR IS IN GOOD HANDS?
Dikkebus, Heuvelland, Hollebeke and Kemmelberg are names familiar to any rally fan and rightly so. They?re some of the infamous special stages of the Belgian Geko Ypres Rally, the sixth round on the Intercontinental Rally Challenge calendar.
Leading the charge for Honda is last year?s Rally of Scotland 2WD Cup winner Martin Kangur, who after a long absence returns to the IRC. It is the third time that Estonian Kangur and the Honda Civic Type R will compete in Ypres, famous for its historic market and cloth hall, and he is relishing the challenge.
Overseeing Kangur?s Honda at the Belgian rally is motorsport legend Anna Cambiaghi, who has recently joined the Honda Racing / JAS Motorsport squad as sportive lead.
With two IRC rallies in two weeks, it?s certainly been an eventful start for the Italian: ?After Martin slipped off the track during testing, our technicians had to go into overdrive to deliver a top-notch car,? says Cambiaghi ?And on top of that we?ve had to prepare for two rounds of the IRC back to back. It?s been quite a challenge, but I couldn?t think of a better way to learn than being dropped in at the deep end.? smiles the Italian. ?The car is running well, Martin is very happy and he has his sights on a Top 5 place in the 2WD.?
Of course Cambiaghi is no stranger to the world of motorsport, having been hugely successful during the eighties.
?My brothers and cousins absolutely loved rally sport and that?s how it all started for me really - as their co-driver. My cousin sometimes got tired during the rally, so I just took over the wheel and got the taste for it. In the rally of Lugano I came 2nd and Carlo Chiti, the boss of Autodelta, sent me to the Tour de France-Auto. I also acquired factory support for the Italian rallies.?
After a spell in the all-female Aseptogyl-team, at the wheel of the famous Lancia Stratos, Cambiaghi switched to sportscars and then later to touring cars; she even competed in Formula 3.
?After rally, I always wanted to do something else and it started with sportcars. In ?77 I made my debut in the 24 Hours of Le Mans with Osella and Giorgio Francia. But my favourite circuit has to be the old N?rburgring! The Chevrolet Camaro of the Belgian-Italian Luigi Cimarosti remains a highlight for me; a beast of a car that I shared with Lella Lombardi in the European Touring Car. It had a lot of power, but the car didn?t always pass the whole race. I changed to an Alfa GTV of Jolly Club in ?82, and after that then stayed active in touring cars.?
After a short break from racing, Cambiaghi finished her competitive career where it all began, in rallying ? finally retiring after the Safari rally in 1989. But Anna?s role at JAS Motorsport starts a whole new chapter in her motorsport career:
?The fact that I can work in the IRC thanks to Honda and JAS Motorsport is absolutely fantastic because motorsport, and especially rally sport, has always been the love of my life!?
Martin Kangur could not imagine a better coach than the experienced Anna.
The Geko Ypres Rally starts on Friday June 22 with six special stages, followed on Saturday June 23 with another twelve consecutive special stages - a total of 287,66 km against the clock.
More:
www.ypresrally.com