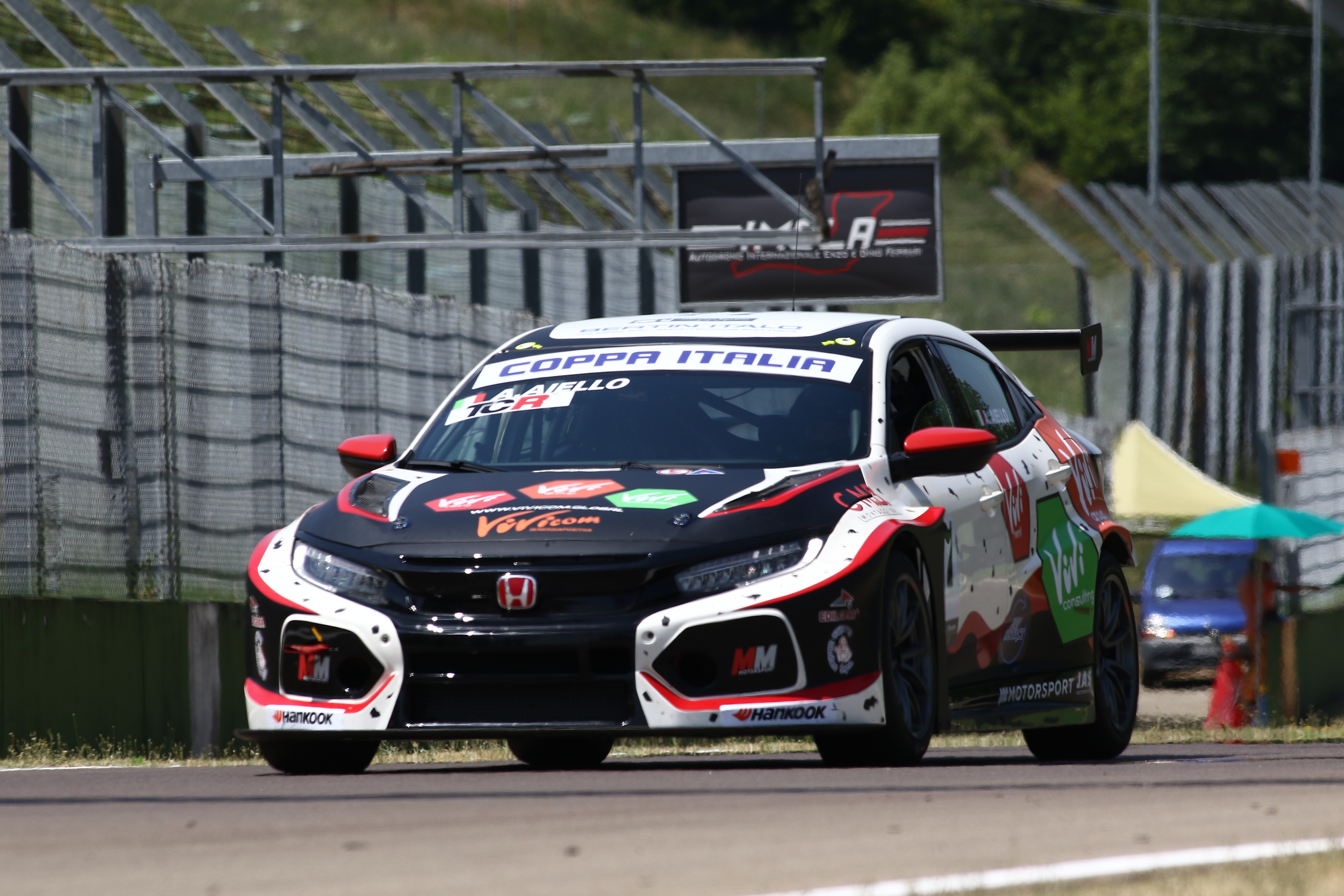 TCR / 14 July 2020
Italian victory on milestone weekend for Civic Type R TCR
The Honda Civic Type R TCR opened the Coppa Italia Turismo season with a victory on a weekend that also gave up three pole positions and a number of landmark results for customer teams competing across the world.
MM Motorsport's Alessio Aiello started from pole position at Imola and fought for the overall lead of Sunday's opening race in his JAS Motorsport-built car. After duelling for the top spot, he finished second outright, but still claimed Class 1A honours.
He was fourth in the afternoon race, which was stopped and re-started after a first-corner incident involving several cars; his opportunity to move forward compromised by only seven of the planned 25 minutes being run under green-flag conditions.
Team-mate Davide Nardilli was second in Race Two in an older FK2 Civic, having finished the opener fourth in 1A.
Brutal Fish Racing by KCMG scored a pair of milestone results at the Monza 12 Hours. Daniel Lloyd secured the Civic Type R TCR's first pole position in the 24H Series and was partnered by Pepe Oriola and Martin Ryba to score its first podium finish in the championship as well.

The trio led by a lap with less than an hour to go, despite the race being suspended for two hours on Saturday while a severe thunderstorm hit northern Italy and flooded the circuit.

Unfortunately, during the intense rainfall, water seeped into an electrical connector, leading to a short circuit that stopped the car on-track with just 40 minutes left. The resultant delay dropped it to third at the finish.

Scott Smithson scored an impressive triple podium as the TC America Series resumed at Virginia International Raceway. The TCR rookie qualified third and finished a career-best second in Friday's opening race before adding a pair of thirds.

Ahead of him on Saturday and Sunday was VGMC driver Victor Gonzalez Jr, who was second twice; a late puncture having cost him an easy third-place finish on Friday. He's now third in the championship, one place behind Smithson.

Smithson's team-mate Olivia Askew was fifth on her debut in Race One and then seventh twice, while CJ Moses was sixth twice and eighth in Race Two in his Crowdstrike Racing car, which was also entered by DXDT.
Anton Nemkin picked up where he left off at the end of the 2019 TCR Russia series as the new season got underway at the Smolensk Ring.
Having equalled the Civic Type R TCR's best-ever qualifying position in 11th, he then scored its best outright result in ninth spot in a wet opener and also claimed class honours in the SMP Russian Circuit Racing Series Trophy for amateur drivers.
The Motor Sharks driver was unlucky to crash out of Race Two on the opening lap on a still-damp surface.
In the Nurburgring Endurance Series (NLS), Dominik Fugel secured TCR pole position for the second straight event, providing satisfaction for the Fugel Sport team ahead of the four-hour race.
Unfortunately an engine issue put his co-driver Mike Halder out just beyond the one-hour mark; the German having built a 15-second lead by that point.