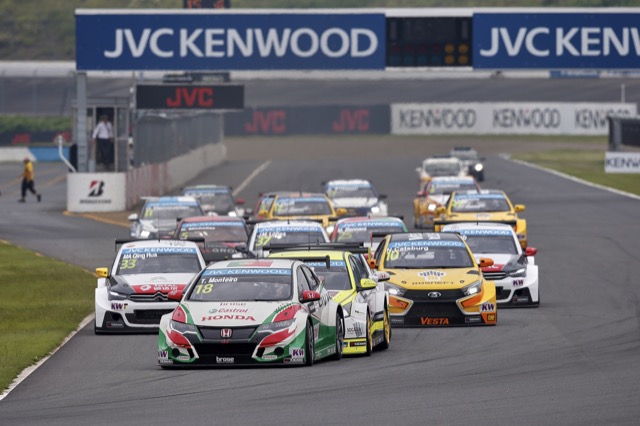 WTCC / 13 September 2015
JAS-Built Castrol Honda Civic Victorious in Japan!
Tiago Monteiro claims victory in race 2 and a double podium for Honda with a 2-3 result in the race 1
Tiago Monteiro has achieved the dream this weekend; taking a superb victory in the JAS-prepared Honda Civic WTCC on home ground. Both of today's FIA World Touring Car Championship races yielded exhilarating, and often tense, action from start to finish and for the Hondas, gave plenty of reason to celebrate.
Amassing the win, combined with three podium finishes, a mighty fightback from 17th to 9th for Monteiro and an epic last chance battle between Tarquini and Sebastien Loeb, added to Michelisz's pole position yesterday and the quickest time in both races, the team leave Motegi with a great sense of achievement and pride.
To the first race and things were off to a flying start with non-stop action from lights to flag. Immediately challenged off the line by Jose Maria Lopez, pole-sitter Norbert Michelisz's determination to retain the lead was evident for all to see as the Hungarian ace perfectly executed his 'feisty but fair' defence. Lopez would just creep ahead and take advantage, but wasn't without the persistent presence of JAS-built Civic WTCCs in the mirrors – behind a Honda vs Honda battle played out with Gabriele Tarquini joining the fray thanks to a perfect lunge off the line, gaining three places from his 6th place grid slot.
Proving once again the depth of Honda's motorsport pride, Tiago Monteiro – starting his 200th FIA WTCC race – was the man on the move. Despite his demotion to the back of the grid, the ever committed ex-F1 racer once again effected a perfect start, not only rapidly progressing through the field but providing arguably some of the best on-track action much to the delight of the local support – including tense wheel-to-wheel action culminating in a three-abreast challenge with Rob Huff and Hugo Valente – undoubtedly highlighting the pace in the car and desire in Monteiro to push to the flag.
Upfront the internal Honda battle continued with Tarquini setting the fastest lap as the Civic WTCC duo continued to chase. Michelisz crossed the line in 2ndfrom Tarquini, with Monteiro finishing a respectable 9thafter his resurgent drive through the field.
In the second race Monteiro made his now custom start launch, immediately emerging as the race leader having eclipsed Hugo Valente off the line with supreme confidence – the position he would maintain with an extended gap over the second-placed finisher.
For Tarquini it was a frenetic race from start to finish – the race one podium finisher locked in an enthralling battle with Ma Quing Hua, Rob Huff and latterly Sebastien Loeb. A relentless drive from Tarquini ensured the Civic WTCC was well within the mix and chasing for further podium success but as it looked like 4th would be a points-scoring finish, the final lap and final yards would bring in an exciting last chance fight with Loeb, the Frenchman just edging fractionally ahead as the two crossed the line.
Gabriele Tarquini (3rd/5th) "The first race I had a great start, fighting on the first few corners. By the fifth corner I was in 3rd with very good pace and Norbi just in front of me. The first few laps I was very competitive but then I was queuing behind Norbi and it was difficult being in the same car, even on the slipstream. He didn't make any mistakes so I couldn't find a way to pass. But I am happy with third, I think that was the maximum. It's a shame that we can't win the first race, which is very important to us. For the second race my starting positon was even better but I couldn't find a good way into the first corner. I had some fun, there was some good fighting."
Tiago Monteiro (9th/1st): "This is what makes this weekend even more amazing [after the grid penalty put Monteiro on the back of the grid] – winning a home race for Honda. Having started a little bit on the back foot, we knew we had to focus and use the rules to advantage. We knew the second race was important and something was possible. I pulled away very well and just pushed as much as I could, whilst managing my tyres, to get a good gap. I was very confident with the car this weekend; the overall balance has been great and we had some updates which have definitely helped us to be competitive. Norbi and Gabriele did a good job in the first race and I was really looking forward to doing something in the second one. I can only thank everyone at Honda R&D and JAS for all their hard work and support. I hope this is a good reward for them in their home race and I am very happy for the whole team."
Norbert Michelisz (2nd/DNF): "I expected to have a better start than I did [in race one] it was not too bad but Pechito had good momentum. I hoped my race pace would be better but he didn't make any mistakes so I couldn't do much to prevent him from overtaking. It's a bit disappointing to have not taken the win from pole but I think with the pole position we have showed the progress is there and the important thing is to continue with that. I had an average start in race two, with a lot of cars around. I had to avoid some movement from the cars ahead but in doing so I was just 16th or 17th. I tried to come back and managed to work to 7th but then I had an issue with the turbo and that ended my race."
Alessandro Mariani, Managing Director JAS Motorsport: "I'm very happy that we took a victory – the start was the key point in both races. The balance is very good with three drivers on the podium. Our pace was very good, we have been competitive since the beginning of FP0, always making the best time except in Q1. And today we had fastest laps in both races. I am very satisfied and it's also important for us in Honda's home race. Big thanks to all the staff; the engineers and Honda for their hard work and support this weekend."
Daisuke Horiuchi, Large Project Leader for WTCC Development at Honda R&D: "It has been a very good day – everything went well, especially with the race two win. We have put in a great deal of effort and everyone has worked hard to reach our target of a home race win, so we can be very pleased with the results here this weekend and our performance in general."
NOTE: Gabriele Tarquini received a 30 second penalty for colliding with car nr 33 at turn 1 in race 2. Final position will therefore be 12th.