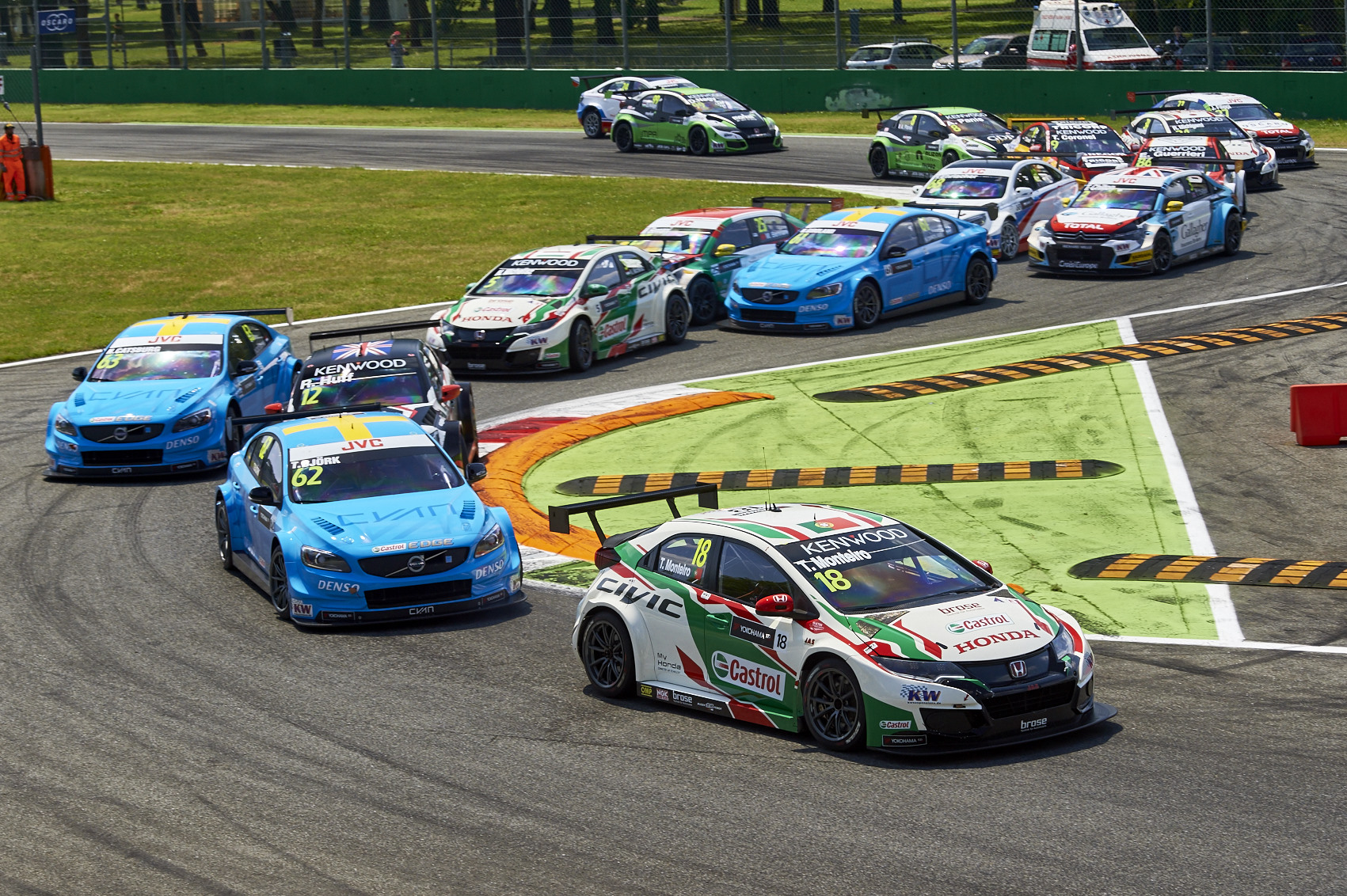 General / 01 May 2017
JAS-built Hondas lead five Touring Car Championships
JAS Motorsport-built cars lead five major touring car championship following another hugely-successful weekend across the globe (April 29-30).

Tiago Monteiro's pair of hard-fought podium finishes and front-row start at Monza helped the Castrol Honda World Touring Car Team driver to double his lead of the FIA World Touring Car Championship.

His team-mate Norbert Michelisz was on course for victory in the Opening Race before contact from a rival eliminated the Hungarian's JAS-run Civic WTCC from contention.

Earlier on Sunday morning, the Honda-supported Dome Racing Team Civics scored a second straight one-two finish in Japan's ultra-popular Super Taikyu Series at Sportland Sugo.

The Hondas were the heaviest cars in the ST-TCR division due to post-Motegi success ballast, but this did not stop Shinji Nakano, Shinichi Ito and Shinichi Ebisawa from taking victory. Motegi winners Hiroki Kato/Takuya Kurosawa/Keishi Ishikawa were second.

TCR Germany Champion Josh Files opened his title defence with a win and a third place for Target Competition at Oschersleben to come away with the points lead.

His new team-mate Kris Richard - last year's European Touring Car Cup winner - scored a debut pole position on the 44-car grid while Honda ADAC Team Sachsen's Steve Kirsch finished second in Race One as four Hondas finished inside the top five.

Richard's old team, Rikli Motorsport, kicked off the new ETCC season with a one-two in qualifying for their Civic TCN2s; Peter Rikli heading Christjohannes Schreiber on the Race One grid.

Schreiber claimed an impressive Race Two victory after beating Rikli into second place in the opening race, and came away with the Championship lead.

A Honda also leads in TCR Thailand after Chariya Nuya won from pole at Buriram in his Billionaire Boy Racing Civic with Nattachak Hanjitkasen third for the TBN MK ihear Racing Team. Nuya finished second in a wet Race Two with Hanjitkasen third.

Finally, MM Motorsport delivered another win in the Coppa Italia; Davide Nardilli taking his Civic to victory in Race Two at Franciacorta.

Alessandro Mariani, Castrol Honda WTCC Team Principal & JAS Motorsport Managing Director: "It's been a mixed weekend for the Castrol Honda World Touring Car Team. On the one hand, I'm very happy for Tiago; he's shown tremendous speed and scored two podiums and big points to increase his championship lead. But I'm frustrated for Norbi, because I'm sure he was going to win the Opening Race before [Mehdi] Bennani hit him, but we're in front and showed much improved pace on this sort of circuit, and that's what counts."

Mads Fischer, JAS Motorsport TCR Project Leader, said: "What a fantastic weekend for JAS-built TCR cars, which have triumphed in five different series, despite an incredibly tight set of races and some very evenly-matched grids in Europe and Asia. We must give huge credit to our customer and partner teams and drivers for achieving these results and hope for more over the coming weeks."