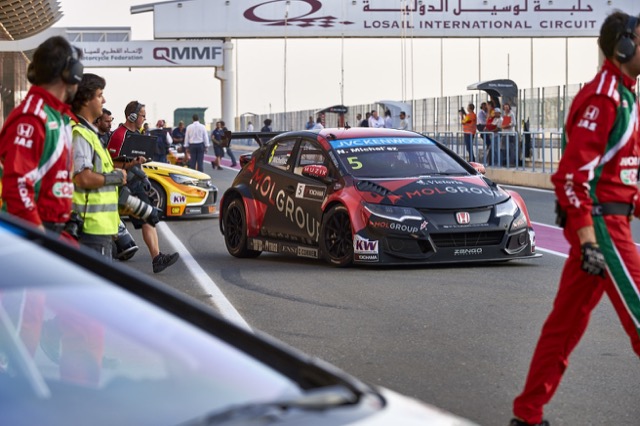 WTCC / 28 November 2015
JAS-Built Hondas Narrowly Miss Out in Tough Qatar Qualifying
Norbert Michelisz top placed Honda driver, looking to make his mark on Independents? title
It's been a frustrating start to the day for the Castrol Honda World Touring Car Team with Gabriele Tarquini and Tiago Monteiro qualifying outside of the top ten in this afternoon's first test on the demanding Losail International Circuit.
Despite making progress with car setup following yesterday's tough practice session, during which both drivers admitted struggling to get to grips with the dusty, slippery track, the JAS Motorsport-prepared Civic WTCCs are feeling the effect of the 40kgs ballast.
Tarquini could only manage 14th in the first qualifying session, acknowledging a couple of mistakes on his part proved costly. It means he will start both of tonight's races from 14th with plenty to do to ensure a clean race through the field if he is to secure further points in the illuminated season finale.
For Monteiro it was sadly a case of so close yet so far. The Castrol Honda cleanly made the grade for Q2 and was sitting in 10th for much of the session – a position the team thought would go unchallenged but for a last chance lap from Nicky Catsburg, which promoted him from outside the top ten well into the Q3 shootout. Frustratingly for the Honda squad, Catsburg's promotion would be Monteiro's loss as the #18 Civic was demoted to 11th- by a mere 0.009s.
Zengo Motorsport's Norbert Michelisz leads the Hondas, qualifying in 6th having just missed out on what would have been a hugely gratifying Q3 shootout – again the result of the charging Catsburg shuffling the order to Honda disadvantage.
The leading Honda man will line up 6th and 5th for tonight's races, with the all –important Yokohama Drivers' Trophy title yet to be decided, whilst Monteiro starts from 11th for both.
There's still plenty to play for and much work to be done for the Honda crews but as ever, anything can happen on this particularly demanding Qatar track. With a few hours before the first of the races commence, the drivers are locked in with their engineers discussing strategy for the night.
Gabriele Tarquini (14th/14th) "The car was ok during that session but I made a couple of mistakes – in turn four and the last corner. I tried to recover but unfortunately it didn't work and obviously I couldn't improve on my time so that was it, end of session for me."
Tiago Monteiro (11th/11th): "The car was much better to be honest. Having missed FP1 yesterday it put us on the back foot in terms of which setup and which direction to take. We were trying between the cars several ideas and at first I was confused on which way to go having not been settled with it yesterday. I opted to go for a similar setup to Buriram and the car felt decent. We knew Q3 would be difficult but a top ten was possible. Unfortunately behind traffic [that was throwing sand onto the track from off line] there was much less grip; I could feel the sand on the track making things difficult - every time I arrived at a corner there was a little less grip and I could feel the car sliding. Unfortunately I just missed pole at the end, which is really frustrating but that's the way it is. We've been struggling all week so I hope later we can finish on a better note."
Norbert Michelisz (6th/5th)): "I was surprised about our qualifying performance because it looked like a typical race weekend with the extra ballast – being faster in FP0 then struggling in qualifying. But for quali on new tyres, the car was better than expected and we did some fine tuning throughout the session. I'm really sorry for not taking part in Q3, it was unfortunate. I think it is good to have one car in the top ten with this ballast, but I am sorry the other two aren't up there – it proves how difficult it is to compete against lighter cars."
Alessandro Mariani, Managing Director JAS Motorsport: "I'm disappointed because we lost the top five for race two and pole position as well. It's a difficult track for us. The car wasn't competitive enough because we are struggling here with the 40kgs success ballast. For the races there are several cars in front, and mistakes might be made which will enable us to work through – it is a tricky circuit for all. Our drivers are solid in the races so we hope to do better tonight."
Daisuke Horiuchi, Large Project Leader for WTCC Development at Honda R&D: "Clearly it wasn't our best qualifying session; unfortunately we just missed out on Q3 with Norbi and the second race pole for Tiago which is very disappointing. But we have to rely on our stronger race pace and hope our drivers can make good starts to progress through the field."

Combined Qualifying Result – PROVISIONAL:
1 Jose Maria Lopez Citroën C-Elysée WTCC 2:00.947
2 Mehdi Bennani Citroën C-Elysée WTCC 2:01.311
3 Sébastien Loeb Citroën C-Elysée WTCC 2:01.525
4 Hugo Valente Chevrolet RML Cruze TC1 2:01.542
5 Nicky Catsburg LADA Vesta 2:01.833
6 Norbert Michelisz Honda Civic WTCC -
7 Ma Qing Hua Citroën C-Elysée WTCC -
8 Yvan Muller Citroën C-Elysée WTCC -
9 Tom Coronel Chevrolet RML Cruze TC1 -
10 John Filippi Chevrolet RML Cruze TC1 -
11 Tiago Monteiro Honda Civic WTCC -
14 Gabriele Tarquini Honda Civic WTCC -