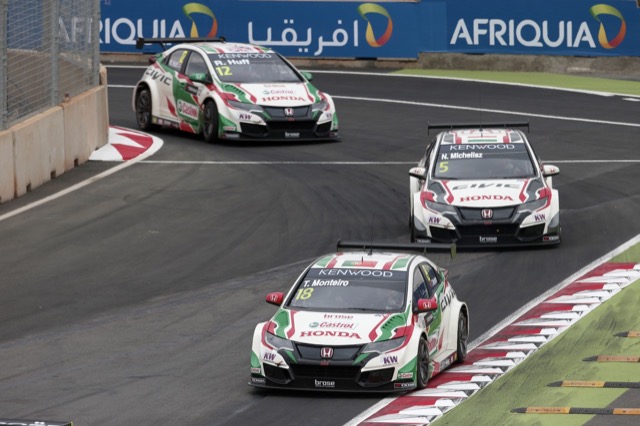 WTCC / 09 May 2016
JAS Civics Dominate WTCC in Morocco!
Huff leads a 1-2-3 for the team
JAS Motorsport-built Hondas secured a sensational 1-2-3 finish in the main race in Morocco on Sunday. Honda leaves the fourth round of the 2016 FIA World Touring Car Championship well and truly in title contention.
Rob Huff, Norbert Michelisz and Tiago Monteiro dealt with challenging wet conditions brilliantly to lock out the podium positions and make Honda the first manufacturer to complete a clean sweep of the podium this year.
Rob converted his maiden Castrol Honda World Touring Car Team pole position into the lead of a wet main race and immediately built a lead of 1.5 seconds, never putting a wheel out of line despite the lack of grip on the heavily-revised Moulay el Hassan circuit in Marrakech.
Norbert, who started second, remained close by for the entirety and claimed not only his best finish since becoming a factory Honda driver, but also his third podium finish of the season.
Tiago lost third place on the race's opening lap to Jose Maria Lopez, but secured the final podium spot when his title rival ran wide at Turn 10 at half-distance and gave him just enough room to squeeze by.
The Portuguese driver is just 14 points behind Lopez in the title fight with 16 races to go as a result of his fifth podium finish of the year and a superb recovery drive from eighth to fourth in the day's opening race.
Rob's victory and earlier sixth place elevated him to third place in the championship while Norbert is now fourth overall as a result of his second and fifth spots.
The results also ensure that Honda have reduced the deficit at the top of the manufacturers' championship to just 39 points with 43 on offer at each remaining race.
Rob Huff, Castrol Honda World Touring Car Team, said: "It's an incredible feeling to not only have this win, but to lead a Honda 1-2-3 as well and I can't thank the team enough. The conditions were unbelievably tricky out there with changing grip levels everywhere for the whole race duration, and the first few laps were a real case of just exploring and finding out how much grip there was. But the handling of the Civic WTCC was fantastic in the wet, just as it was in the dry in qualifying and the opening race. We knew this circuit would suit the Civic and that we had to take full advantage. We've done just that, so I think everyone at Honda can be very happy with the results this weekend."
Tiago Monteiro, Castrol Honda World Touring Car Team, said: "It was fantastic to be a part of a 1-2-3 in qualifying yesterday and it's even more fantastic to do it in the main race. I had too much wheelspin in the wet conditions at the start and lost a place to Jose Maria Lopez, but I put him under pressure for the first half of the race and he made a mistake, which gave me just enough room to get by. After that it was really close and it was a case of keeping your concentration in very tricky conditions. As a team, we deserve this for all the work that's gone in since the start of the year and we'll keep pushing to try and repeat this soon."
Norbert Michelisz, Honda Racing Team JAS, said: "This is a wonderful result for the team and proves that our car works well in the wet or dry conditions. Personally, I'm delighted because second is my best finish since becoming a factory Honda driver, but the team result is more important than my own position today. I truly believe that this is just the first step and that we can repeat this performance on a few more occasions in the future. Everyone can see how fast we've been in wet or dry and with lots of ballast and without it, so it looks very encouraging for the rest of the season."
Alessandro Mariani, Team Principal, said: "This is an incredible result for Honda and now the 99th podium in touring car racing for the partnership between JAS Motorsport and Honda. I have to say a huge thank you to everybody who has worked on this project between the winter and now. We had a big re-organisation over the winter with new drivers and new engineers and have changed many other things with the car and today, at a track we knew would be good for us, we dominated. It's a perfect result."
Daisuke Horiuchi, Large Project Leader WTCC Development, Honda R&D: "It's been a fantastic day for Honda, to add to a very good qualifying. Today's strategy was formed around scoring a 1-2-3 finish in the main race, whether it was wet or dry. We have achieved this with three excellent performances from our drivers in the wet main race, and also scored very important points in the opening race in the dry too. We are in contention for the drivers' and manufacturers' championships with still eight rounds of the season to go, so I am very happy."