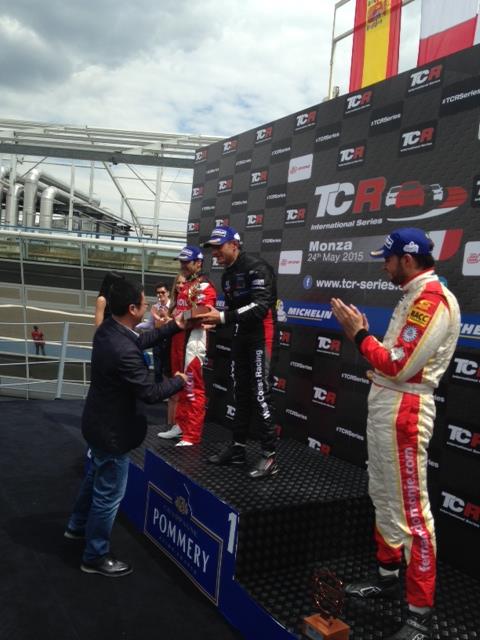 TCR / 24 May 2015
JAS Customer Takes Monza TCR Double Victory
Morbidelli Makes History in the TCR Series With the First Maximum Score from a Race Weekend
Gianni Morbidelli was not about to be overshadowed on home soil at the Temple of Speed and duly secured not one, but two TCR Championship qualifiers in the JAS Motorsport prepared Honda Civic TCR. This was the first time that anyone has taken both events in the double-header format used by the fledgling TCR series and the Italian did it in style.
RACE 1
From pole position Morbidelli had a great view of the first chicane and the clear track in front of him. When the lights went out Gianni was out dragged to the chicane by two other competitors and the 11 lap battle for victory commenced. For the first 5 laps the JAS Honda was boxed in the high-speed train but the experienced Italian used his years of Monza knowledge to move into second place on lap 6. By using the slipstream on the main straight he hit the front on lap 8 and was then able to hold position as the cars behind were fighting for results and dropping back from the tail of the Civic. Morbidelli crossed the line 1.2 seconds ahead of Pepe Oriola to collect a valuable 25 Drivers' Championship points to add to the 5 points awarded yesterday for his pole position. He started Race 2 in 10th place as the grid positions are reversed for the second encounter.
"It was really hard work out there as predicted but I was able to use my knowledge of the track to find the way through. Then they started to fight each other and I was ok."
Kevin Gleason started on the back row after his qualifying problems yesterday but moved positively through the field to finish a very creditable 6th. "I made up good ground right from the start but got delayed mid race getting past Monje's car. I then went straight on through the chicane and lost time but not my position." The third JAS Honda Civic of Igor Skuz came into the pits early with overheating brakes.
RACE 2
The all-action TCR race 2 proved another great entertainment throughout. Within seconds of the start one car was spinning off before the first chicane and there was action right down the field. Morbidelli made a lightning start from the 4th row and was up to 3rd by lap 3. The Monza chicanes shuffled the field on many laps and with four cars running abreast down the main straight the result was going to be hard ought. Morbidelli paced his race perfectly and was in second position to challenge at the start of the very last lap. The two cars went into the chicane together and the Honda Civic came out in the lead to make it a fantastic double victory for Gianni and the West Coast team this weekend. Two consecutive trips to the top step of the podium shows the undoubted strength and performance of the JAS Motorsport-prepared Honda.
At the post race press conference Gianni Morbidelli enthused about his victories. "I am very excited to have been in such great races, it was an incredible fight in race 2. We were not so quick in a straight line today but I could get lots of time on the Parabolica Corner which gives me good speed on the straight. The day delivered well for me, we won two races, collected lots of points and now lead the championship so I have to thank all the team at West Coast for a great car and great performance."
Greger Petersson, Team Principal of West Coast Racing was full of admiration for Gianni: "A really fantastic drive, a great driver. He is so very mature with all the experience but showed it today. He can wait for the opening, allows people to pass and then makes the perfectly timed move. He was totally the best today."
For Kevin Gleason Monza proved a tough weekend. Sixth in race 1 was some reward after the problems in qualifying but Race 2 ended on lap 6 with a puncture. " There was a lot of contact and I guess I picked up the puncture then. I had fastest lap in both races so my speed is there but when you have to come from the back there is a great deal of risk with the less experienced drivers. I'm looking forward to Salzburgring although I have never driven there. I really need to collect a big bag of points to keep my Championship chase on schedule so we will be trying really hard to make the most of the Honda's performance"
Igor Skuz finished race 2 in 6th place but was not happy as he was passed by two competitors under the yellow flag right at the end of the laps. "At the start there were so many cars fighting for the first corner that I held back to protect my car then as the race went on I was able to retake the positions and I am very happy with my performance."