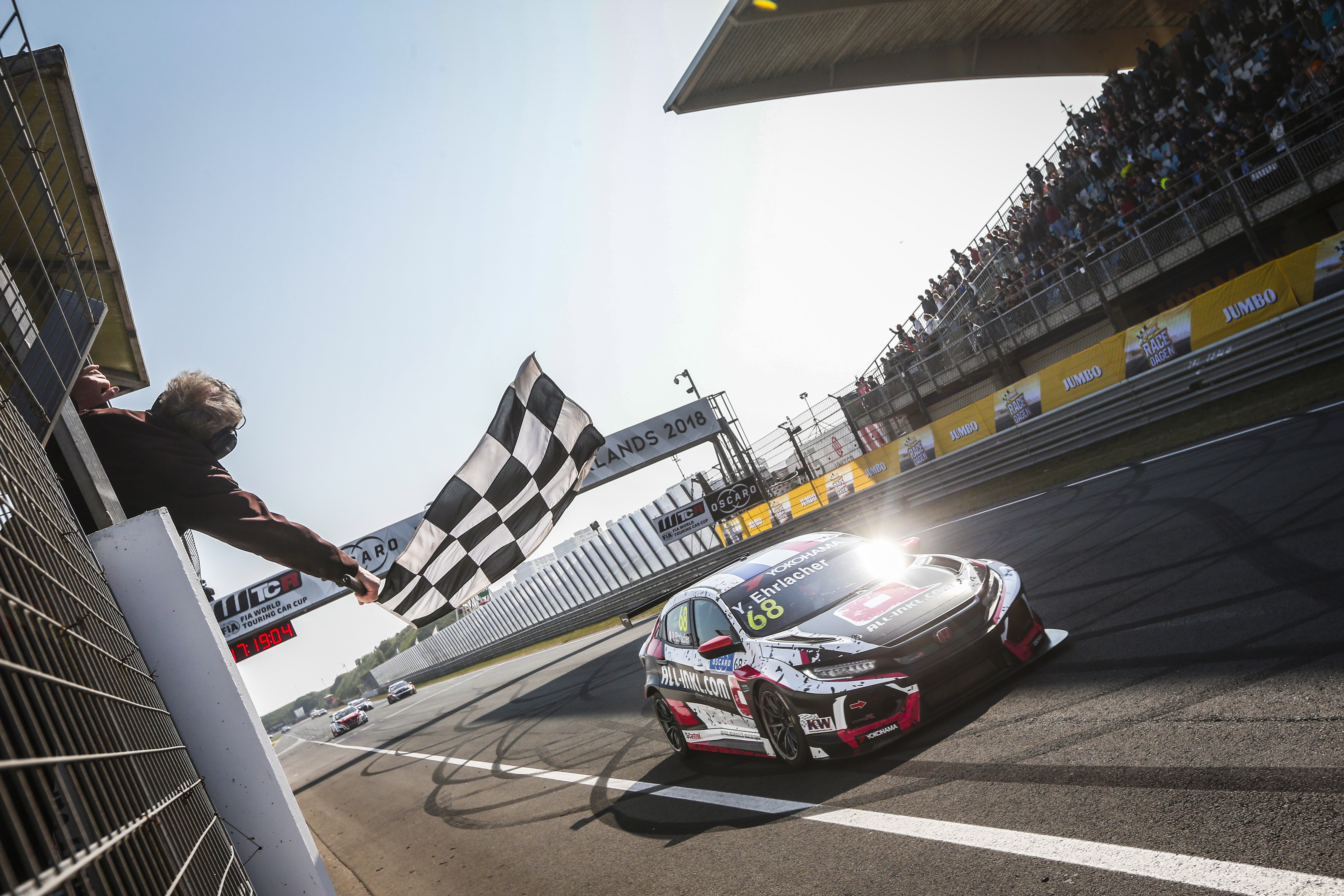 WTCR / 22 May 2018
JAS customer teams on top of the world
JAS Motorsport customer teams are on top of the world after victories in three major touring car championships for the Honda Civic Type R TCR last weekend.
Victory for Yann Ehrlacher at Zandvoort moved the Frenchman into the lead of WTCR - FIA World Touring Car Cup while ALL-INKL.COM Münnich Motorsport now sit on top of the Teams' Championship.
More wins in TCR Europe and TCR China means that drivers and teams using the Civic Type R TCR now lead five championships globally.
Starting from the front row, Ehrlacher grabbed the lead at the start of Race One at Zandvoort; the Frenchman adding second and sixth places at the Dutch circuit to move to the head of the series for the first time.
A welcome first podium of the season for team-mate James Thompson, plus fourth, sixth and seventh spots for Esteban Guerrieri completed an excellent day for the German team.
Home hero Tom Coronel collected a season's-best seventh place in Race One while his Boutsen Ginion Racing team-mate Benjamin Lessennes equalled his career-best qualifying spot in fifth.
HELL ENERGY Racing with KCMG lead of the TCR Europe Teams' Championship thanks to a first victory of the year by Josh Files at Zandvoort.
Running in support of the WTCR, British driver Files won Race Two after making a great getaway to lead from the second row.
He finished fourth in Race One and now lies third in the Drivers' points table while his Hungarian team-mate Attila Tassi was second and third in the races and holds fourth in the championship.
Jens Moller was 10th and eighth for Reno Racing while Cedric Piro and Viktor Davidovski each took best finishes of 15th for, respectively, Autodis Racing with Piro Sports and PSS Racing. Piro also finished fourth and fifth in the TCR Benelux category, which ran within the Europe races.
There was a double victory as TCR China kicked off its 2018 season at Zhuhai International Circuit (below).
Macpro Racing Team's Henry Ho and Eurico de Jesus won their races; Ho moving into the top spot from fourth on the grid at the start of Race One and leading thereafter, and de Jesus fighting hard for victory in Race Two.
The pair united for the two-driver third race and led until three laps from the end. Team-mates Kelvin Lom and Miugel Kong were third in the finale, meaning Macpro lead the Teams' Championship.
Terence Tse, Pat Wong and James Tang took best finishes of fifth, seventh and ninth in their 2017-spec TRC Civics.
With Dome Racing Team and RealTime Racing's Ryan Eversley heading the points tables in Japan' Super Taikyu series and the US-based Pirelli World Challenge, Civic Type R customers now hold the championship advantage in five major series globally.
Mads Fischer, JAS Motorsport TCR Project Leader, said: "What a weekend! TCR racing is never easy, so to have a weekend like this when so many of our customer teams have worked incredibly hard and maximised the pace of the Honda Civic Type R TCR wherever possible, it's incredibly satisfying. Huge congratulations to ALL-INKL.COM Münnich Motorsport and Yann Ehrlacher, who lead WTCR for the first time, to HELL ENERGY Racing with KCMG on their first European race win and to Macpro Racing for an outstanding debut with the new Civic in China. To see the car in front in five championships is beyond expectations at this stage of the season, and we must continue to work hard to provide our customer teams with the equipment to do even better as the season goes on."