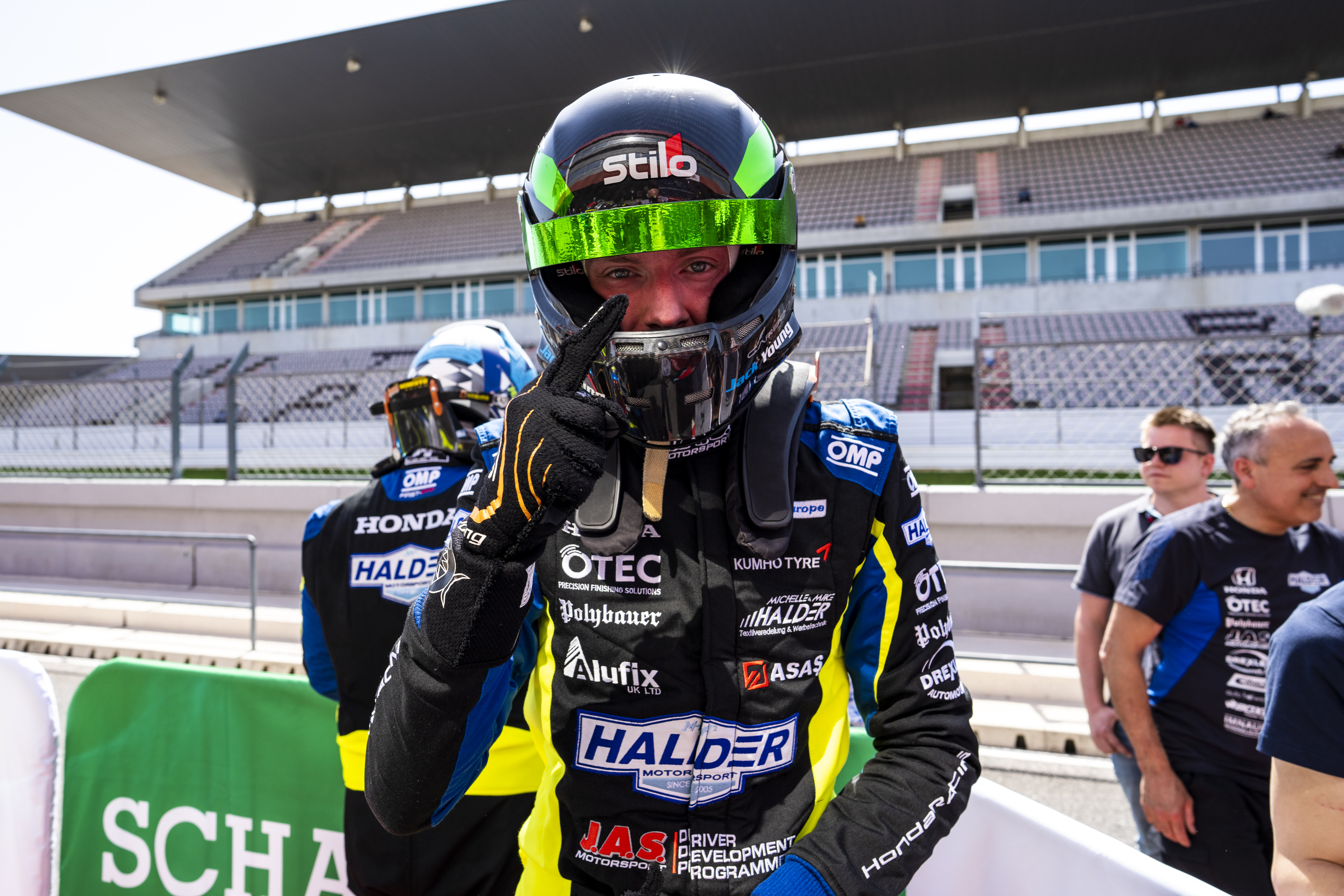 TCR / 02 May 2022
JAS Development Driver Jack Young among Civic Type R TCR winners
JAS Motorsport Development Driver Jack Young was among the star performers as Honda Civic Type R TCRs won three races across two continents on another ultra-successful weekend for the car.
TCR Europe
Young gave second-best to fellow Halder Motorsport racer Mike Halder in qualifying, but overtook his pole-sitting team-mate in the early stages of Race One and pulled clear to score his first series win - and his first outright TCR success.
Halder made it a one-two for his eponymous squad and for the JAS Motorsport-built Civic Type R TCR; he and Young pair adding ninth and 11th spots on Sunday's partially-reversed grid to end the weekend on top of the Teams' standings.
Brutal Fish Racing Team's Pepe Oriola converted Race-Two pole position into second place and a maiden podium of the year, while team-mate Martin Ryba was third and second in the Trophy category to begin his push for that title. Michelle Halder (Halder Motorsport) was 14th in both races.
Coppa Italia Turismo
Paolo Rocca stormed to a dominant lights-to-flag second win of the season at Vallelunga; the MM Motorsport driver having taken pole position the previous day.
The youngster was just as impressive in Race Two; falling to 12th after being shoved off the track by a rival and recovering to second - just 3s from victory - in the remaining 25 minutes. The result put him into the lead of the Championship with two rounds completed.
TCR Chinese Taipei
FIST Team AAI won the first-ever series race, which was held at Lihpao Racing Park; Kevin Chen and Liu Weizhi leading every lap after qualifying on pole position.
Chen pulled out a commanding lead before handing over to Liu midway through the 60-minute race; the latter seeing his 20s lead reduced to nothing due to a safety car at two-thirds distance, but having enough pace to complete the win once racing resumed.
Carsman Racing duo Weng Zhiyuan/Li Yanhan and Border Team's Huang Jianye/You Yihao were fourth and sixth, but Zhu Jiawei/Li Yongde (Go Racing), Yao Yuanhao/Lai Judong (Speed Verse Racing) and Lin Qiyi/Chen Wuwei (DRS K-Sport) were all non-finishers.
TCR South America
Squadra Martino duo Colo Rosso and Ricardo Risatti bagged a deserved third-place finish in the first 'enduro' race of the year at Interlagos; the pair persevering despite a 40kg weight penalty slowing their Civic in race trim. Crown Racing's Gabriel Lusqinos and Victor Genz were sixth.
In the Trophy class Squadra Martino';s Javier Manta/Gonzalo Fernandez were fifth with team-mates Fabio Casagrande/Mauricio Lambiris sixth. A number of contact-related issues including a damaged door gradually removed Crown Racing's Renato Braga/Pablo Alves from contention.
IMSA Michelin Pilot Challenge
Sebring winners Victor Gonzalez Racing Team (VGRT) were the only Honda entrants at Laguna Seca; Gonzalez himself qualifying the car seventh in TCR. He made excellent progress to climb into the top four towards the end of his stint, before being tipped into a spin by a rival that dropped him to the tail of the pack.
Karl Wittmer took over the driving seat halfway through the two-hour race and again showed strong pace to recover to sixth before contact with just 10 minutes to go sent him into the pits and retirement. Gonzalez is fifth in the Drivers' points with Honda fourth in the Manufacturers' standings.

Baltic Endurance Championship
ALM Customer Racing qualified on pole position in TCR for the season-opening six-hour race of the year at Bikernieki, Latvia. Unfortunately for Peeter Peek, Sven Karuse and Antti Rammo, a turbo issue on the race's opening lap put them out immediately.