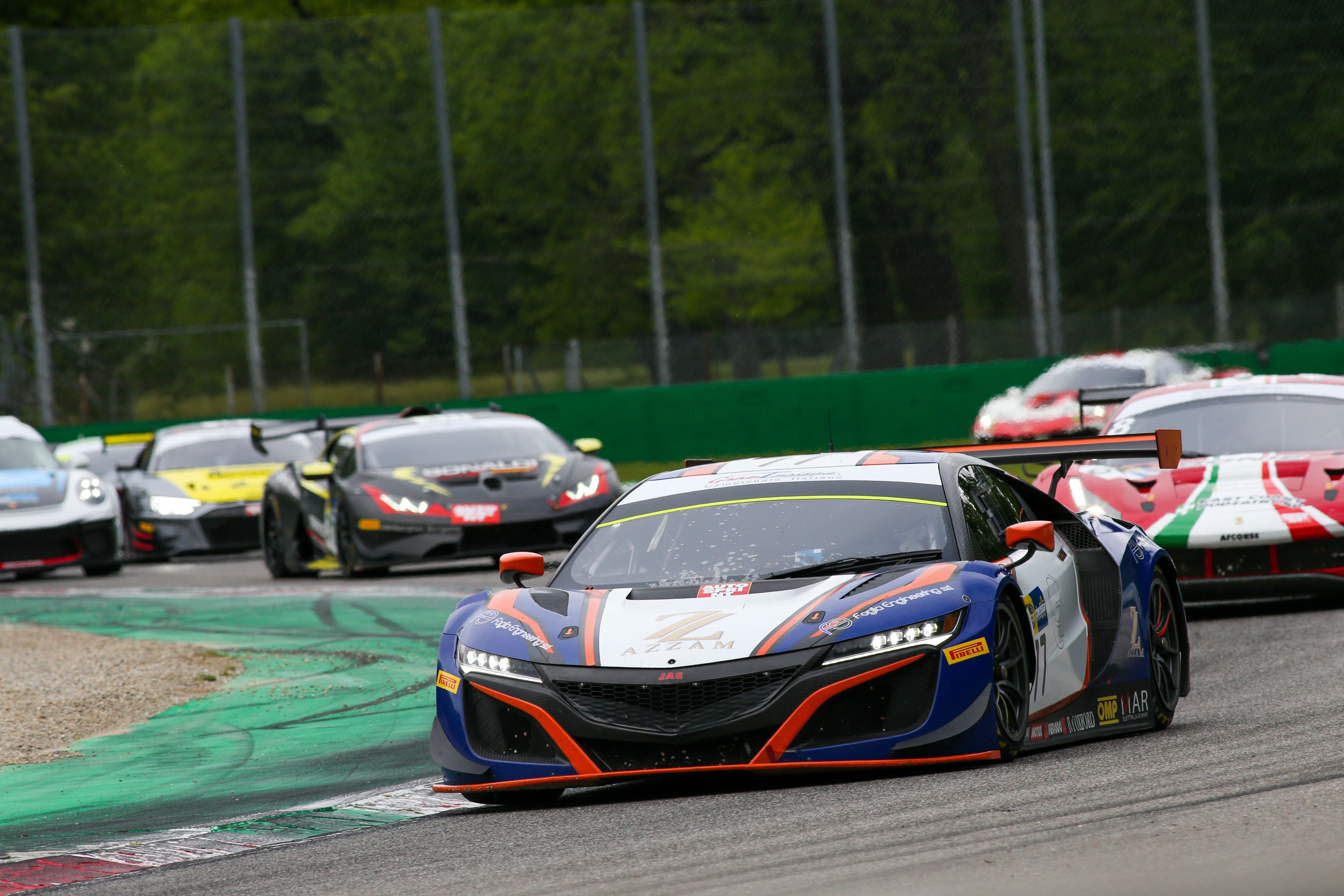 GT3 / 04 May 2021
JAS Development Driver Zanotti takes NSX GT3 Evo victory at Monza
Erwin Zanotti gave the NSX GT3 Evo its first victory of 2021 by taking a class win at the Italian GT Championship opener at Monza while fellow JAS Motorsport Development Driver Jacopo Guidetti claimed an outright pole position and podium finish on his sportscar debut.
On a busy weekend for the NSX GT3 Customer Racing Programme, a rostrum result was also achieved in Japan while a competitive showing was disrupted in torrential weather in North America.
Italian GT Championship
Zanotti, 20, had not raced for over 18 months and had never competitively driven a GT car before arriving at Monza on Friday for what was the first 'GT Sprint' event of 2021.
Driving solo for Nova Race, he secured second and third places on the Am class grids and drove strongly in a damp opening race - the first third of which was run behind the safety car the previous day and eventually postponed due to heavy rain.
He then charged past some more experienced rivals in a dry second race to claim the class victory by nearly half a minute.
Fellow DDP driver Guidetti turned heads as he stormed to an outright pole position for Nova Race on Saturday morning and - after leading Saturday's slow-paced opening section of Race One - led the field to the lights on Sunday.
Starting on slicks on a damp track, he dropped to ninth within the first few corners and was up to third when he was given a drive-through penalty for contact during one of his moves, dropping he and co-driver Francesco de Luca to sixth in class by the finish.
De Luca ran fourth overall and third in class during the opening stint of a dry second race, but Guidetti charged back into victory contention late-on, finishing just 1.2 seconds away from overall success. He and de Luca claimed second in Pro-Am and third overall.
Super GT
ARTA scored the first podium of the year for the NSX GT3 Evo in the GT300 class at the Fuji 500km race, held on Tuesday in Japan.
Shinichi Takagi and Ren Sato qualified the car a season's-best second in class and ran consistently throughout the race to finish third for the 2019 champions; a result that lifts them to fifth in the standings.
Team UPGARAGE pair Teppei Natori & Takashi Kobayashi rallied well from their 12th place on the grid to finish ninth while Ryo Michigami and Shogo Mitsuyama finished 19th.
GT World Challenge America
Taylor Hagler and new co-driver Jacob Abel braved torrential rain in Saturday's opening race to claim fifth spot in the feircely-competitive Pro-Am division at the Circuit of the Americas in Austin, Texas.
After losing a spot at the start, Hagler monstered through the field, picking up four places during her stint to run fourth while Abel secured fifth, keeping his cool amid the deluge, only to retire early with a mechanical issue on Sunday.
Compass Racing, class polesitters from the previous round at Sonoma, suffered an incident in qualifying that necessitated an engine change that caused the team to miss Race One after Rodrigo Sales had qualified sixth.
They did start Race Two, but shortly after Matt McMurry had handed the car over to Sales, their NSX GT3 Evo was eliminated when its right-front wheel parted company with the car.
All the cars were competing as part of the NSX GT3 Customer Racing Programme; a global collaborative project with JAS Motorsport responsible for assembly of all cars.

Honda Performance Development (HPD) and M-TEC handle sales and technical support in North America and Japan respectively, with JAS responsible for these areas across the rest of the world.