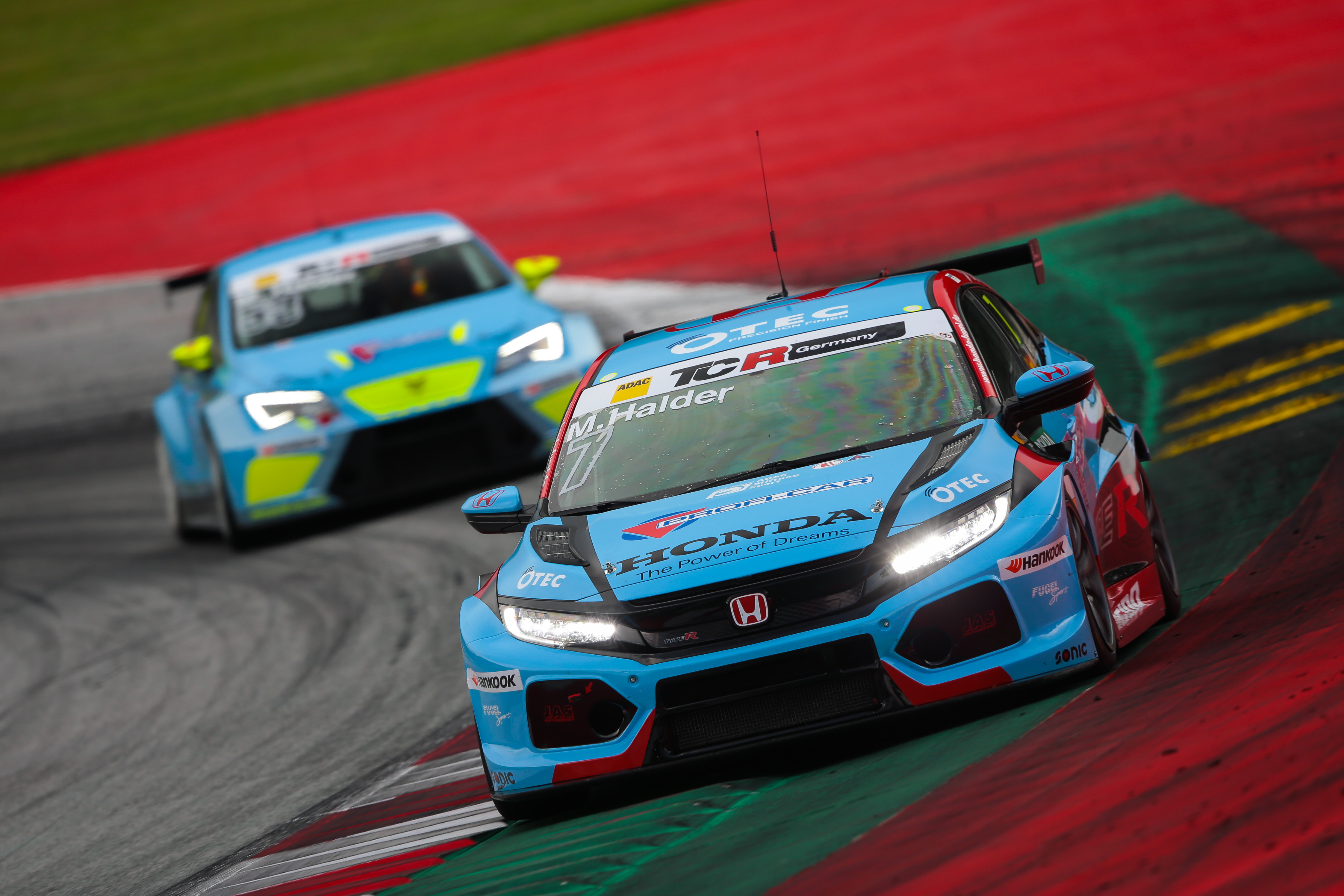 TCR / 11 June 2018
JAS Honda drivers remain in hunt after tough weekend
Honda Civic Type R TCRs remain in the hunt for three major touring car series, despite a challenging weekend of racing in Europe.
With title contenders in European, Benelux and German TCR championships all suffering tough events, the resolve of the JAS customer teams and their drivers shone through brightly and will help them as the season progresses.
Mike Halder remains fifth in the TCR Germany Drivers' Championship thanks to a fifth-place finish in the first of two races at the Red Bull Ring in Austria.
His team-mates in the Fugel Sport-run Honda Team ADAC Sachsen; Dominik and Marcel Fugel, each recorded double finishes with Dominik taking a best of 12th place overall in Race One and Marcel fourth in the rookie standings in the same event.
Cedric Piro took a pair of top-five finishes in the latest round of TCR Benelux at Spa-Francorchamps, Belgium, to lie fourth in the Drivers' points.
The Autodis Racing with Piro Sports driver set consistent laptimes throughout the weekend and finished fourth and fifth of the series competitors in the races.
The TCR Benelux races were run within the TCR Europe contests at Spa-Francorchamps, Belgium. The wider contest included official JAS Motorsport Test Drivers Josh Files and Attila Tassi; the latter arriving late to the circuit after two high-school exams and a cancelled flight from Budapest.
Files was the highest-placed Civic driver in qualifying and put his HELL ENERGY Racing with KCMG car seventh on the grid - one place ahead of Stefano Comini, who was having his first race with Autodis Racing with THX Racing.
A collision between the pair robbed both of a strong result in Race One while neither finished Sunday's race either due to technical issues. Tassi finished outside of the points on both occasions while Piro took his best overall finish with 12th in Race Two - one spot ahead of Reno Racing's Jens Moller.
Files and Tassi are fifth and sixth in the points table with KCMG fourth in the Teams' Championship.
PSS Racing's Viktor Davidovski crashed his Civic Type R TCR in qualifying at high speed and was unable to start either race due to the damage sustained.
Mads Fischer, JAS Motorsport TCR Project Leader, said: "It's been an extremely tough weekend for our customer teams in TCR series in Europe, but we've been involved in motor racing for long enough to know that this happens from time-to-time. Just one week ago, the Honda Civic Type R TCR was on the podium in three different major series, so it is extremely important for them all just to forget about this one and move on."