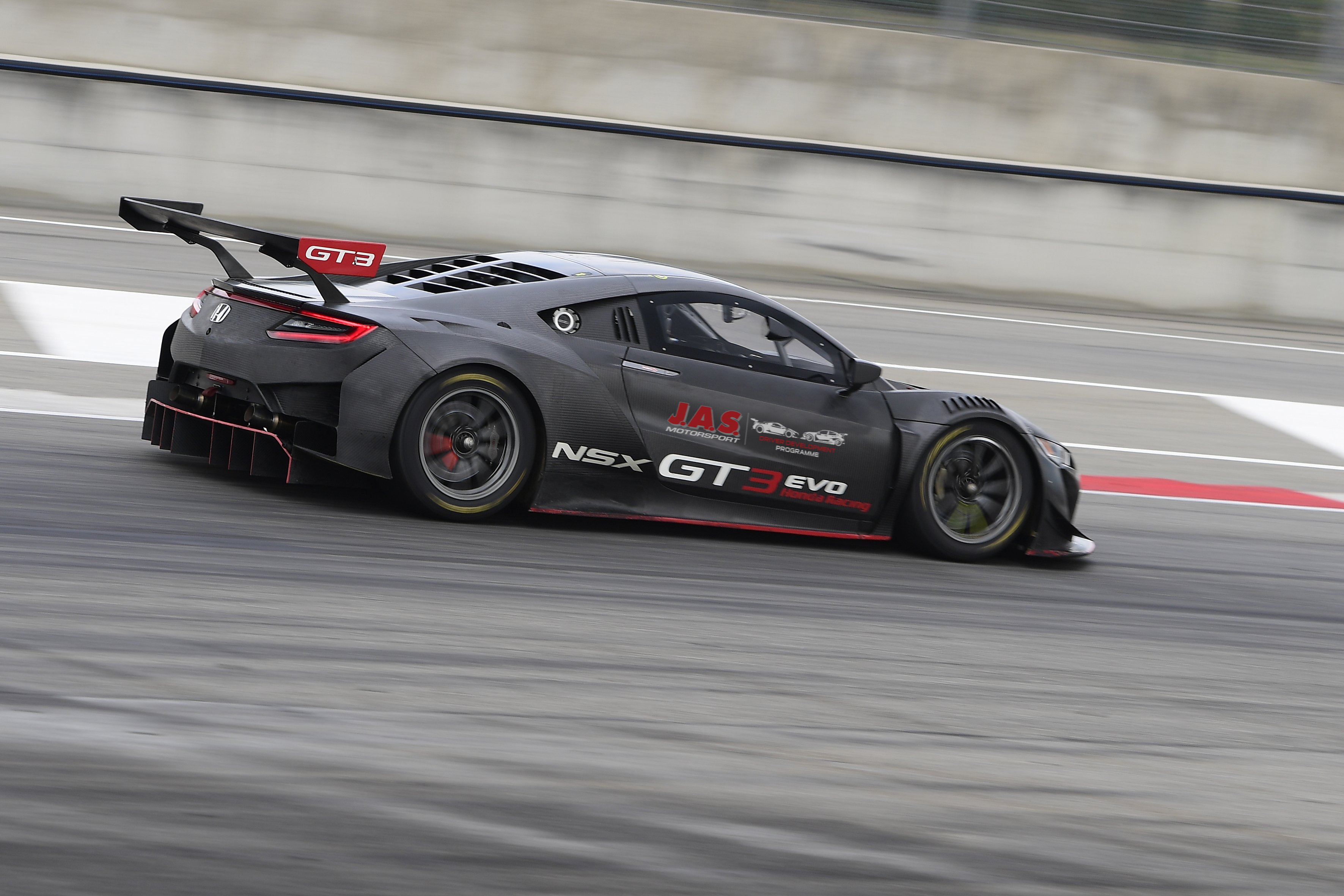 General / 15 July 2020
JAS Motorsport Driver Development Programme launched
Introducing the JAS Motorsport Driver Development Programme; a comprehensive education programme aimed at preparing the next generation of young racers for the rigours and challenges of life as a professional competitor.
A Honda Racing partner for over 20 years, JAS Motorsport has been at the core of many of the Japanese manufacturer's international racing programmes, including running its FIA World Touring Car Championship team from 2012-17 and its Intercontinental GT Challenge programme since last year.
With the launch of the Driver Development Programme, the Milan-based organisation, which builds both the Honda Civic Type R TCR and the Honda NSX GT3 Evo, aims to provide a stepping stone for young racers aiming to move into top-level sportscar competition.
Both the NSX GT3 Evo and the Civic Type R TCR will form the core of the programme.
The latest evolution of the NSX GT3 racer debuted in 2019 and delivered eight major championship titles with customer teams in Europe, Japan and North America and set pole position on its debut in the Intercontinental GT Challenge.
The second-generation Civic Type R TCR first raced in 2018 and has won 17 major titles across the world; culminating in it securing the TCR Model of the Year title last year.
The programme, which will initially run across an 18-month period, will focus on developing each young driver's on- and off-track skills in a variety of areas with expertise and coaching provided by JAS Motorsport's team of technicians and managers plus experienced drivers from within the Honda Racing family.
On-track sessions will focus on:
-Managing tyres and fuel
-Achieving race-strategy targets in sprints and enduros
-Driving in bad weather and traffic
-Pit-stop training
-Standard protocols for pit-to-car communication
-Qualifying laps v race pace
-Optimising compromised set-ups with a co-driver
-Working with customer teams on a race weekend
Off-track sessions will focus on:
-Effective engineer and team communication
-Understanding car behaviour and how to gain performance
-Learning the signs of vehicle issues on-track
-Working with team-mates to create optimum set-ups and good working relationships
-Media training to create a positive and professional image
-Learning technical aspects of the NSX GT3 Evo and Civic Type R TCR
JAS Motorsport will operate the programme, which will be supported by the full suite of expertise that is housed within the organisation.
Drivers will also have the opportunity to spend time embedded within customer teams on race weekends in 2020 to enhance their experience further.
The intention is to place each member of the JAS Motorsport Driver Development Programme in a race seat with an NSX GT3 Evo or Civic Type R TCR customer team in a high-ranking European series in 2021.
The educational process will remain in place during this time with young drivers continuing to receive specialist training and workshops in a variety of areas on and off the track.
Alessandro Mariani, CEO, JAS Motorsport, said: "At JAS Motorsport we are always looking towards the future and at ways to continue to enhance our position within the motorsport community. Helping young and talented individuals to learn and flourish within JAS has been one of the key reasons for our continued success and created a high regard for our technical and operations staff. This is one of the key reasons that we now wish to give a similar opportunity to young drivers. The opportunity to create a formal driver-education process will allow more young racers than ever before to become embedded within the JAS Motorsport family and learn from the decades of experience our term personnel have amassed in international motorsport. The JAS Motorsport Driver Development Programme aims to turn promising racers into complete racing drivers who are ready to be perfect ambassadors for themselves and the brands they represent for many years."
For more information about the JAS Motorsport Driver Development Programme, please click here to read the full guide.