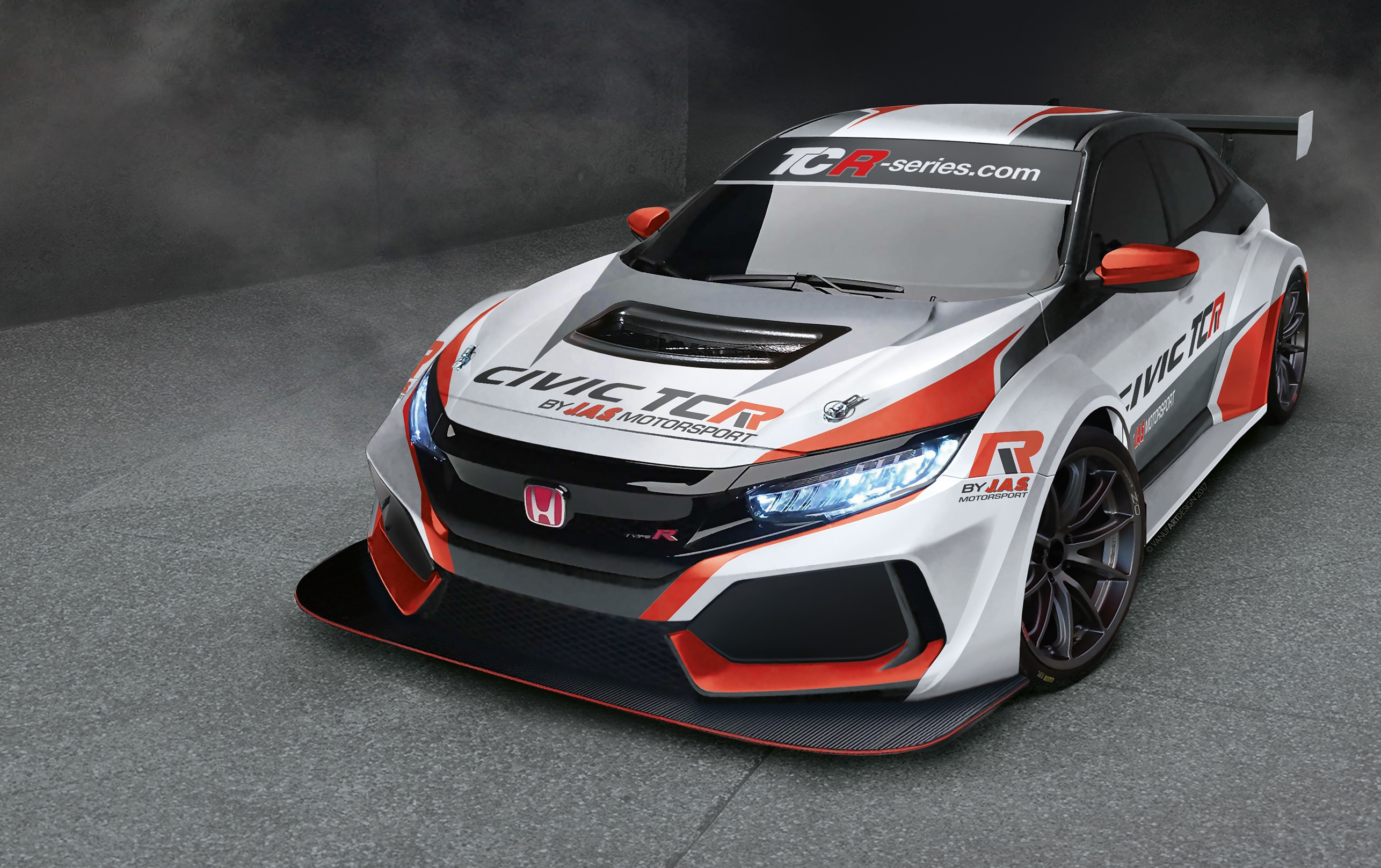 TCR / 12 July 2017
JAS Motorsport to introduce new Honda Civic Type R TCR in 2018
JAS Motorsport will introduce the all-new Honda Civic Type R TCR to the touring car world for the 2018 motorsport season.

The new car, which is based on the all-new 2017 road car launched this year, builds on the great success achieved by its predecessor since it debuted in TCR competition in 2015.

Key features include a brand-new exterior design and aerodynamic package to cut drag and improve downforce, an all-new multilink rear suspension and anti-rollbar system, an advanced Electronic Control Unit (ECU) and improved rollcage with the very latest FIA lifting device.

An 'endurance' version is also available for customers planning to contest championships such as the VLN and 24h Series with additional lighting, driver cooling and anti-lock braking available.

The new Civic Type R TCR continues a long and successful partnership between Honda and JAS Motorsport that began in 1998 and intensified when the Milan-based organisation was chosen to develop the first Civic Type R for grass-roots circuit racing and rallying in 2001.

Since then, JAS-developed Civics have helped Honda to become FIA World Touring Car Champions in 2013 and its partner teams to win the European Touring Car Cup, TCR Germany, Middle-East, Italy and Benelux series and the Macau Guia Race with the current Civic Type R TCR.

The new Civic Type R TCR will join the current list of 19 models and 300-plus cars eligible for TCR competition globally.

Delivery to customers is due to start on December 15 this year and the first 25 completed cars will be available for the start of the 2018 racing season, so interested parties are encouraged to contact JAS to avoid disappointment.

Mads Fischer, JAS Motorsport TCR Project Leader, said: "We are delighted and excited to announce today that we will make the new Honda Civic Type R TCR available to customers for next year and send our warmest thank you to Honda for continuing to give us their blessing for this project. The new car shows significant development in several key areas such as aerodynamics, suspension and electronics. Our first Civic Type R TCR car has won five championships already and is in contention for another eight this year in Europe and Asia, and our aim is to ensure that the new car continues to raise the bar for TCR competition globally."

For sales enquiries, please contact Mads Fischer at info@jasmotorsport.com or +39 02 903 7541.