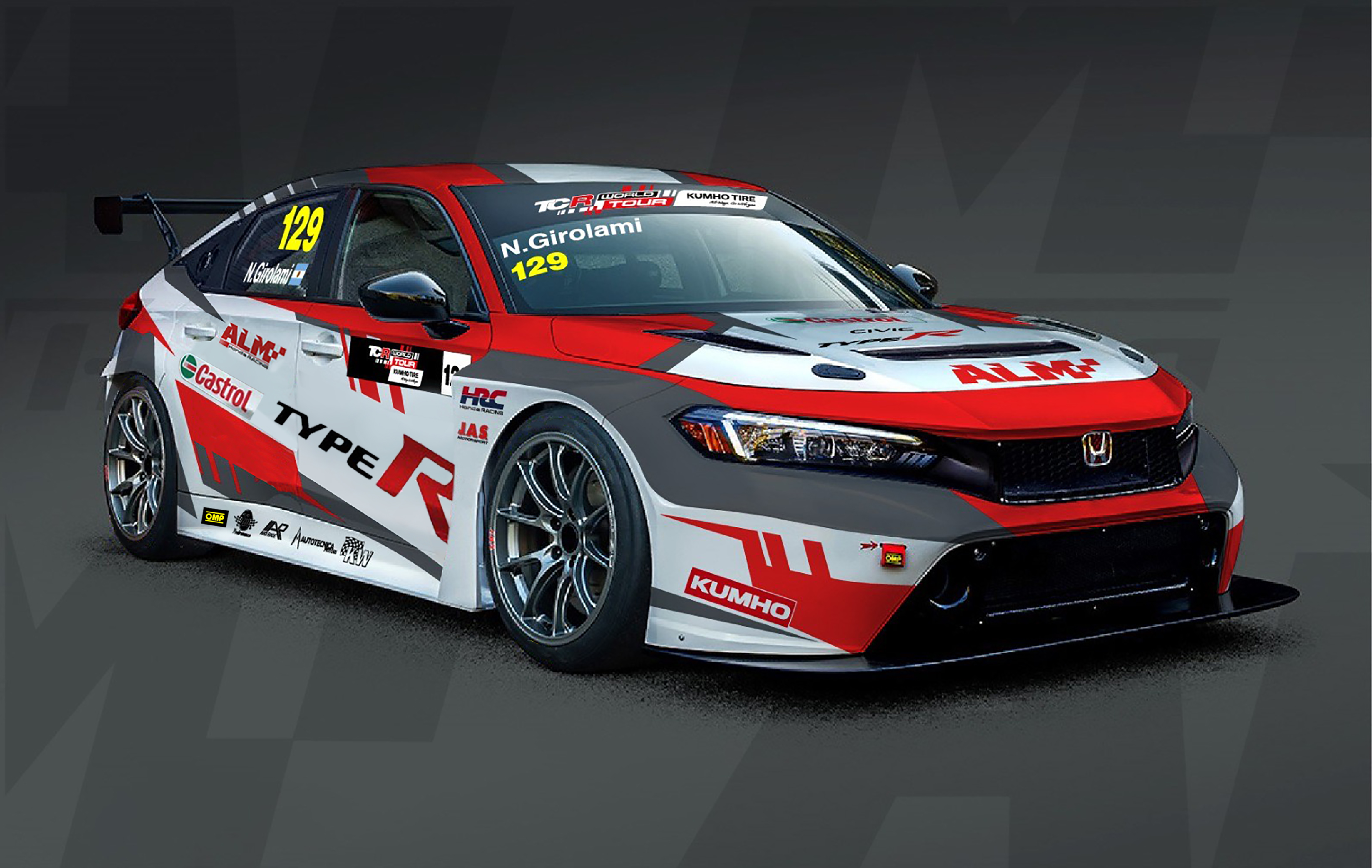 TCR / 19 April 2023
JAS Motorsport to support TCR World Tour with Nestor Girolami & ALM Motorsport
JAS Motorsport is delighted to confirm the signing of Nestor Girolami as an official Race Driver for the 2023 season and to confirm a Kumho TCR World Tour programme with ALM Motorsport and the brand-new Honda Civic Type R TCR FL5.
Nestor joins JAS Motorsport after four seasons as a Honda Racing driver in which he has claimed 11 race wins across three different series aboard the Civic Type R TCR FK7; the highlight of which was the runner-up spot in the 2022 WTCR - FIA World Touring Car Cup.
In addition to his ongoing duties at the organisation from Arluno, Milan, as Development Driver for the new FL5 Civic Type R TCR, he will race the car in the European rounds of the upcoming TCR World Tour with Estonian team ALM Motorsport.
The 33-year-old from Cordoba, Argentina, will also take on a coaching and management role within the JAS Motorsport Driver Development Programme, which enters its third year.
Nestor's programme with ALM in the all-new TCR World Tour will take in the first four rounds of the all-new series, which features nine points-scoring events on four continents before climaxing in a standalone TCR World Finals event at an as-yet undisclosed circuit.
His season will begin at Portimao, Portugal, on April 28-30 and continue with events at Spa-Francorchamps (Belgium), Vallelunga (Italy) and Hungaroring (Hungary). Details of participation in further World Tour events outside Europe are yet to be determined.
The agreement between JAS and ALM strengthens links that date back to 2018. Martin Laur's team were crowned TCR Iberico Teams' Champions at the first attempt that season and have been race winners in both the Baltic Touring Car Championship and the Baltic Endurance Championship.
Over the past two seasons the team has fielded JAS Motorsport Development Drivers in TCR Italy; Ruben Volt winning the series' Michelin Trophy in 2021 and the under-25s title last year.
Most recently it ran Jack Young and Team Ireland to a touring car bronze medal at last year's FIA Motorsport Games in a Civic Type R TCR and also fielded the Argentina and Hong Kong entries.
TCR World Tour calendar
28-30/04: Portimao (P) with TCR Europe
26-28/05: Spa-Francorchamps (B) with TCR Europe
09-11/06: Vallelunga (I) with TCR Italian Festival
17-18/06: Hungaroring (H) with TCR Europe
19-20/08: El Pinar (U) with TCR South America
26-27/08: San Luis (RA) with TCR South America
03-05/11: Sydney (AUS) with TCR Australia
10-12/11: Bathurst (AUS) with TCR Australia
17-19/11: Macau (PRC) with TCR Asia Challenge
(Date TBC): TCR World Finals (venue TBC)
Nestor Girolami, JAS Motorsport Race Driver, said: "I'm extremely proud to continue my journey with Honda and confirm this programme in the TCR World Tour. I am very grateful to JAS Motorsport for the opportunity to represent them and to develop and race the new Honda Civic Type R TCR in a brand-new programme. We've made some improvements over the old car and I'm sure we can be extremely competitive. With the expertise of ALM Motorsport and technical support from JAS, I think this we can achieve some very good results in the TCR World Tour."
Mads Fischer, JAS Motorsport TCR Project Leader, said: "We are delighted to sign Nestor Girolami as an official race driver for JAS Motorsport. Over the past few years he has made an enormous contribution to the success of the Honda Civic Type R TCR on-track, has been vital in the early testing phase of the all-new car that will debut this year and has helped support our customer racing teams on track. He has shown great skill working with young racers in the Driver Development Programme over the past couple of seasons so we are extremely pleased that he will take on an enhanced role within the DDP in 2023. It is also exciting to confirm that the new FL5 Civic Type R TCR will be a part of the new TCR World Tour and that ALM Motorsport will be the driving force behind the European events Nestor contests. ALM have been extremely loyal partners of JAS since 2018, won a major title in their first year as a Honda team and been very important in providing an environment for some of our Development Drivers to grow and thrive. Taking on three cars at the FIA Motorsport Games last year was a big task but they did extremely well and won a medal with Jack Young, so it was clear that they were capable of operating at an elite level. We will use these first four events in Europe to consider our plans for the remaining events and establish the best global showcase for the new Civic."
Martin Laur, Team Principal, ALM Motorsport, said: "We are very pleased to compete in the TCR World Tour with JAS Motorsport, the new Honda Civic Type R TCR and Nestor Girolami. From our first year as a customer of JAS Motorsport we have worked hard to win races and championships and to strengthen our working relationship. Every time we've stepped up to a higher level of competition, we have improved our level of performance and been able to race at the front. The TCR World Tour will be the highest level we've competed at in circuit racing and to have been chosen for this programme is not only exciting for us as a team, but for motor racing in Estonia too. We can't wait for Portimao."