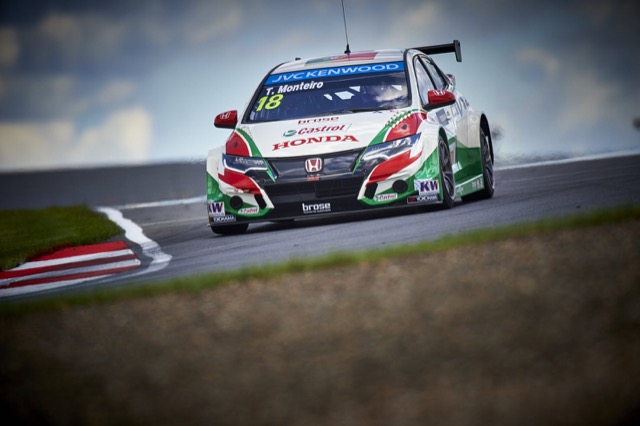 WTCC / 06 June 2015
JAS-prepared Castrol Honda Shows Good Form in Moscow with Season Best Qualifying
Gabriele Tarquini sets season best qualifying performance in 3rd
Castrol Honda World Touring Car Team pairing Gabriele Tarquini and Tiago Monteiro will line up 3rd and 10th respectively for the first of tomorrow's two FIA World Touring Car Championship races at the Moscow Raceway in Russia.
Setting the early pace across the practice sessions, Gabriele Tarquini's optimism for qualifying proved conclusive as the Italian not only guaranteed his place in Q3 – the team's first this season - but also went on to secure a season best finish. It was a tense wait as Rob Huff was the first to lay the gauntlet of 1:38.639s, followed by Tom Chilton. Tarquini was the third runner to set a time of 1:38.091, good enough for provisional pole but Yvan Muller just stretched ahead by 0.168s. The fifth and final runner Jose-Maria Lopez crossed the line just shy of his team-mate, finishing second and demoting Tarquini to 3rd by just 0.122s. Starting from the second row of the grid for the opening race tomorrow, Tarquini and his #2 Civic has a very strong chance of claiming a much sought after podium.
Boosting the team further, Monteiro, though unable to match the pace of his team-mate and enter the Q3 shootout, can take the positive from finishing Q2 in tenth place. The double-podium finisher will start the second race from pole position and will of course be looking to challenge for top honours.
Norbert Michelisz will start from 8th with his Zengo Motorsport Civic, whilst series-returnee Rickard Rydell took 17th for Honda Racing Team Sweden in his debut on this track.
The JAS Motorsport-prepared Honda Civics all carry an extra 20kg in ballast this weekend as per WTCC regulation based on results from the previous three events.

Gabriele Tarquini – "This weekend I focused on qualifying because I know the start is very important on this track. Overtaking is always very difficult. I'm happy because I have been pleased with the car since the first lap in FP0. In the end I made a good lap in Q3 but it just wasn't quite enough. The characteristics of the Civic clearly suit this track. I am pleased with the car but we must still improve to close the gap to the competitors."
Tiago Monteiro – "First of all congratulations to Gabriele. He's been very strong all weekend. This is my most difficult weekend so far. I am not where I should be or would like to be. We made some changes for qualifying but it didn't work out as we needed for this session. So then for me P10 was a realistic target to try for race two pole because I saw we couldn't fight for outright pole. We achieved that, but it's not a guaranteed win – far from it. We still need to work hard to find the right set up for tomorrow. My focus will be to make a great start and hopefully then we can be looking at the podium."
Norbert Michelisz – "I am a little bit disappointed because of the performance I had throughout the weekend. Before coming here I expected to fight for top 3 or 4 positions. But in the end I didn't have the speed to compete for that. I'm very happy for Gabriele because he showed the potential of the car but for me, I have to work on doing the best I can to improve on my starting position."
Alessandro Mariani, Managing Director JAS Motorsport: "I hoped to be on pole because since FP0 and FP1 Gabriele has shown fantastic pace. In FP2 he only worked on very old tyres to prepare for race set up. In Q1 and Q2 his pace was good, so I hoped to be on pole for the first race. Unfortunately with such a small margin, we ended 3rd. But the gap is very small so I am pretty happy. What doesn't make me completely happy is the problem with the setup or the feeling with the other car [Monteiro]. For Q2 with Tiago we decided to go for 10th place because this track is very difficult for overtaking so we can collect points in race two with Tiago."
Daisuke Horiuchi, Large Project Leader for WTCC Development at Honda R&D: "I am happy with third place and our Q3 shootout, but we still have a small margin to the competitors. This event is interesting, every manufacturer is represented in Q3 which proves how competitive the championship is. A podium is possible in both races."
Official Qualifying Results:
Qualifying:
1 Yvan Muller Citroën C-Elysée WTCC 1:37.923
2 José María Lopez Citroën C-Elysée WTCC 1:37.969
3 Gabriele Tarquini Honda Civic WTCC 1:38.091
4 Rob Huff LADA Vesta WTCC 1:38.639
5 Tom Chilton Chevrolet RML-Cruze TC1 1:39.139
6 Ma Qing Hua Citroën C-Elysée WTCC -
7 Hugo Valente Chevrolet RML-Cruze TC1 -
8 Norbert Michelisz Honda Civic WTCC -
9 Nicky Catsburg LADA Vesta WTCC -
10 Tiago Monteiro Honda Civic WTCC -