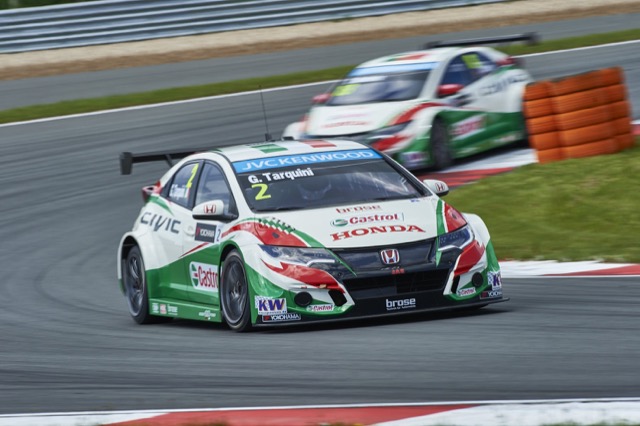 WTCC / 07 June 2015
JAS Success: Another Win & Podium Places in Russia for Honda
Tiago Monteiro claims his first win of the season
The Castrol Honda World Touring Car Team had plenty of reasons to celebrate today with Tiago Monteiro taking their first win one of the season in an impressive display of lights-to-flag dominance, whilst Gabriele Tarquini claimed his first podium finish of the year in race one, finishing 3rd.
Unrivalled from the go, Monteiro's perfect start in the second race ensured his clean break into the distance with Zengo Motorsport's Norbert Michelisz making light work of displacing Nicky Catsburg. The JAS Motorsport-prepared Honda duo led within a second of each other for much of the race but local favourite Lada-man Rob Huff just got the measure on Michelisz - on lap 12 Huff edged ahead of Michelisz, setting the results for the final race.
In what had been a front-running battle between Honda and Lada, Tarquini's clear progress from his starting position of 8th was disappointingly cut short. Having made up several places, contact between the Civic and Lada of Catsburg at mid-distance forced the Civic into the barrier with too much damage and, frustratingly, early retirement.
In the day's earlier race Tarquini held momentum and consistent pace to ensure the Civic WTCC crossed the line in third, whilst keeping second-placed finisher José María López well within sights. Yvan Muller took race one victory.
Monteiro further demonstrated the Civic's strength on this track, crossing the line in 8th position, having progressed from 10th off the line and crucially, withholding the pressure from Sebastien Loeb in 9th.
Zengo Motorsport's Norbert Michelisz maintained his points-scoring record with 7th and 3rd place finishes respectively.
On their return to the series Honda Racing Team Sweden finished in 13th and 11th with Rickard Rydell.
Tiago Monteiro: "I'm very pleased for myself of course and for the whole team. We've been fighting and working so hard to catch up so these results are a huge boost. Congratulations to everyone. The race pace was good and I was able to manage the race following a good start, but it wasn't easy. I was under pressure from Norbi but didn't want to push too hard. Then in the last six laps I could see Rob had really caught up so I had to push harder. Every lap was like a qualifier. Thank you to everyone in the team for their hard work and to all our partners and supporters."
Gabriele Tarquini: "Race one was a little frustrating because I could see the two guys in front were a little bit faster than me so I had no chance to overtake. But I focussed on maintaining 3rd position because Huff was putting the pressure on. It wasn't easy to maintain position but the car was running very well and has been since FP0. For the second race I decided to attack and overtook four cars in front of me, as well as fighting with Rob. But in the end I had contact with Catsburg and that ended my race."
Norbert Michelisz: "I knew Rob had advantage over me in race pace so to be honest I expected he would get by in that second race; I think I worked my tyres too hard in the early laps and in the end I had to compromise on something. My objective was to score second but congratulations to Tiago for his result."
Alessandro Mariani, Managing Director JAS Motorsport: "I had hoped to have an even better result in race 1 but third place for Gabriele is very good. Of course I'm very happy with Tiago's victory as well because this is good for everyone's morale, for all the hard work they have been putting in this season. So a big thank you to the drivers and the team for doing a fantastic job."
Daisuke Horiuchi, Large Project Leader for WTCC Development at Honda R&D: "I am happy with these results. We are getting closer to our competitors but we need to continue to develop. I'd have liked to have seen Norbi finish 2nd but overall we can be pleased with the performance today."
Provisional Race Results:
Race 1:

1 Yvan Muller Citroën C-Elysée WTCC 27:04.214
2 José María Lopez Citroën C-Elysée WTCC 27:07.147
3 Gabriele Tarquini Honda Civic WTCC 27:08.606
4 Rob Huff LADA Vesta WTCC 27:08.898
5 Ma Qing Hua Citroën C-Elysée WTCC 27:11.296
6 Tom Chilton Chevrolet RML-Cruze TC1 27:12.938
7 Norbert Michelisz Honda Civic WTCC 27:14.608
8 Tiago Monteiro Honda Civic WTCC 27:17.023
9 Sébastien Loeb Citroën C-Elysée WTCC 27:17.677
10 Jaap Van Lagen LADA Vesta WTCC 27:18.258
13 Rickard Rydell Honda Civic WTCC 27:28.731

Race 2:
1 Tiago Monteiro Honda Civic WTCC 27:12.922
2 Rob Huff LADA Vesta WTCC 27:16.077
3 Norbert Michelisz Honda Civic WTCC 27:18.471
4 Nicky Catsburg LADA Vesta WTCC 27:20.996
5 Ma Qing Hua Citroën C-Elysée WTCC 27:25.110
6 Yvan Muller Citroën C-Elysée WTCC 27:27.596
7 Sébastien Loeb Citroën C-Elysée WTCC 27:30.932
8 Hugo Valente Chevrolet RML-Cruze TC1 27:33.725
9 Tom Chilton Chevrolet RML-Cruze TC1 27:33.890
10 Tom Coronel Chevrolet RML-Cruze TC1 27:34.129
DNF Gabriele Tarquini Honda Civic WTCC 26:02.843