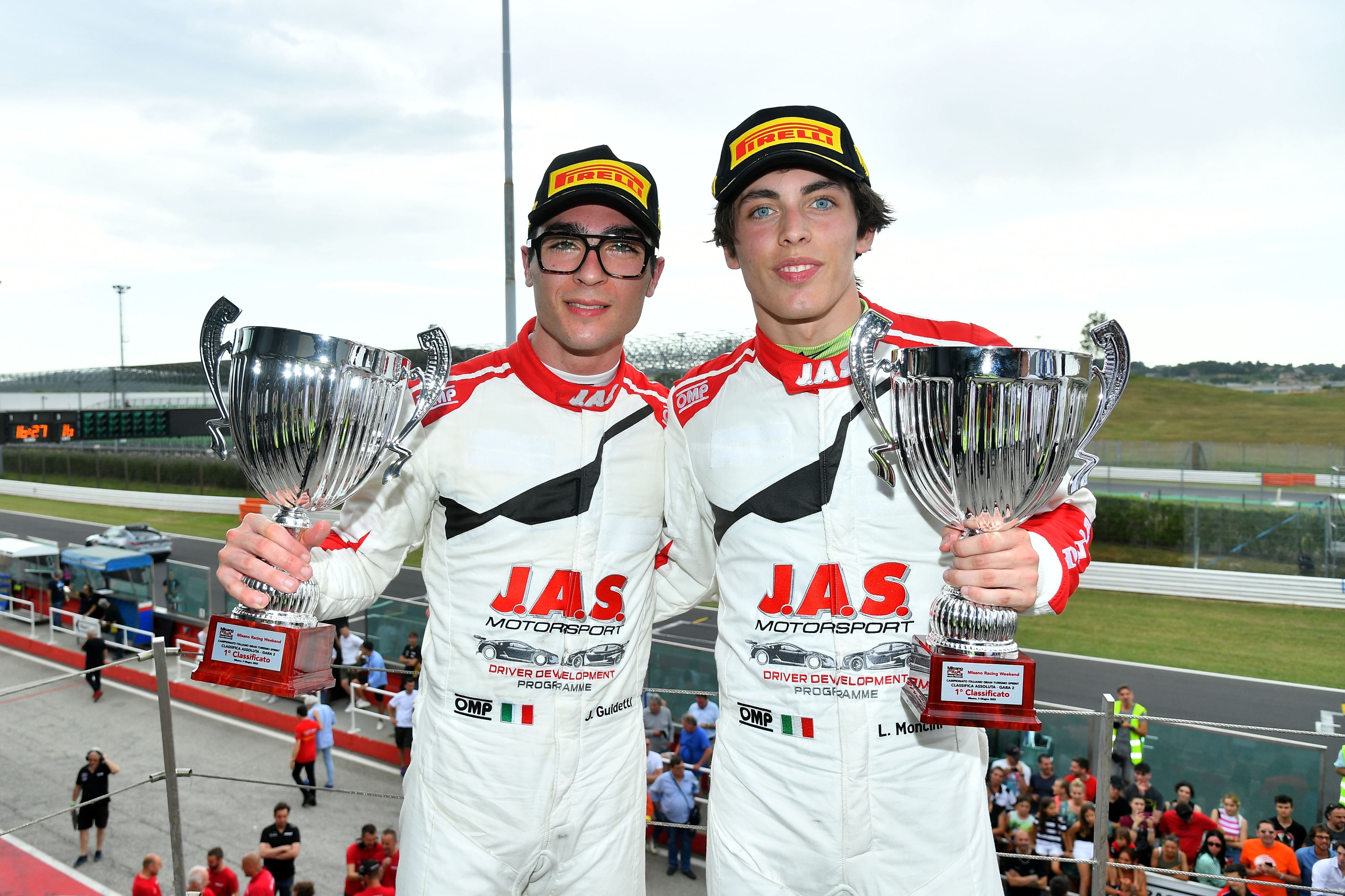 GT3 / 06 June 2022
JAS youngsters give NSX GT3 Evo 22 spectacular Misano win
JAS Motorsport Development Drivers Jacopo Guidetti and Leonardo Moncini scored a scintillating victory for the NSX GT3 Evo 22 at Misano to catapult themselves and the Nova Race team into contention for the Italian GT title.
Italian GT Championship
The win had seemed unlikely as the mandatory driver changes approached in Sunday's second race, largely due to three long safety-car periods having denied Moncini - who qualified seventh - a chance to make up significant ground.
But a slick pitstop elevated the #55 car to third and Guidetti set about closing on the leaders; the teenager making a decisive move to snatch the top spot with seven of the 50 minutes remaining as he spectacularly passed two cars in one go at Turn Three.
He sped off to victory - the first for either driver in 2022 - that, combined with fourth place in the opener, means they now share the lead of the Sprint Championship.
Team-mates Matteo Greco and Francesco Guerra had a fine run to third in Race One; the latter having exited the pitstops at the head of the field, but just failing to hang on to a first win.
Team Principal Luca Magnoni and his new Sprint Cup co-driver Diego di Fabio won the Am class in Race Two and were second the previous day.
IMSA
Rick Ware Racing continued their programme in the Sprint Cup on Detroit's Belle Isle circuit and secured their best-ever GTD qualifying position with the NSX GT3 Evo 22 thanks to the efforts of Aidan Read on Friday night.
Starting fifth, the Australian and his co-driver Ryan Eversley lost two spots at the single pitstop during the 100-minute race due to a refuelling issue and then fell to ninth on the last lap as their fuel pressure dropped off.
All four cars were competing as part of the NSX GT3 Customer Racing Programme; a global collaborative project with JAS Motorsport responsible for assembly of all cars.
Honda Performance Development (HPD) and M-TEC handle sales and technical support in North America and Japan respectively, with JAS responsible for these areas across the rest of the world.