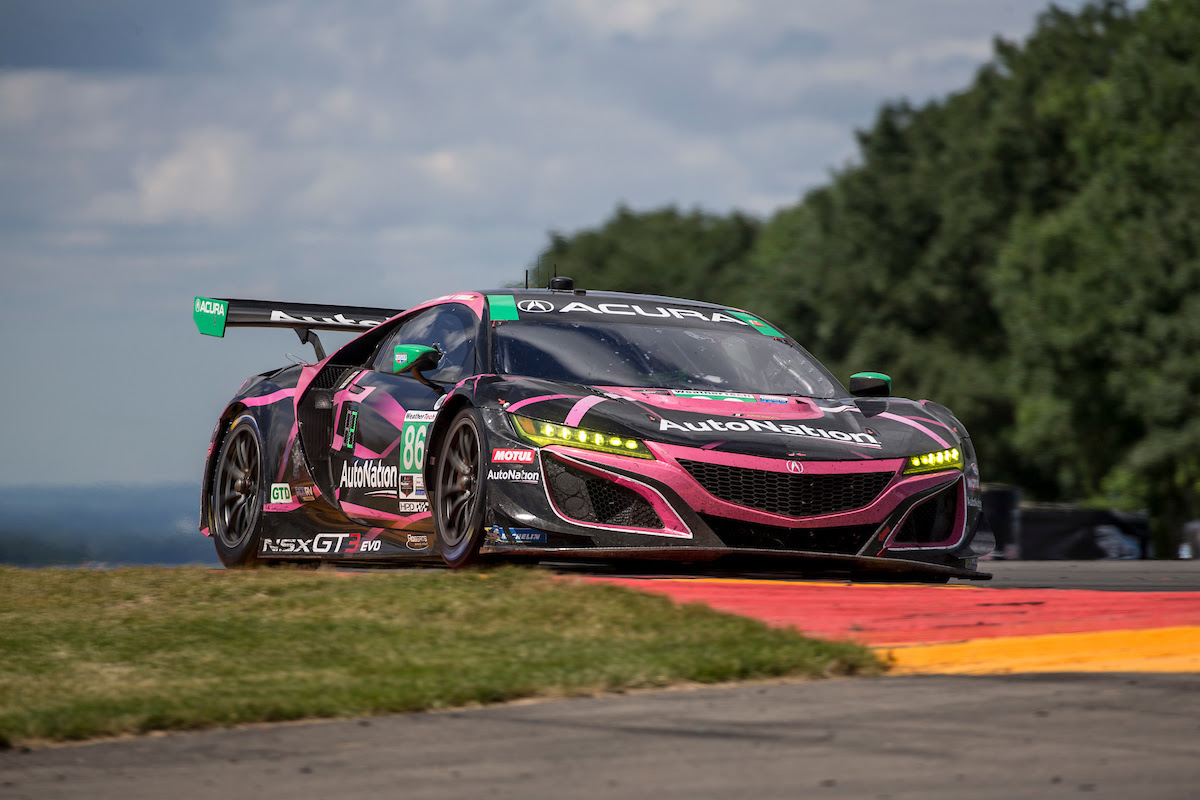 GT3 / 01 July 2019
Major victories for NSX GT3 Evo in Europe and USA
Meyer Shank Racing and Reno Racing scored major victories on either side of the Atlantic on an ultra-strong weekend for the NSX GT3 Evo.
MSR's crew of Mario Farnbacher, Trent Hindman and Justin Marks claimed a commanding victory at the 6 Hours of Watkins Glen, one of the showpiece races of the IMSA Weathertech Sports Car Championship.
Meanwhile Jens Moller was victorious for the third time in 2019 in the Blancpain GT Sports Club at Misano, Italy.
MSR's cars had dominated qualifying with Hindman repeating his Sebring 12 Hours GTD pole position and Christina Nielsen putting the sister NSX GT3 Evo alongside him as the team locked out the front row.
Hindman and Justin Marks were in the hunt for victory all race, but the key moment came at the final fuel stop when the team elected not to change tyres, instead preferring Farnbacher to gain track position and climb to second.
Taking over the lead with 15 minutes to go, he took the chequered flag to give MSR its first win with the Evo version of the NSX GT3 and move into the lead of the Drivers' and Teams' Championships with Acura second in the Manufacturers' points
Nielsen, Katherine Legge and Bia Figueiredo were also in the hunt for victory for the duration and had two spells in the lead. Taking two new tyres at the final stop meant that they finished a season's-best fourth.
At Misano, Jens Moller made a demon move at Turn 3 with a third of Sunday's race to go to increase his advantage at the head of the Drivers' Championship.
The previous day he'd spun while battling for second early on and dropped to 11th; the start of a recovery drive that brought him to eighth spot.
Nirei Fukuzumi and Shinichi Takagi continue to fight for the Super GT GT300 title after the ARTA pair finished ninth at Buriram, Thailand.
One place behind was the Modulo Kenwood NSX GT3 Evo of Ryo Michigami/Hiroki Otsu while the Team UPGARAGE car of Kosuke Matsuura/Takashi Kobayashi was classified 24th.
All six cars were competing as part of the NSX GT3 Customer Racing Programme; a global collaborative project with JAS Motorsport responsible for assembly of all cars.

Honda Performance Development (HPD) and M-TEC handle sales and technical support in North America and Japan respectively, with JAS responsible for these areas across the rest of the world.