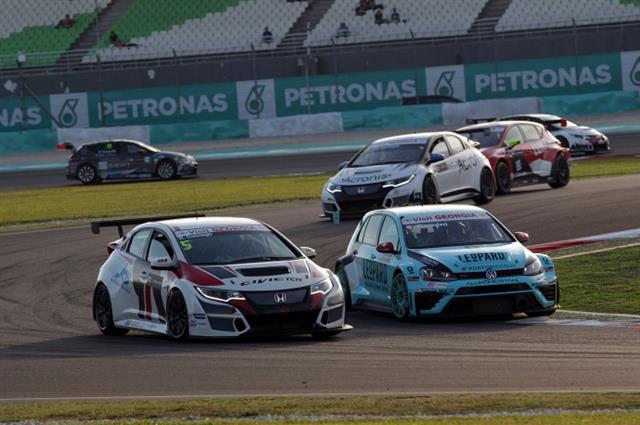 TCR / 03 October 2016
MEMORABLE WEEK-END FOR JAS MOTORSPORT
HONDA CIVICS SWEEP GLOBAL POLES, WINS AND CHAMPIONSHIPS
In a remarkable weekend of motor racing success JAS Motorsport developed Honda Civics collected race victories around the globe from Malaysia and from Europe in Germany and Italy. Not only race victories but two Championship titles as well as three pole positions for fastest qualifying.
The International TCR series featured on the Formula 1 Grand Prix program at Sepang, Malaysia where Roberto Colciago, making his debut on the International series with Target Competition, having already clinched the Italian TCR Championship, set a determined fastest qualifying time for pole position on the grid which he professionally converted to Race 1 victory. For West Coast Racing American Kevin Gleason stood on the top step of the Race 2 podium to make it a pure winning result for the JAS Motorsport Civics.
At Hockenheim in Germany Josh Files put his JAS Honda on pole for race 1 and then led home a Honda 1-2-3 almost mirrored in Race 2 with a Honda 1-2 with Steve Kirsch taking victory. These great results saw Josh Files crowned German TCR Champion and Target Competition winning the Teams Championship.
The European Touring Car Championship finale took place at Imola in Italy and the Civic of young Finn Aku Pellinen grabbed pole position in qualifying with the Rikli Motorsports Hondas taking second and third places in both Race 1 and Race 2 enabling Kris Richard to wear the ETCC Champion's crown for 2016.
With TCR championships growing stronger and more numerous across the globe it is evident that the JAS developed Honda Civic is the car to have to secure victories on any type of circuit. In total the JAS Civic has secured 30 TCR race victories so far this year and three championships.
Maurizio Ambrogetti, JAS Motorsport President and Alessandro Mariani, JAS Motorsport CEO are rightly proud of these achievements.
"These are significant victories and very important Championships to win. The results must be credited to the excellent drivers at the wheel of the JAS Civics and the teams, Target Competition, Rikli Motorsport and West Coast Racing who prepare and operate the cars in these high pressure series.
Our special thanks to Mads Fisher, TCR project leader and to everyone at JAS Motorsport who designed the winning cars, build them on very tight time schedules and constantly work with the teams. This sport is a worldwide business and our efforts have been rewarded by these results. We are very proud that the JAS Motorsport brand is ever more successful and we are already progressing to improve further."