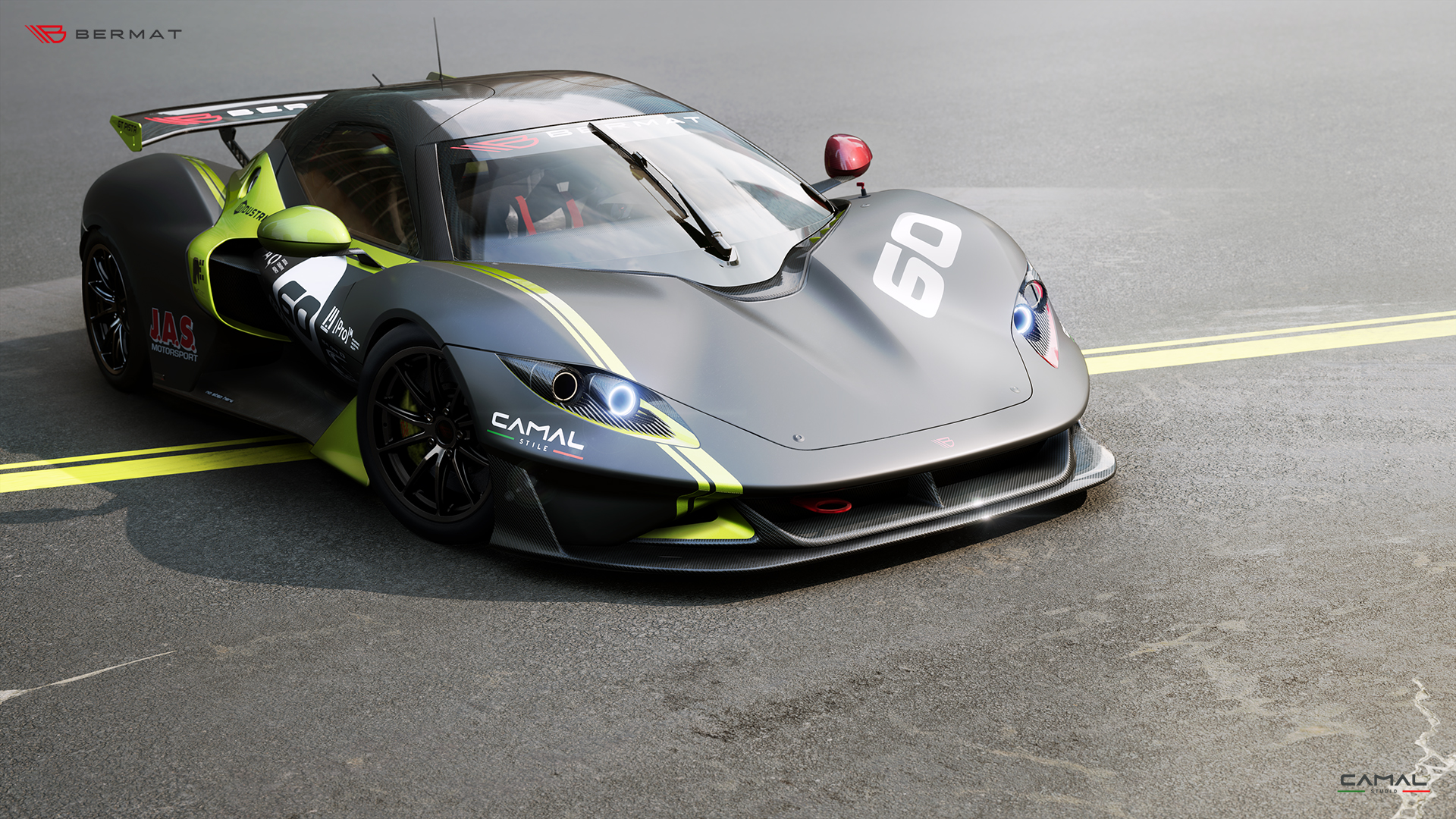 General / 14 December 2021
New Bermat GT-Pista sportscar showcases JAS Motorsport engineering excellence
Introducing the brand-new Bermat GT-Pista, engineered from the ground-up by globally-renowned race team and car constructor, JAS Motorsport.
The Arluno, Milan-based organisation, whose racing cars have won almost 50 major championship titles globally over the past five years, is honoured to have been a part of this exciting all-Italian automotive project from the very beginning.
The stunning GT-Pista, the track-only first model from Rovereto-based Bermat, has been created using the knowledge and expertise gained by JAS Motorsport since its inception in 1995 and showcases the wide range of technology and engineering services offered by the company.
The car will make its public debut on December 17, 2021 at Museo Nazionale dell'Automobile di Torino (corso Unit, Italia, 40, Torino).
The Bermat's monocoque carbon-fibre chassis was designed in-house at JAS using advanced Computational Fluid Dynamics (CFD) research and expertise, with full structural analysis simulations completed ahead of design.
The same technology has been used to engineer the steel front and rear subframes that combine to realise its ultra-versatile 'modular' philosophy that allows for customisation of wheelbase, track and body based on an owner's individual requirements.
Complex simulation methods were used in the design of the car's front and rear pushrod suspension units as well as the subframes, ensuring expert handling, no matter which configuration of body, wheelbase and track is chosen.
The in-house fabrication department and recently-upgraded Computer Numerical Control (CNC) tools and processes mean all major technical components are either designed or manufactured (or in some cases, both) on-site, ready for assembly.
Expertise gained in the high-pressure environment of motorsport has also enabled the creation of a full and functional electrical and electronics package for the car, meaning drivers can harness the full potential of the 1996cc in-line, four-cylinder engine capable of delivering 320-400hp.
The gearbox, a six-speed sequential with frontal clutches and self-locking differential is operated by a dedicated paddle-shift system mounted on the steering wheel.
Feedback from drivers, gained over more than two decades of race-car construction for one of the world's largest car manufacturers, has enabled JAS to incorporate the needs of the driver into almost every element of the engineering process.
The cockpit features a fixed seat with moveable pedal box - a concept used in one of its most recent GT racing cars - which not only reduces weight but also allows the driver to be set lower to create a more efficient centre of gravity.
JAS electronic simulations have optimised both the car's body and ergonomics of the Bermat, which is designed in accordance with FIA Appendix J Article 277, making it eligible in future for the 'free formula' category 2SC for closed-roof sports prototype racing as a one-make series.
The GT-Pista is due to go on-sale during the first half of 2022 with road-legal versions propelled by internal-combustion and electric powertrains set to follow.
Stefano Fini, Project leader, JAS Motorsport, said: "We are extremely proud that Bermat chose JAS Motorsport as the engineering partner for their new range of cars, the first of which is the GT-Pista. It's the first time we've ever created a car from a completely clean sheet of paper. This not only gave us a huge opportunity to showcase the wide range of engineering services we can offer to the automotive industry, but also came with a huge responsibility of creating a car that Italy can be proud of and that will be a 'must-have' for Bermat's customers. We've called on virtually every department within JAS Motorsport as part of this project, from our CFD team to fabrication, simulation and design, and the result is a lightweight, nimble sports car that will be both ideal for use on the road and on the racetrack. We're very pleased with the result and hope to be involved in many additional projects like this going forwards."