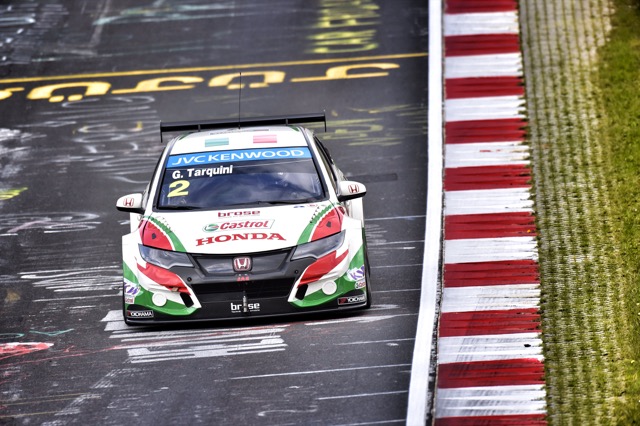 WTCC / 29 April 2015
New-look Honda Civic WTCC ready to challenge in Hungary
Honda to unleash new-look Civic WTCC with key aerodynamic upgrades
- The FIA WTCC returns to Europe this weekend for the Hungarian rounds on 2 & 3 May
- Honda to unleash new-look Civic WTCC with key aerodynamic upgrades
- Gabriele Tarquini and Tiago Monteiro hoping to emulate last year's podium performance
- Local hero Norbert Michelisz relishing return to home track and 'Norbi Fever'

The Honda Civic WTCC will sport a striking new look at this weekend's rounds 5 and 6 of the FIA World Touring Car Championship, hosted by the infamous Hungaroring circuit in Budapest.
Having undergone an intensive testing and development programme, JAS Motorsport will reveal the Civic WTCC evolution with high expectation for strong results.
Incorporating the new 2015 road model design, changes to the Civic WTCC are evident to the eye, both to the front and rear of the car. Crucially for the team, the more aggressive features provide increased downforce and greater aerodynamic performance, reducing understeer in the high-speed corners. Equally as important, particularly in hotter climes, the complete front overhaul includes a redesign on the brake cooling. Together with a loss of 60kgs in compensation weight, the Civic WTCC promises to be an even stronger package.
The Castrol Honda World Touring Car team will surely be hoping the revision to the 2015 challenger, along with the return to Europe will provide better luck as Gabriele Tarquini and Tiago Monteiro look to build on their fortunes from last year.
It proved a fruitful event for the team in 2014, with points-scoring finishes from both Monteiro and Tarquini across qualifying and both races – the former taking two podium results.
But of course local hero Norbert Michelisz will be looking for home advantage in his Zengõ Motorsport-run Honda, as the hugely popular racer returns home to what is expected to be record crowds for his fifth season in the WTCC.
The paddock will also be hoping to see the return of Rickard Rydell in his Nika Racing Honda Civic - the Swedish ace having missed the Moroccan round owing to illness.
Located just 20km outside of Hungary's charming capital city, this tight and twisty 4.3km track traditionally stages some enthralling racing and should play to the strengths of the Civic WTCC.
In keeping with tradition the annual Budapest Street Parade – a crowd-pleasing appetiser which takes place ahead of the weekend on Friday 1 May – will once again run with an array of local and international stars and their cars demonstrating downtown. All eyes will be on firm favourite Michelisz, with four of the WTCC teams joining him in representation of the series, including one of the Castrol Honda team-mates.
Gabriele Tarquini: "I'm quite optimistic for good results in Budapest. We now lose 60kgs of ballast which should make an impact on our race pace, plus the characteristics of the Civic will come to favour here so I am expecting us to be more competitive.
"Overtaking here isn't easy, so qualifying well will be key. And we also have to consider tyre wear and manage it well."
Tiago Monteiro: "I'm really motivated for this weekend. The Hungaroring is a very technical track, which suits our car well. We've a great chassis and the car is very strong under braking and turn-in, which is a necessity for a track like this. Plus we have the new aero kit coming in, which should really improve handling through the medium and high speed corners. I'm really hoping to be in the fight for the front."
Norbert Michelisz: "My home race is always very special and maybe with the positive energy from the fans, some luck and better possibilities with the development parts on the car I think we will be able to fight, even for a race victory."

Championship Standings (after rounds 3 & 4):

Drivers':
| | | | |
| --- | --- | --- | --- |
| 1 | José María LÓPEZ | 93 | |
| 2 | Sébastien LOEB | 76 | |
| 3 | Yvan MULLER | 57 | |
| 4 | Ma QING HUA | 38 | |
| 5 | Gabriele TARQUINI | 38 | |
| 6 | Tiago MONTEIRO | 36 | |
| 7 | Mehdi BENNANI | 26 | |
| 8 | Tom CHILTON | 21 | |
| 9 | Norbert MICHELISZ | 18 | |
| 10 | Stefano D'ASTE | 12 | |
14 Rickard Rydell 3
Manufacturers':
| | | | |
| --- | --- | --- | --- |
| 1 | Citroën | 190 | |
| 2 | Honda | 116 | |
| 3 | LADA | 32 | |

- ENDS -