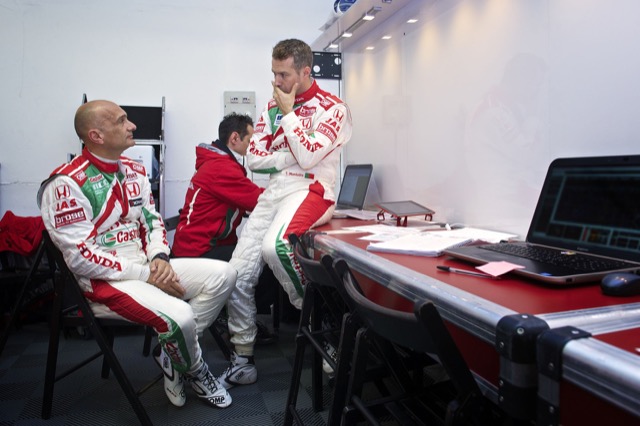 Race Track / 07 September 2014
No Rest for the Castrol Honda World Touring Car Team!
FIA WTCC - N?rburgring & China
Given the two month hiatus between the last round of the 2014 FIA WTCC, held in Argentina way back in early August, and the next round, held in China next month, you could be forgiven for thinking the Castrol Honda World Touring Car Team are enjoying a well-earned rest. Not so. The team workshop, located in Arluno on the outskirts of Milan, has been a hive of activity over the last few weeks, not least because of Gabriele Tarquini and Tiago Monteiro's participation in a VLN-race on the Nordschleife in Germany; the original Nürburgring. The famous track will feature in the World Touring Car Championship next year and by entering, the Honda duo were the first WTCC competitors to try it out.
"Thanks to the great support we received from Honda Fugel Motorsport, we were able to enter a round of the VLN with their endurance spec Civic Type R. It was an opportunity we couldn't miss as it provided Gabriele, Tiago and our team with a taste for what awaits us when the WTCC arrives there in 2015." said Alessandro Mariani, Managing Director of J.A.S. Motorsport. "Next week we aim to be back at the Nürburgring too, but this time behind the wheel of our WTCC test car. The experience is invaluable. It not only offers the drivers an opportunity to build familiarity with the track, but it also allows our engineers to try out different things and start their preparations for next season."
The Castrol Honda drivers are not complete novices when it comes to the Nordschleife though. Tiago Monteiro has already completed a number of laps during private test sessions and Gabriele Tarquini drove there during the development of the New Civic Type R. But there is still much to learn.
"To be competitive here the most important thing is to know the track inside out," says the Italian about the "The Green Hell". "During the VLN-race I completed sixteen laps, but even with this experience I still haven't memorised it all. There are more than 70 corners, many of them blind, and very similar in appearance! So I definitely need more track time to learn them all!"
With these sessions and other work going on behind the scenes, the Castrol Honda World Touring Car Team is already busy preparing for the 2015 season. But in the meantime there are still the overseas trips to China, Japan and the final of the 2014 Championship in Macao to consider.
For the next round of the FIA WTCC at Beijing Goldenport, the compensation weight of the Honda Civic WTCC will be increased from 20 to 30 kilos (based on the results of the three previous rounds).
"The increased weight is of course a consequence of us getting closer to the competition and all the great work the team is delivering," says Tiago Monteiro, who's currently standing in 4th in the Driver's Championship. "Because you try out different things that don't always work in race configuration, in Argentina this progress didn't translate into a better score. But that's exactly why after the race on the Nürburgring we're back testing on the Hungaroring and Slovakiaring to ensure we're as prepared as we can be for the overseas campaign coming up."