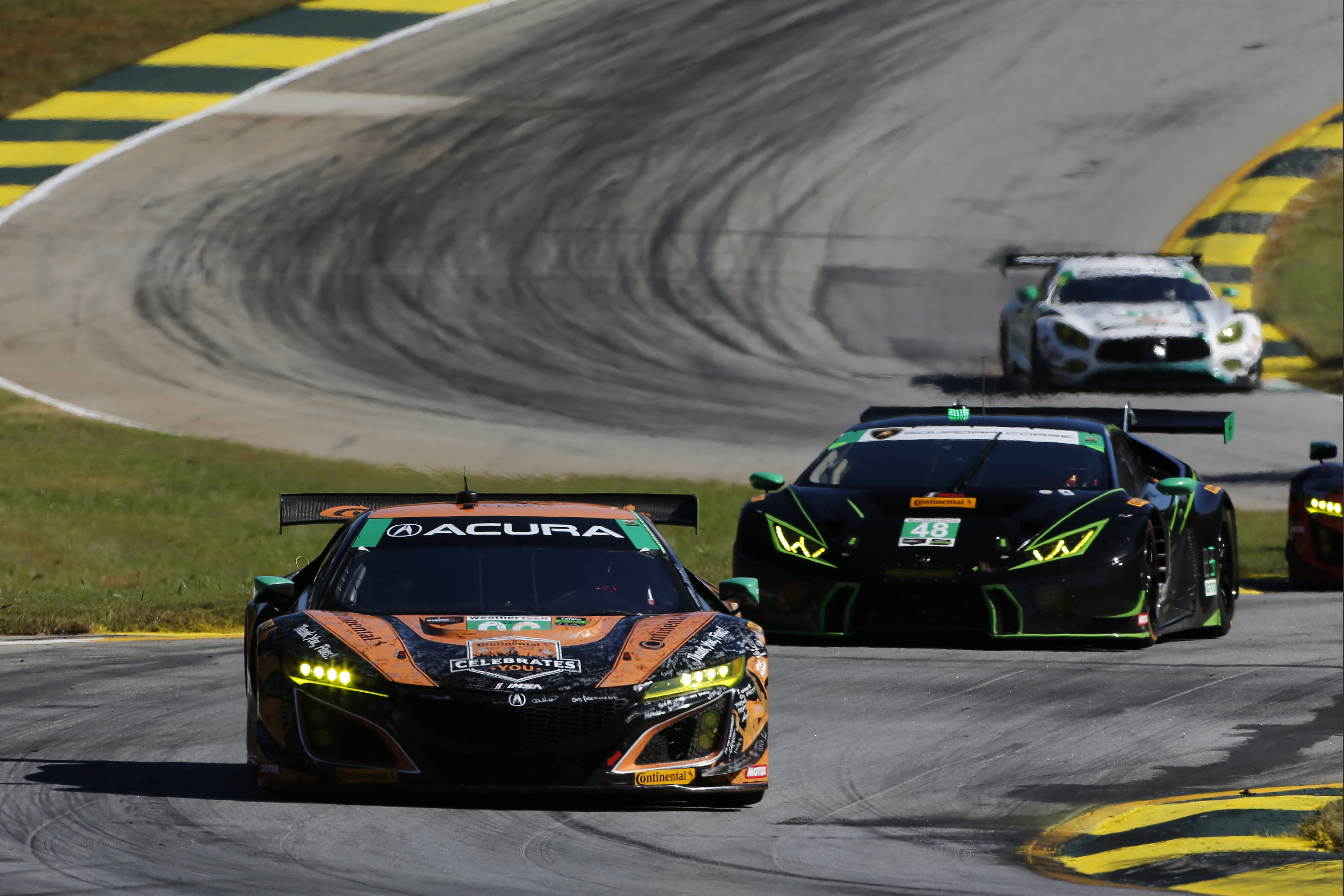 GT3 / 15 October 2018
NSX GT3 clinches IMSA runner-up spot
The NSX GT3 has concluded its best-ever season-long campaign as Katherine Legge and Meyer Shank Racing claimed the runner-up spot in the IMSA WeatherTech Sports Car Championship with second place at Petit Le Mans last weekend.
Legge, who finished second in the 10-hour race with co-drivers Alvaro Parente and Trent Hindman, ended the season with two wins and seven podium finishes in the GTD division in North America's premier sportscar series while Parente – who missed two races mid-season – was sixth.
Employing a strategy aimed at bringing the JAS Motorsport-built NSX GT3 towards the front of the back by half-distance, the MSR car was in a championship-winning position with less than an hour to go, but Parente was aggressively shoved wide by another car while disputing the lead and dropped to second.
Despite finishing ahead of their chief title rival, Legge, MSR and Acura fell short of the Drivers', Teams' and Manufacturers' titles by just four points.
In the North American Endurance Championship – in which the results of the Daytona 24 Hours, Sebring 12 Hours, Watkins Glen Six Hours and Petit Le Mans count – Legge and Parente took second in the Drivers' standings, MSR second in the Teams' points and Acura third in the Manufacturers' title race.
The second MSR NSX GT3, driven by Lawson Aschenbach, Justin Marks and Mario Farnbacher, ran as high as second, but retired in the fifth hour with an oil leak caused by a cracked oil fitting.
Both cars were competing as part of the NSX GT3 Customer Racing Programme; a global collaborative project with JAS Motorsport responsible for assembly of all cars.
Honda Performance Development (HPD) and M-TEC handle sales and technical support in North America and Japan respectively, with JAS responsible for these areas across the rest of the world.
Stefano Fini, JAS Motorsport GT3 Project Leader, said: "Huge congratulations must go to Meyer Shank Racing and Katherine Legge for these superb achievements. When the NSX GT3 Customer Racing Programme was launched in July 2017, we could not have imagined that the car would come so close to winning a major championship so soon, especially when we produce far fewer cars than many other brands. But the team and all its drivers have done a magnificent job this year and shown the potential of the car on a global scale. We are delighted that the team will compete with the NSX GT3 Evo – which is assembled at JAS Motorsport – in 2019 and are sure their success will continue."