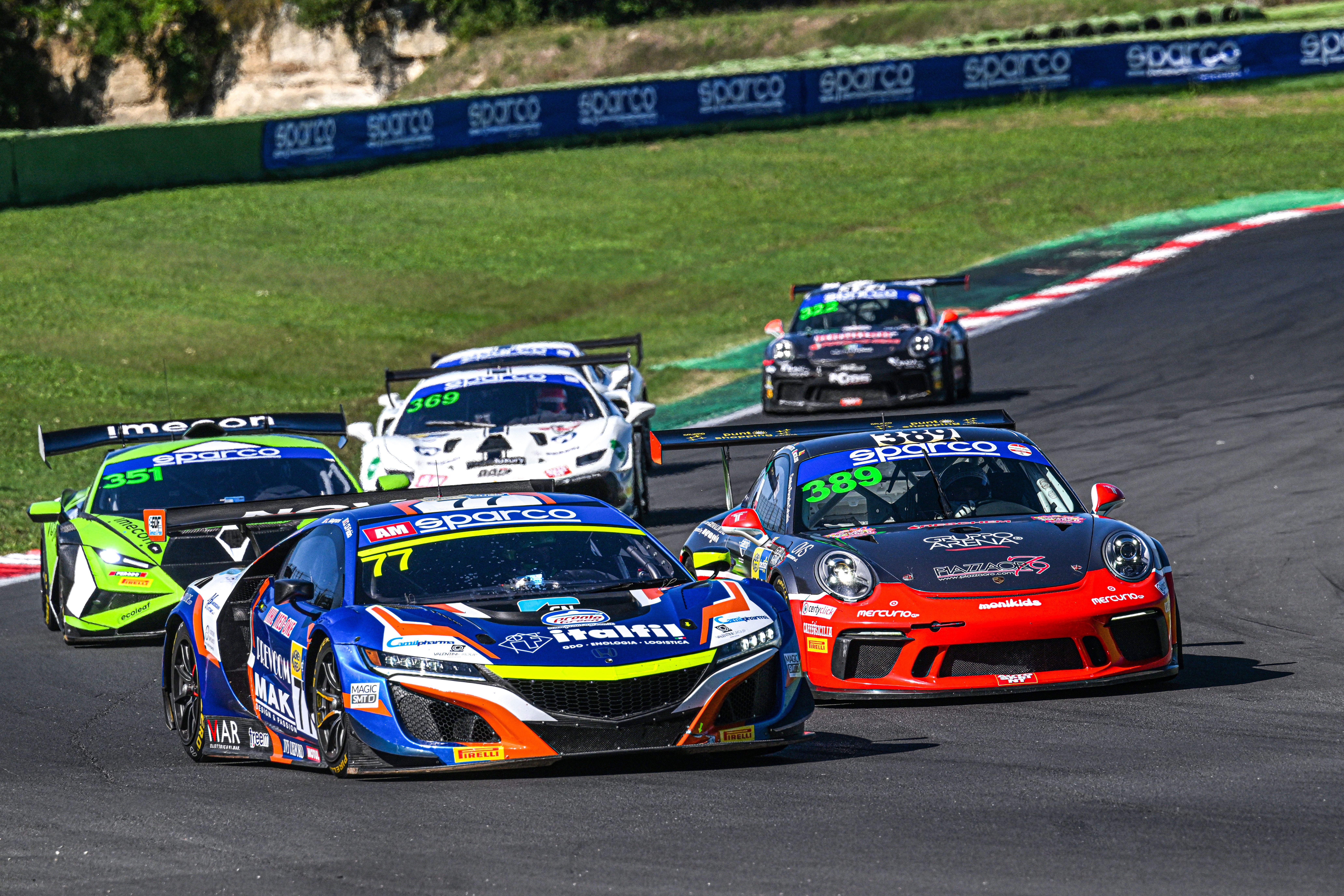 GT3 / 19 September 2022
NSX GT3 Evo 22 claims Italian Endurance title
The Honda NSX GT3 Evo 22 claimed its first major title of the year as Nova Race made it back-to-back crowns in the Italian GT Championship's Endurance Trophy.
Luca Magnoni and Diego di Fabio wrapped up Am honours with a third straight win of 2022 to secure the first title for the latest evolution of the JAS Motorsport-built NSX GT3, which debuted in January.
Italian GT
Team Principal Magnoni and di Fabio's title success came with a dominant class victory in the two-hour race at Vallelunga.
The Nova Race pair qualified on pole in the class and were unchallenged; their path to victory cleared when new team-mates Lu Zhiwei and Yao Liangbo did not start.
At the front of the field, JAS Motorsport Development Drivers Jacopo Guidetti and Leonardo Moncini kept up their challenge for the overall crown, sharing the quickest of the team's NSXs with Jorge Cabezas.
Guidetti, Cabezas and Moncini - who drove in that order - gradually moved up from fourth in the early stages to second by the finish after a consistent performance by all three drivers.
While they remain fourth in the overall points, they have nearly halved the gap to the series lead and head to next month's season finale as one of five crews in with a chance of the title.
Super GT
A chaotic weather-affected race at Sportsland Sugo looked set to provide a GT300 podium finish for 2019 Champions ARTA, before unfortunate circumstances intervened.
From ninth on the grid, Hideki Mutoh made storming progress during his stint; the former IndyCar racer climbing to seventh before the rain hit at just before the quarter-distance mark.
The low-grip conditions only seemed to spur Mutoh on more as he continued to charge and seized the lead before the halfway point of the race.
Although running out-of-sequence with many of the earlier front-runners, co-driver Iori Kimura looked set to emerge ahead as a switch back to slicks on a drying track coincided perfectly with his final fuel stop.
However, a drive-through penalty, incurred by Kimura for contact earlier in the race, lost much of the ground gained. They finished seventh.
That was four places ahead of Team UPGARAGE duo Takashi Kobayashi and Kakunoshin Ohta, who finished where they started; their 78kg success ballast making their NSX one of the heaviest cars on track.
They are sixth in the standings and retain a chance of becoming champions with two rounds remaining.
All the mentioned cars were competing as part of the NSX GT3 Customer Racing Programme; a global collaborative project with JAS Motorsport responsible for assembly of all cars.
Honda Performance Development (HPD) and M-TEC handle sales and technical support in North America and Japan respectively, with JAS responsible for these areas across the rest of the world.