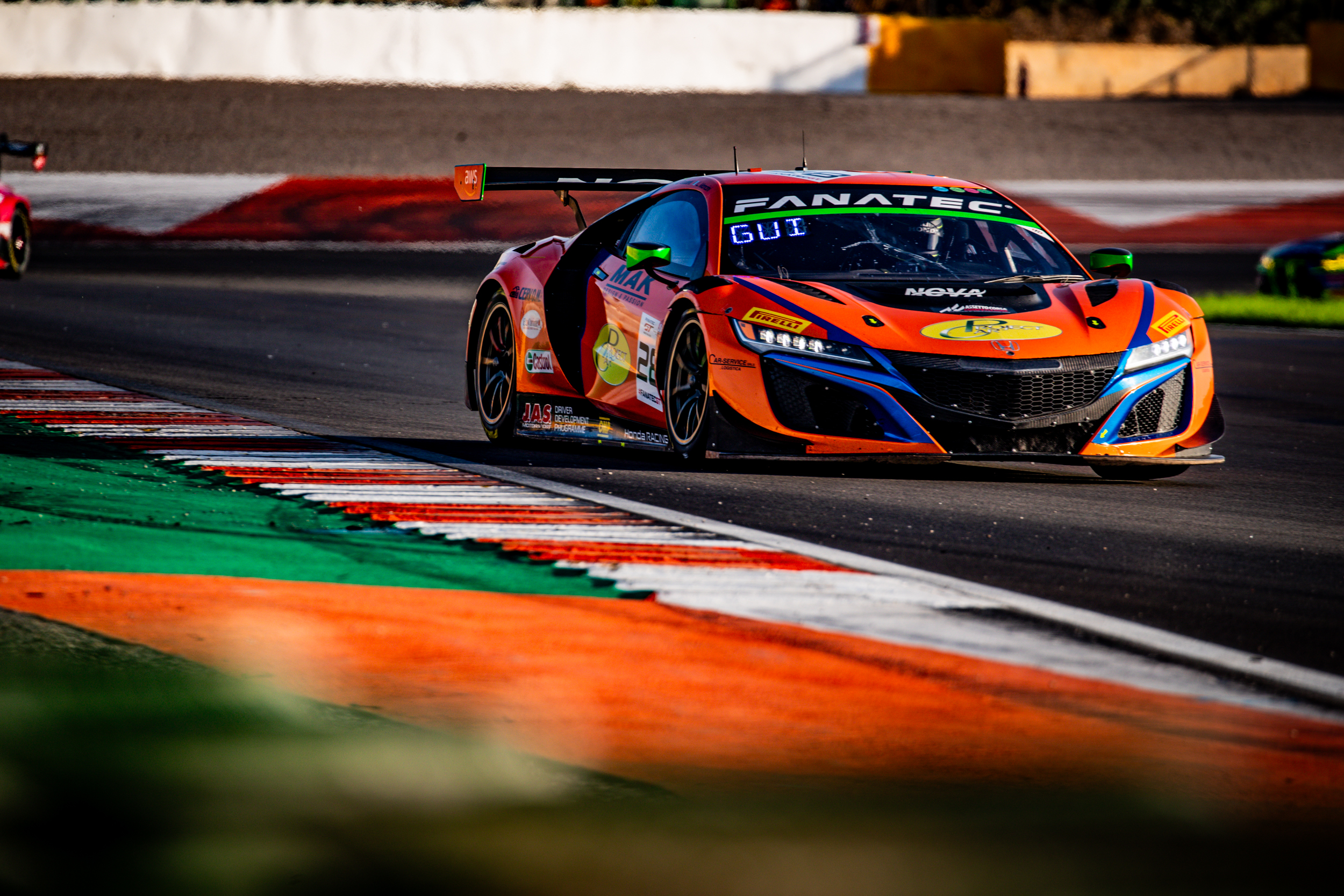 GT3 / 18 September 2023
NSX GT3 Evo 22 puts JAS junior Moncini on Valencia podium
The NSX GT3 Evo 22 returned to the podium of the GT World Challenge Europe at Valencia as JAS Motorsport Development Driver Leonardo Moncini secured a top-three finish in the Silver Cup.
GT World Challenge Europe
For Moncini and programme graduate Jacopo Guidetti, it was a second Silver Cup podium finish of the season and came after the young duo battled hard throughout the second race of the Sprint Cup at the Spanish track.
The Nova Race duo, who won last year's Italian GT Sprint crown, were in contention all race in what was an incredibly closely-fought event on the tight and twisty circuit and finished third to add to their fifth spot in Race One.
The sister car featured a new co-driver, Alex Frassineti, alongside DDP graduate Erwin Zanotti. They were seventh in both races.
Super GT
Despite carrying 100kg success ballast, making it the heaviest car in the field at Sugo, Team UPGARAGE pair Takashi Kobayashi and Syun Koide qualified a season's-best fifth and then ran inside the top five throughout the race.
Climbing into second for the final stint, Kobayashi began the final lap six seconds behind the leader, but amazingly darted past when his rival ran out of fuel coming out of the last corner and coasted over the line.
Their third win of 2023 was short-lived however; the NSX later excluded for failing a ride-height inspection post-race.
Yogibo Racing duo Yugo Iwasawa and Reimei Ito finished eighth, having climbed from 15th on the grid.
IMSA
Gradient Racing made solid progress during the series' first visit to the road course at Indianapolis Motor Speedway, recording another finish for their NSX.
Sheena Monk qualified 15th after struggling to establish a balance for the Saturday afternoon session and was then involved in early contact that resulted in a drive-through penalty that dropped her to last place.
She and Katherine Legge battled back into the top 10, but lost ground in the final 15 minutes and finished 13th.
Ashton Harrison qualified the Racers Edge Motorsports with WTR Andretti Global NSX 12th in class and made excellent early progress to climb to seventh within the first half-hour.
Unfortunately contact with a prototype at the first corner shortly afterwards caused race-ending front suspension damage.
All the mentioned cars were competing as part of the NSX GT3 Customer Racing Programme; a global collaborative project with JAS Motorsport responsible for assembly of all cars.

Honda Performance Development (HPD) and M-TEC handle sales and technical support in North America and Japan respectively, with JAS responsible for these areas across the rest of the world.