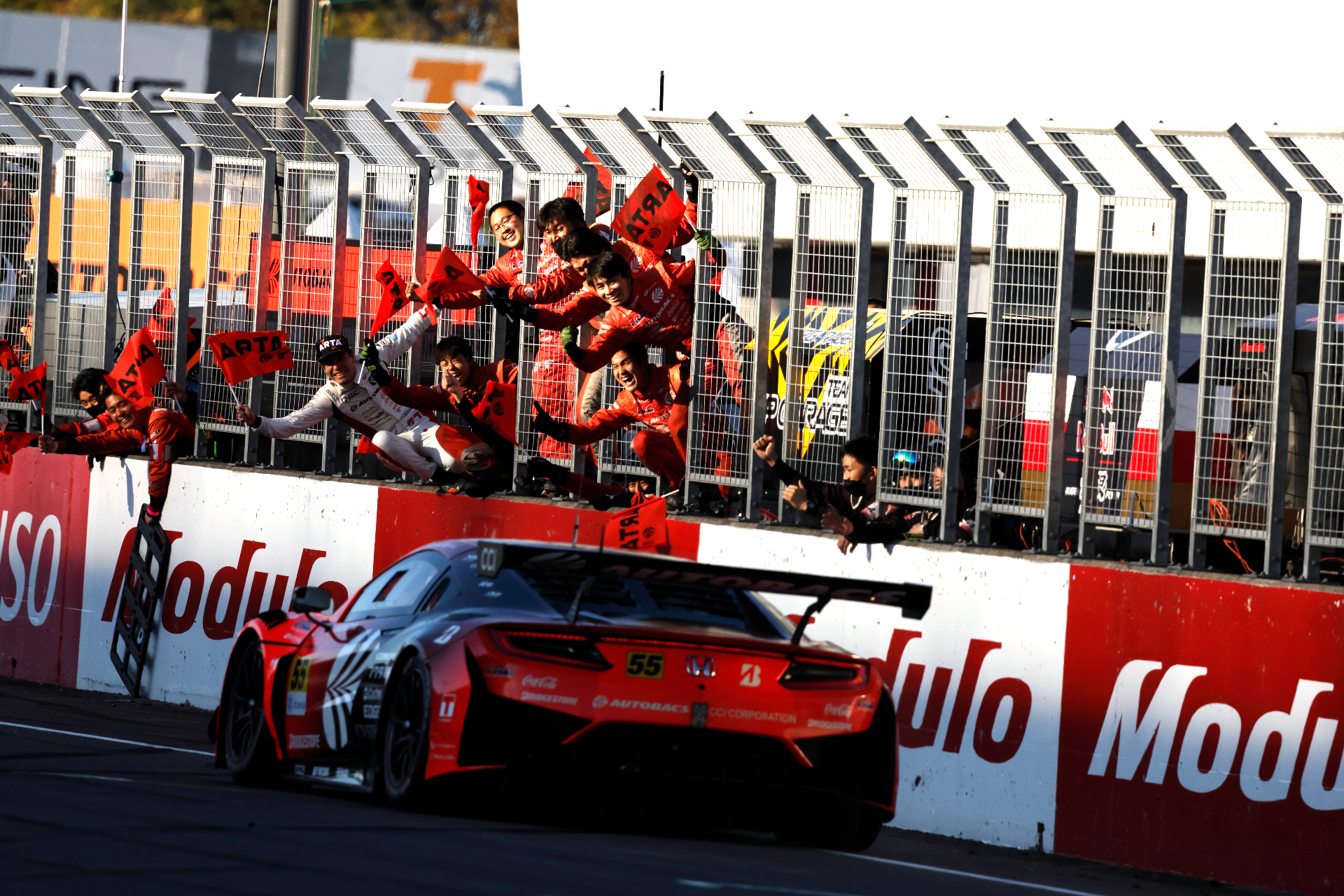 GT3 / 07 November 2022
NSX GT3 Evo 22 wins at Super GT season finale
The Honda NSX GT3 Evo 22 scored its first win of the 2022 Super GT season with a dominant performance by the JAS Motorsport-built car at the Mobility Resort Motegi finale last weekend.
ARTA pair Iori Kimura and Hideki Mutoh triumphed aboard the #55 entry to secure the first GT300 class win for the team since they became champions of the division in 2019 and did so after setting the pace for most of the event.
It was Team UPGARAGE's Takashi Kobayashi who first impressed as he set a new GT300 qualifying lap record during the Q1 session on Saturday that determines the 16 cars that will fight for pole.
But Kimura went even quicker in Q2 to secure his first series pole and head an all-Honda front row ahead of Kobayashi's co-driver Kakunoshin Ohta.
Kobayashi grabbed the lead at the start from Mutoh and held it until the mandatory driver changes, but a slow pitstop dropped the yellow #18 machine to sixth and promoted Kimura into the lead.
While Kimura won by four seconds, Ohta made some decisive passing moves to finish fourth; a result that put he and Kobayashi eighth in the end-of-season points.
ARTA's win was the 15th of the season for the NSX GT3 Evo 22; further enhancing 2022's status as the best season to date for the race car, which has also equalled its best number of championship successes in a single season (eight in 2019) and could still enhance that.
Both cars were competing as part of the NSX GT3 Customer Racing Programme; a global collaborative project with JAS Motorsport responsible for assembly of all cars.

Honda Performance Development (HPD) and M-TEC handle sales and technical support in North America and Japan respectively, with JAS responsible for these areas across the rest of the world.